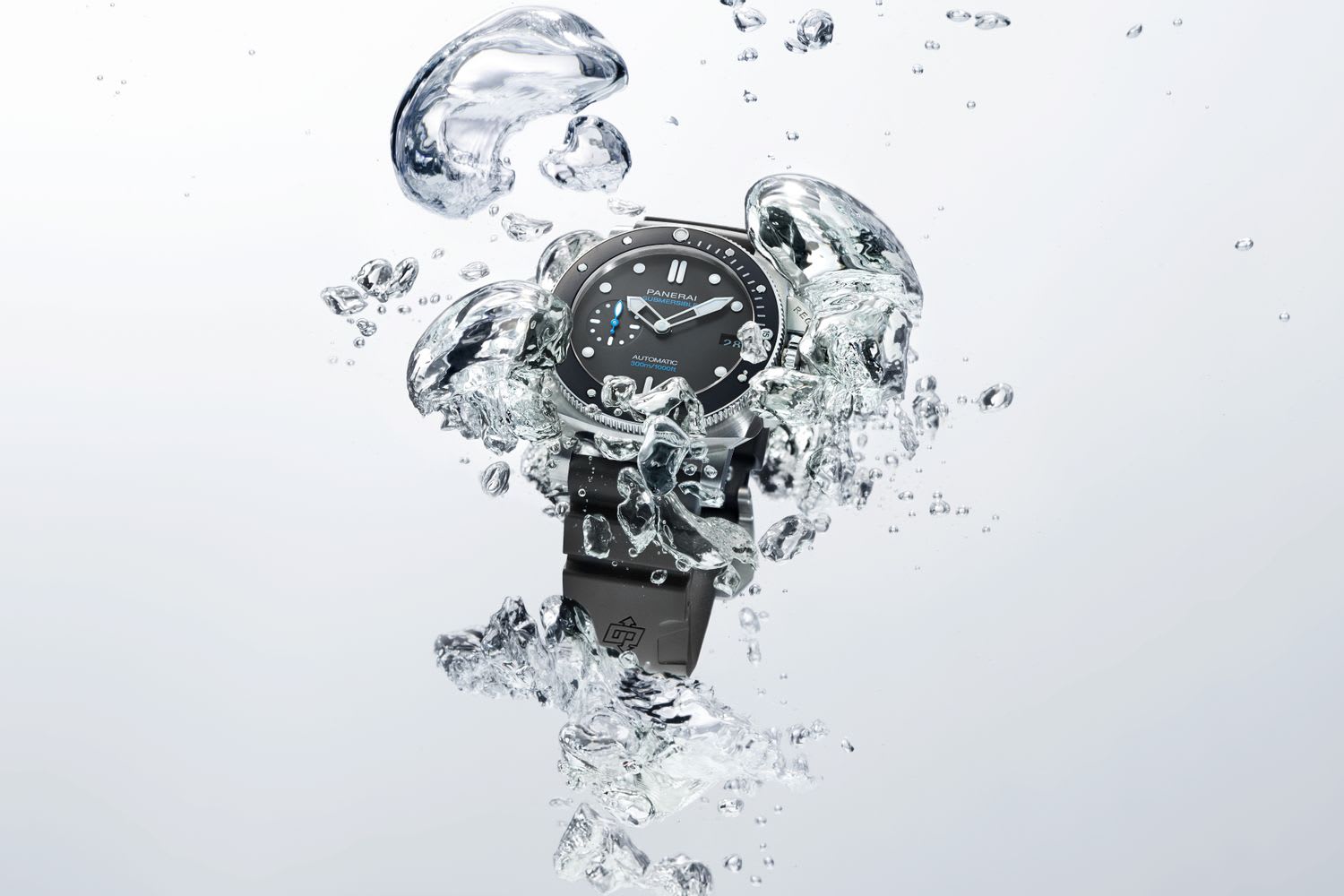 Dive in
And discover Panerai's iconic diver's watches
These diving chronometers are ready for the ultimate underwater test. The bold and iconic Submersible by Panerai is a diver's watch that stands for precision and reliability. Every element that makes the current Panerai design so special, from dark dials to fluorescent indexes to the eye-catching crown guard, was originally designed to meet military requirements. These professional diver's watches dazzle the watch lovers of today with their robust materials and extreme reliability.
Like the deep blue sea
An icon among diver's watches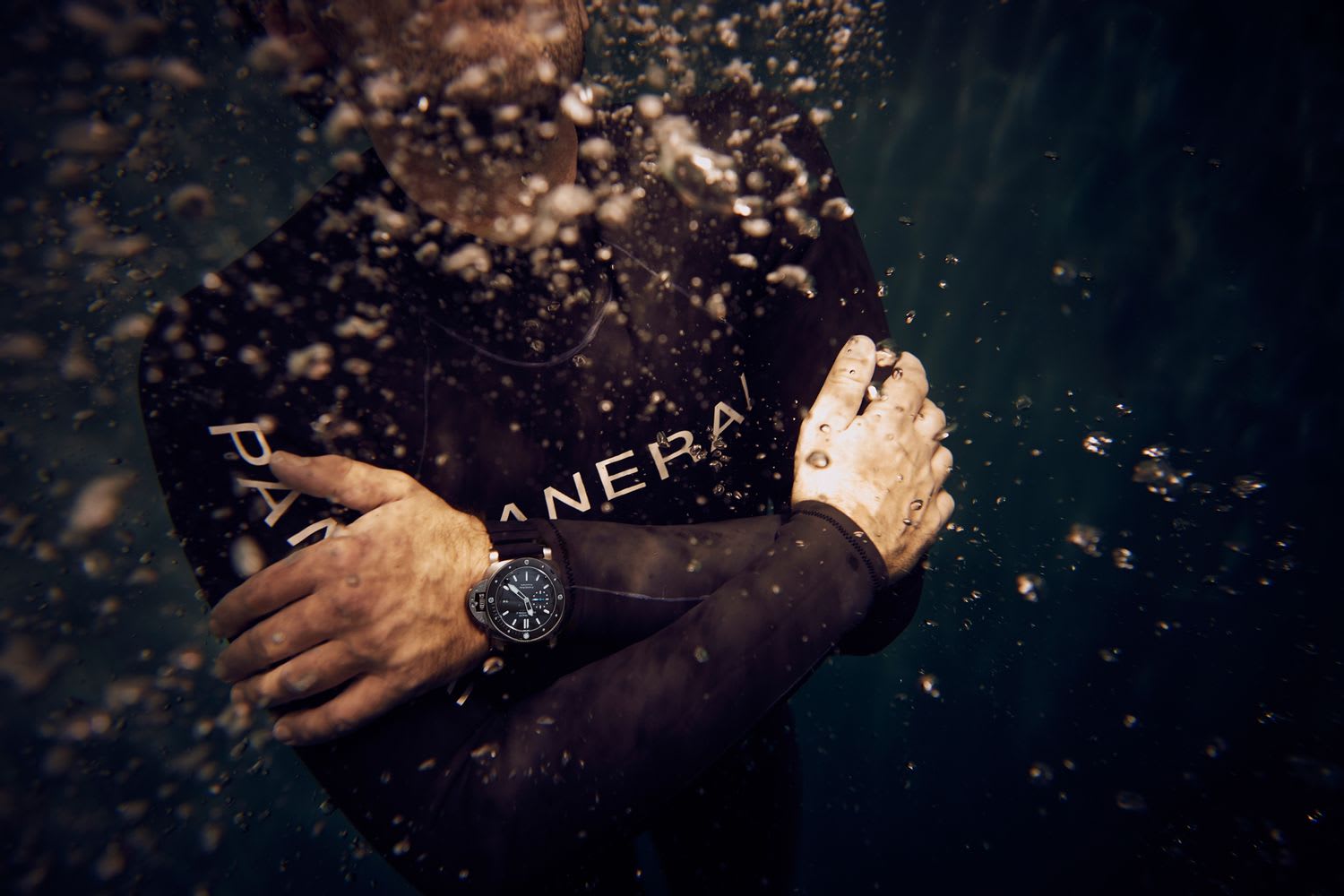 The Panerai Submersible boasts excellent readability
This is thanks to its luminescent hour markers and hands, which form a perfect contrast with the grey dial. This allows the wearer to easily tell the time even in complete darkness – a nice-to-have feature on land, but a life-saving detail underwater.
The watch features centrally placed chronograph seconds and minutes hands and has a refreshingly modern design, with a titanium case that perfectly complements the blue hue of the ceramic bezel and the blue hands. The timepiece fastens to the wrist with a blue rubber strap for a sporty, laid-back look.
Another point in the Submersible's favour: it is a precision chronograph with flyback functionality. This allows you to reset the chronograph without having to stop it – a feature that allows to precisely synchronise the watch with a reference signal.
The Submersible Guillaume Néry Edition
Technology, quality and reliability in a handsome package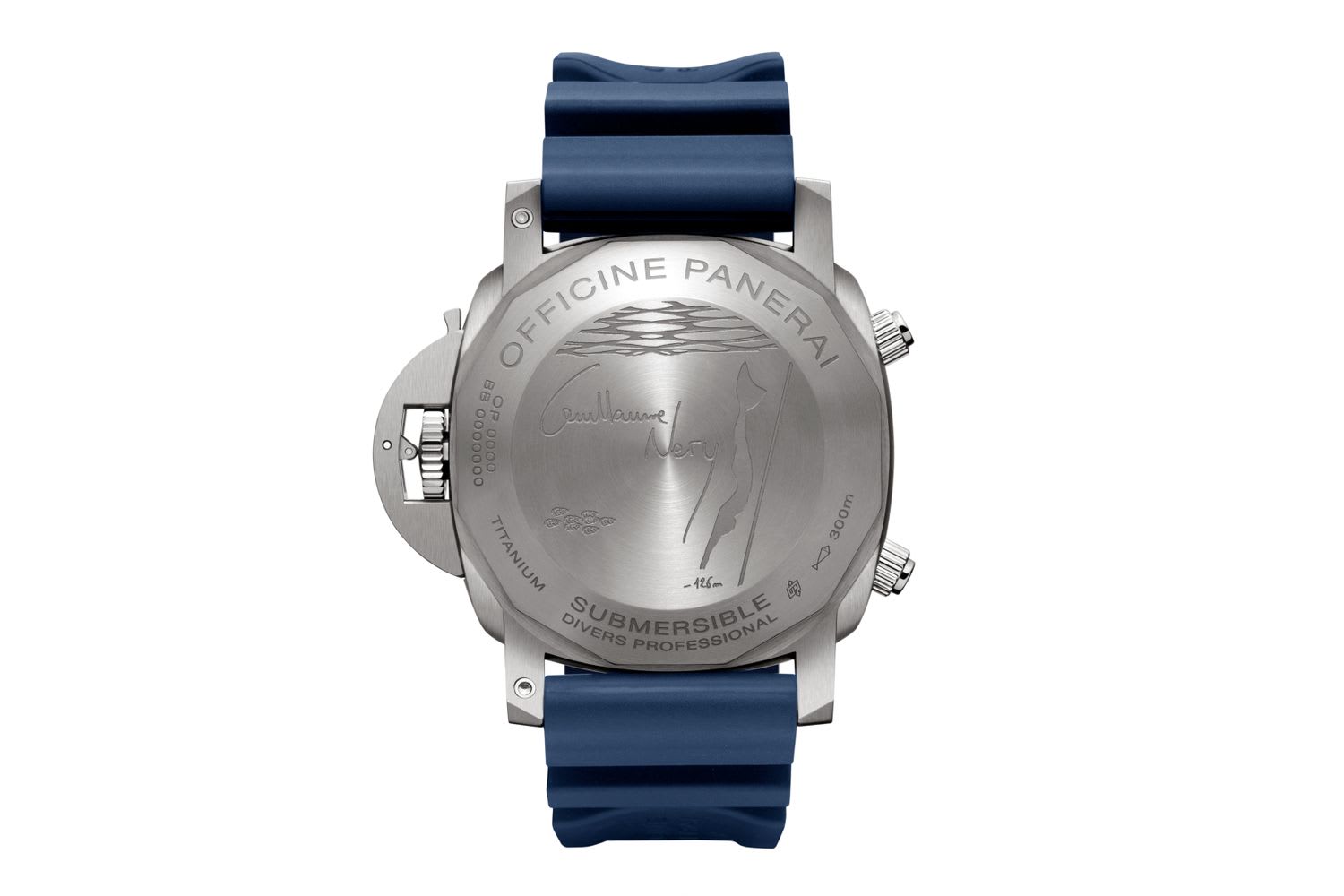 Panerai has added a new model to its Submersible collection in honour of French freediver Guillaume Néry.
The result is a watch collection that pays homage to the world's oceans. The Panerai Submersible Guillaume Néry Edition combines technology, quality and reliability with a dynamic and irresistible design language.
The materials are equally impressive: its bold 47 mm case is crafted from titanium to withstand immersion in seawater, making the timepiece scratch-resistant, corrosion-resistant, anti-magnetic and delightfully lightweight.
Guillaume Néry's signature is engraved on the case back, providing an extra diving-related touch.
The fascination of the underwater world
Bucherer talks to freediver Guillaume Néry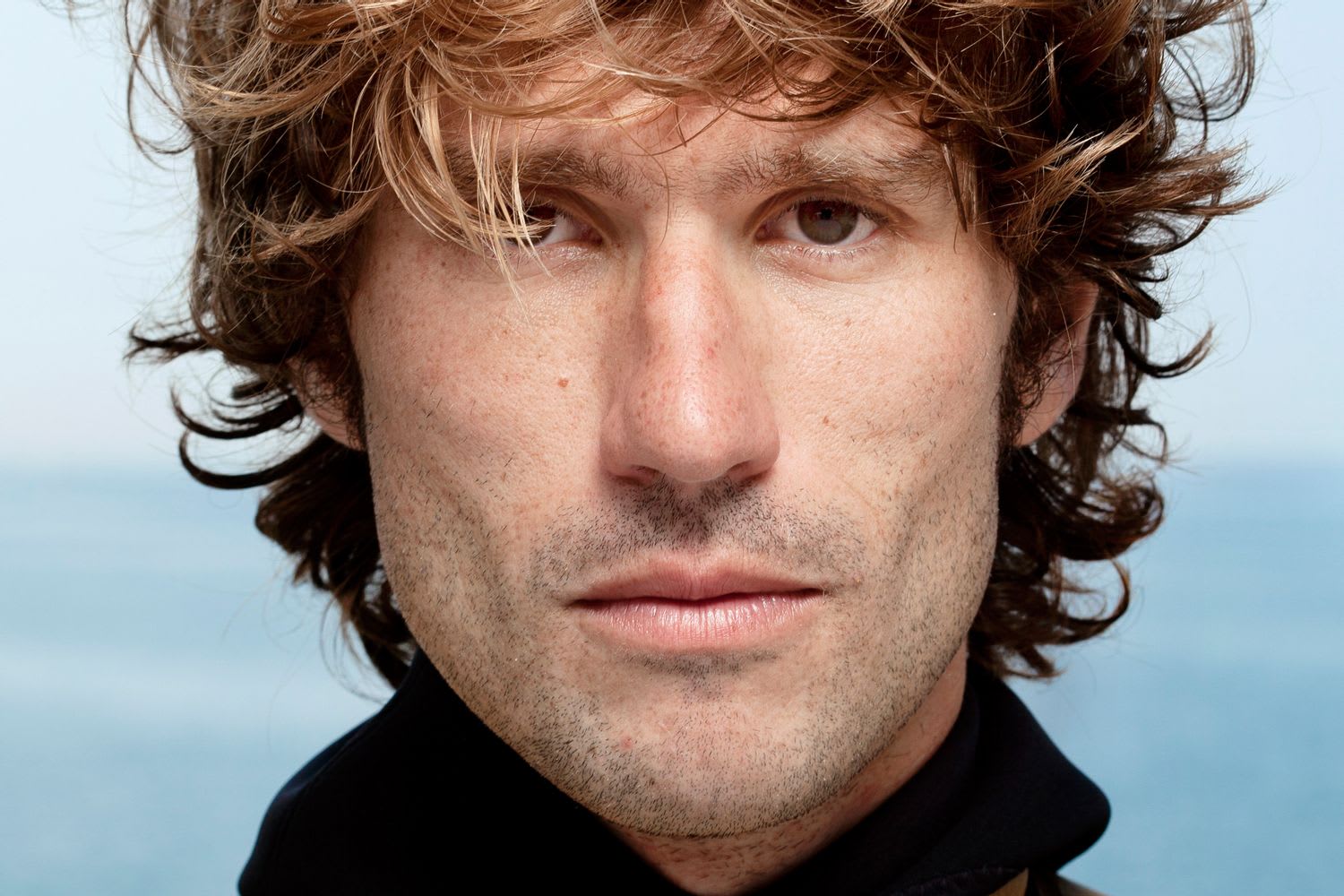 From the feeling of weightlessness to mysterious depths – in an exclusive interview, Bucherer talks to freediver Guillaume Néry about the fascination of the ocean and why a functional diver's watch is vital.
BUCHERER: Where does your fascination for deep-sea diving come from? When did it start?
Guillaume Néry: It started when I was a teenager growing up in Nice, a city in the south of France by the Mediterranean Sea. As a child I was very curious, and was always exploring the world around me. I was initially fascinated by the mountains, but at some point I just grabbed a scuba-diving mask and set about exploring the underwater world. It was love at first sight. It's like discovering a whole new world under the water's surface. The feeling of freedom is just amazing when you're gliding through the water. It almost feels like flying. This fascination led me to try out deep-sea diving.
BUCHERER: Can you walk us through the sensations you feel when you are freediving?
Guillaume Néry: The deep dive starts with the last breath before the descent. It is deep, slow and intense. A special technique called "the carp" allows me to store one or two extra litres of air in my lungs and compress them. When I start with my dive I have almost 10 litres of air in my lungs.
The first thing that happens under water is that your heart slows down. This phenomenon is called the diving reflex. Deeper down, I can actually stop swimming as the pressure makes my body heavier and I just sink down without needing to do anything. At this stage, the pressure gets really strong and the environment becomes more hostile, dark and cold. The secret is not to fight it, as that would make things even worse. If I let go, there are no more limitations.
When I reach the bottom, I feel like a small drop in the middle of the infinite ocean. This is a very humbling experience. You feel the power of nature more strongly. To get back up, I have to swim twice as hard as the pressure is pushing me down, so the perfect swimming technique is key. The urge to breathe is now also unbelievably strong, and my muscles are now getting sore. This is also when another phenomenon, called nitrogen narcosis, which is caused by nitrogen dissolving in the blood, hits. This causes a feeling of confusion, and I have to stay very focused. As there is still a long way to go, I can't think of the surface yet. When I reach a depth of 30 metres below the surface, my team joins me as I complete the final part of the ascent.
BUCHERER: Is physical fitness or state of mind more important when you are diving?
Guillaume Néry: It is really important that mind and body are perfectly connected during a freedive. The body is of course crucial, as you have to be physically prepared for the challenge. As I mentioned before, the pressure is very high at the bottom of the dive, so you need to be a strong swimmer. Taking on the challenge of breaking a world record means pushing yourself beyond your physical limits, and this is only possible with a certain mindset. 
BUCHERER: How do you prepare for a freediving world record attempt? What does a typical day of training look like?
Guillaume Néry: I don't have a typical training day. It very much depends on the season. In winter I do a lot of cardio training to prepare my body for the long swim. In spring I start with shallow dives to adapt my body to the water. At the same time, I work on my breathing techniques and do some yoga to make my body more flexible. In summer, just three months before the world record attempt, my dives get deeper and deeper so that I can work on my performance.
BUCHERER: For your training, one of the essentials is your diver's watch. What role does a perfectly reliable diver's watch play for you?
Guillaume Néry: My diver's watch is a mechanical watch. It is a link between my life on land and my life under water, and it accompanies me wherever I go.
I really have to be able to trust my watch to function even in the most extreme conditions – whether I'm diving in tropical climates or in the minus-20-degree water of the Antarctic, or climbing at high altitudes. It has to be able to adapt to any situation, and of course be waterproof even in very deep water. As a freediver, I can go deeper than scuba divers do. I like big watches that are easy to read and quite large, but at the same time they have to be very light. My watch becomes a part of me, especially when I am diving, and it should not distract me in any way.
However, it's not just functionality that counts. I'm also a very aesthetically minded person that looks for clean and elegant lines in a watch. I see my watch not just as an object, but as an iconic piece of art.
BUCHERER: How important are innovations in the field of diver's watches for your sport?
Guillaume Néry: When I'm in the water, literally every second counts. The time my team measures has to be absolutely precise, and the chronograph that Panerai added to the collection is the perfect model for doing just that. The luminescent dial can also be read in the dark, which makes it even easier to use.
BUCHERER: What values do the worlds of freediving and watchmaking have in common?
Guillaume Néry: Freediving it is all about performance, discipline and accuracy. I think when you create a watch that is capable of functioning in such extreme situations, you need to have the same kind of attention to detail. When I visited Panerai, I was really impressed by how many people were involved in the manufacturing process and how well they work together as a team to create these masterpieces. With deep diving it is kind of the same – when I deep dive, I cannot do it alone. I need to be surrounded by a great team and everyone has a special role to help achieve the best results.
BUCHERER: Is there a specific dive that has always stayed in your mind?
Guillaume Néry: My most perfect dives were the ones I did when my body and mind were totally connected with the water. They were never planned and always very spontaneous. My favourite memory is one dive in Nice. I just suddenly felt the urge to dive and forget about all the stress of my daily life. I didn't even bring my diving suit with me, but luckily I always have my mask in my backpack. It wasn't an exceptionally deep dive. I just played around in the water and then went deeper to the bottom. On that day, some kind of magic happened. Somehow, I didn't feel the need to breathe because I was so connected with the underwater world. I felt like I could swim forever, experiencing this amazing flow, where no regular concept of time exists.
BUCHERER: You have broken so many world records. What is your next goal? Do you want to push the limits even further?
Guillaume Néry: Of course I love deep-water diving, but at the moment I'm not on a quest to add another record to my list. Now I want to explore how perfect the relation between body, mind and water can be. That is my new approach to diving.
BUCHERER: Do you think we all can learn some life lessons from underwater diving?
Guillaume Néry: In extreme situations like deep diving, you learn how precious every breath is. You get a completely different appreciation for life. I also learned how to stay calm in very stressful situations, and I can now put my mind in a meditative state. You learn not to fight against stressful situations but just to go with the flow and accept the things you cannot change.
For me, freediving is like a philosophy: with just one breath and no other complex equipment or gadgets, you can push the limits of what a human being is capable of.