H. Moser & Cie.
Talking about modern traditions
Recognisable before you even see the logo, watches by H. Moser & Cie. are a strikingly modern ode to nearly two-hundred years of watchmaking excellence. From innovative new products to creative marketing strategies, the family business has shown again and again how to reinterpret tradition while remaining true to its roots. We invite you to learn more about the latest pieces from this extraordinary company.
Very Rare
Exclusive timepieces by H. Moser & Cie.
The company was founded in 1828 and has been gracing the watchmaking world with its very rare creations ever since. H. Moser & Cie.'s timepieces are crafted by hand and powered by in-house movements. Each watch boasts special features, however, their various complications are practical and easy to use.
The H. Moser & Cie. Nature Watch
Timekeeping meets sustainability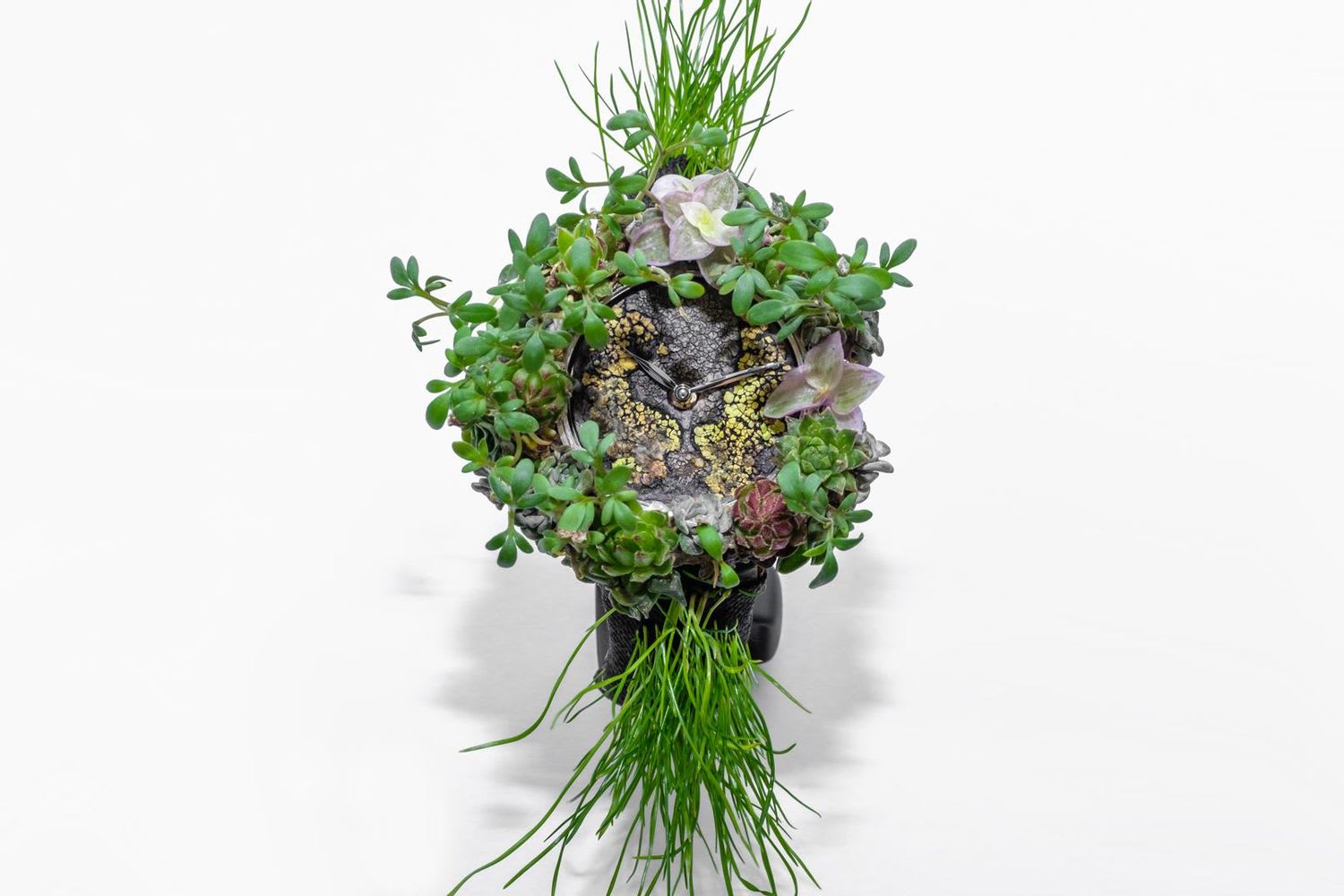 #MakeSwissMadeGreenAgain
With the Nature Watch, H. Moser & Cie. is addressing the need to protect the environment and making a stand for sustainable, ecologically friendly development – in the watchmaking world and beyond.

Far more than just a "green" mechanical watch, the 

Nature Watch is a truly organic creation – and a symbol of the fragility of the natural world and our sensitive ecosystem. The stainless steel watch is adorned with plants that are native to Switzerland: succulents, moss, tiny echeverias, cress, spiderworts and bulbs. The dial is crafted from natural stones and lichen sourced from the Swiss Alps, and the strap is made of grass – a decidedly unique design. A one-of-a-kind creation, the Nature Watch was first unveiled at the Salon International de la Haute Horlogerie (SIHH) watch fair in Geneva.
Exceptional new timepieces shown at the SIHH
H. Moser & Cie. is setting the pace for 2019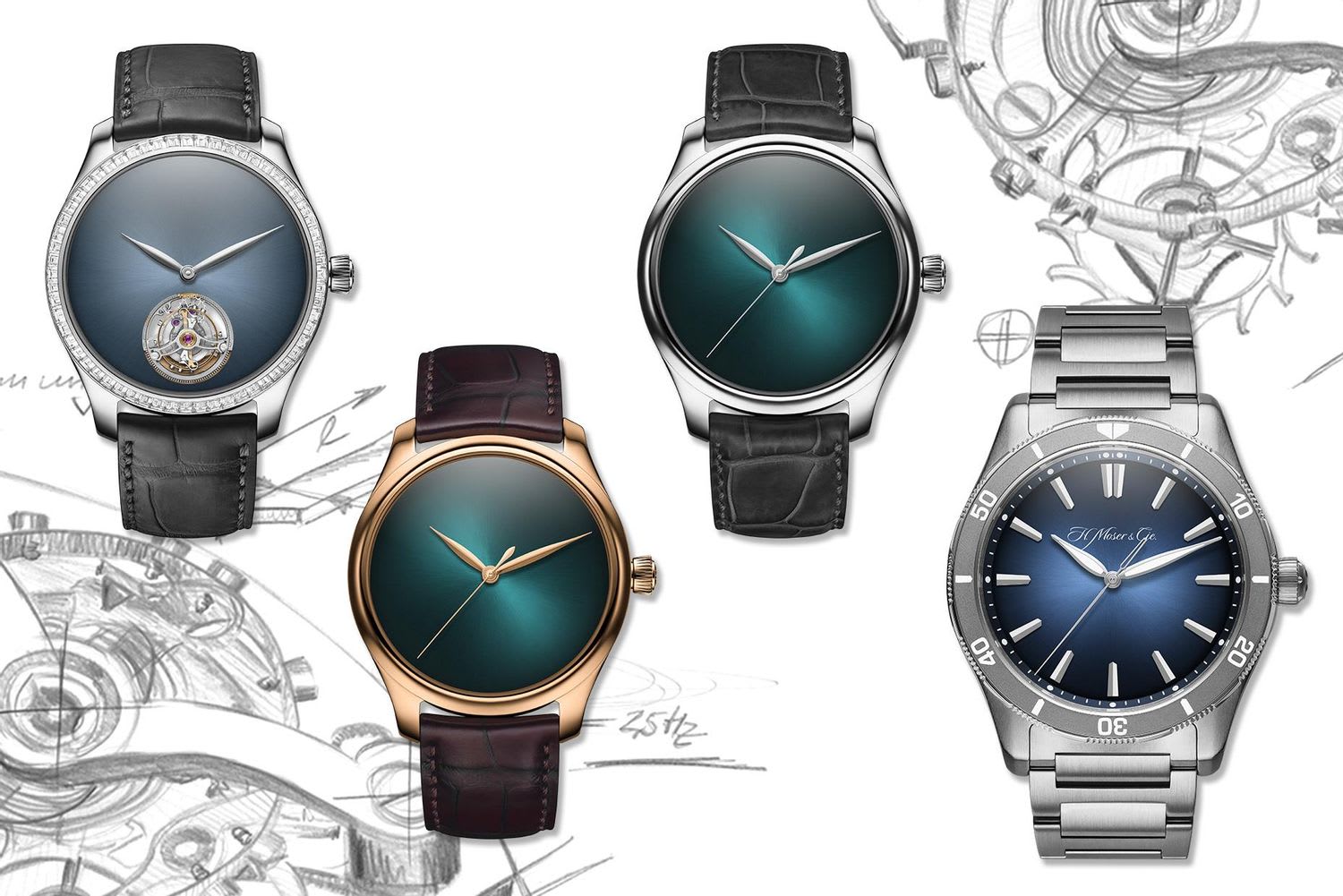 Coming soon to Bucherer
The Pioneer Centre Seconds marks the first time that H. Moser & Cie. has crafted a timepiece with a stainless-steel bracelet. Sporty and functional, the Pioneer Centre Seconds expresses a pioneering spirit and lust for adventure.

It features a newly designed bezel and robust bracelet as well as an elegant yet comfortable design – the perfect watch for everyday wear. The centrepiece of this new model is its mesmerising midnight blue fumé dial. You can easily tell the time both day and night thanks to the watch's luminescent indexes and Super LumiNova®-filled hands.
Less is more – that's the motto of the elegant Endeavour Tourbillon Funky Blue Concept. This bold blue timepiece eschews logos and indexes, shining a spotlight on the flying tourbillon located at six o' clock. Feuille-style hands sweep over the dial while a diamond-encrusted bezel rounds out the graceful design.
The Endeavour Centre Seconds Automatic Blue Lagoon is another new addition to the H. Moser & Cie. family. Three understated hands adorn the dial – and that's it. This watch does not need anything more to turn heads. The timepiece makes use of a daring minimalist design language, eschewing logos and indexes. The dial is blue like a lagoon, bringing a bit of tropical flair to the wearer's wrist. The Endeavour Centre Seconds Concept Blue Lagoon is available in two delightful choices of precious metal: elegant white gold or gleaming rose gold.
Behind the scenes
Exclusive interview with CEO Edouard Meylan 
Sleek, elegant and minimalist watches by H. Moser & Cie. speak for themselves. The family business also makes waves outside of the industry – thanks to CEO Edouard Meylan's impressive ability to generate buzz beyond what one would expect for such a small company.
We take a look behind the scenes of this extraordinary company and speak with H. Moser & Cie.'s CEO Edouard Meylan about tradition, innovationand going green.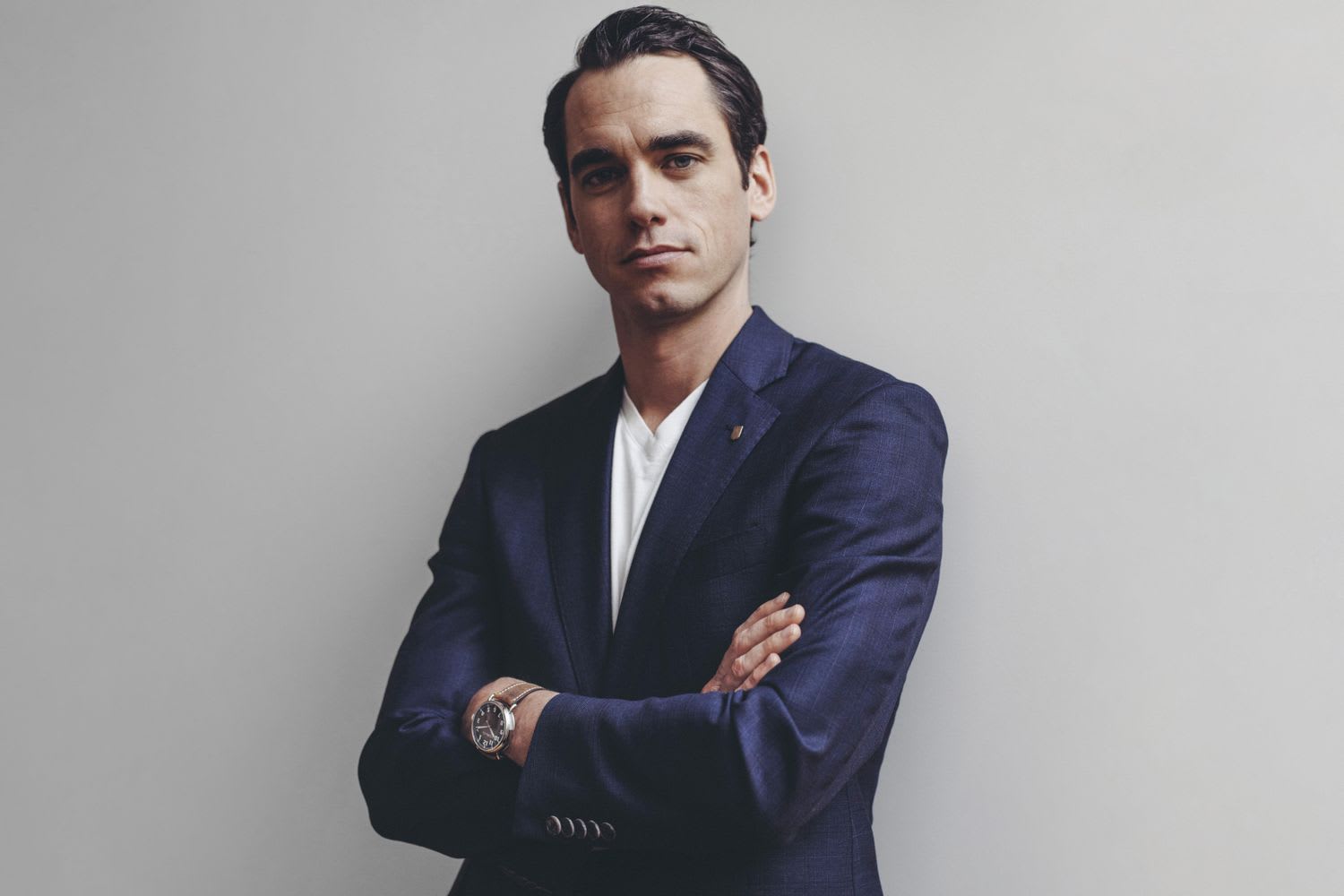 BUCHERER: "Your father Georges-Henri was CEO of Audemars Piguet until 2008, and your great-grandfather Octave Meylan was once a partner at H. Moser & Cie. Was it always clear to you because of your family background that you would work in the watch industry, or did you ever consider another career path?"
Edouard Meylan: "I was born in Vallée de Joux, where there's a tradition of watchmaking. Watches have always been a passion of mine, but at the beginning of my career I wanted to get to know other industries as well. That's why I did a master's degree in microtechnology and an MBA in management, which gave me an all-round perspective on the economy.
Before I joined H. Moser & Cie. in April 2013, I held leadership roles at independent high-end watch brands in Asia and Europe, worked in management consulting in various industries and founded a luxury brand."
BUCHERER: "What were the most important lessons that you learned from your father?"
Edouard Meylan: "My father was always very direct and opinionated. He was never afraid to stand up for himself, his company and his team, even if it may have bothered other people. This gave us the confidence we needed to be transparent and to express who we are and what we believe in as a company. We don't just want to follow the traditional rules, but instead set a new standard in the watchmaking industry."
BUCHERER: "What part of Moser's brand heritage speaks to you the most?"
Edouard Meylan: "Definitely the entrepreneurial spirit of the founder, Heinrich Moser. He was a true visionary. At age 21, he followed his heart and his intuition, creating not just a valuable watch brand but also building a factory in Le Locle alongside a bona fide sales network. We feel driven by this same spirit today. We are pioneers, we take risks, we are opinionated – just like our founder. This is what the Meylan and Moser families have in common."
BUCHERER: "You said that you're a family business with a start-up spirit. What does that actually look like in terms of company values?"
Edouard Meylan: "We are a small company, and it's important to me that the whole team is part of the family. This human aspect is one of the most important drivers of our success. Brands now need to be closer to their customers, to be connected to each other within the communities that are cropping up around the world. Customers today are no longer just customers – they're fans with deep knowledge of mechanical watchmaking. They're seeking more exclusivity, more connectedness and a greater sense of purpose. This is in line with our values and has an impact on the appeal of our brand as well as people's connection to it."
BUCHERER: "What is the greatest challenge in leading a traditional company like yours into the future?"
Edouard Meylan: "As an independent company, we need to be different and set ourselves apart from the competition. We had to find a new way to communicate, raise our profile, be provocative and sometimes inject a bit of humour – all on a very limited marketing budget. We're also ready to take risks. Take for instance when we removed 'Swiss made' from our dial design, or when we created watches without logos or indexes. I'd much rather take risks and fail than have no voice or opinion in the industry. Of course we have our critics, but that makes our brand stronger – thanks in particular to our strong community that has our backs. At the end of the day, we are a luxury brand, and in that role we don't want to be following trends, but setting them."
BUCHERER: "After the motto 'Make Swiss Made Great Again', you came out with the hashtag #MakeSwissMadeGreenAgain, unveiling the Moser Nature Watch at the Salon International de la Haute Horlogerie (SIHH) 2019. Please tell us a bit more about this initiative."
Edouard Meylan: "It arose two years after the original 'Make Swiss Made Great Again' idea and is inspired by the same values: to make Swiss watchmaking even better and take it to the next level. The Moser Nature Watch is a symbol of our efforts to have a responsible global approach to our supply chain, manufacturing and distribution. From a technical point of view, developing a watch with plants growing in it was probably one of our greatest challenges to date. Just three or four months ago we didn't even know if it would be possible and if we would be able to go ahead with our campaign. It was a true challenge, but we were able to pull it off thanks to some very clever people in our team – with an incredibly unique piece of watchmaking as the result."