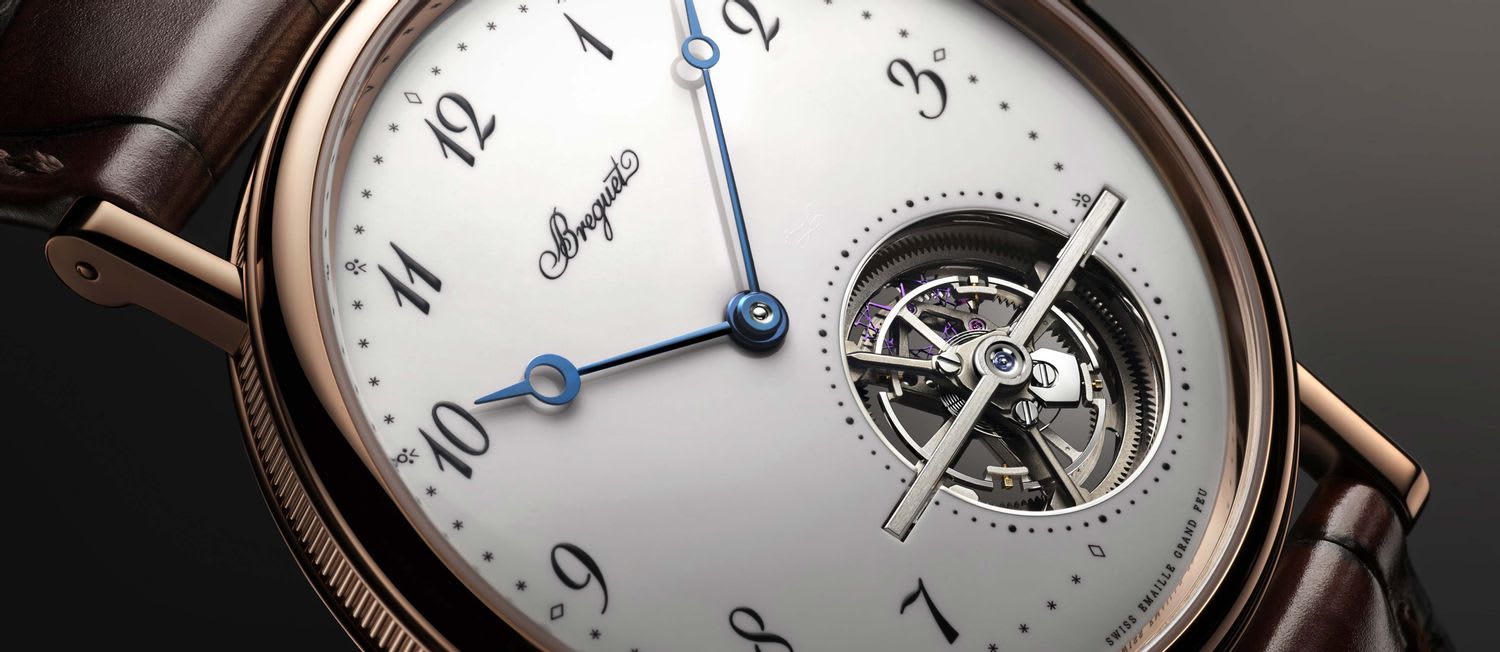 Throughout its history, Breguet has been famous for revolutionizing watchmaking with its ground-breaking inventions. Its founder, A.-L. Breguet, was an ingenious creator of mechanical watchmaking and has left a legacy of highest horology that has stayed with the brand over 240 years later. Today, Breguet's timepieces still honour A.-L. Breguet's discoveries and include some of the highest complications and treasures of watchmaking around the world.
Youtube videos are deactivate, please enable cookies to use youtube.
Breguet Collections
Discover Here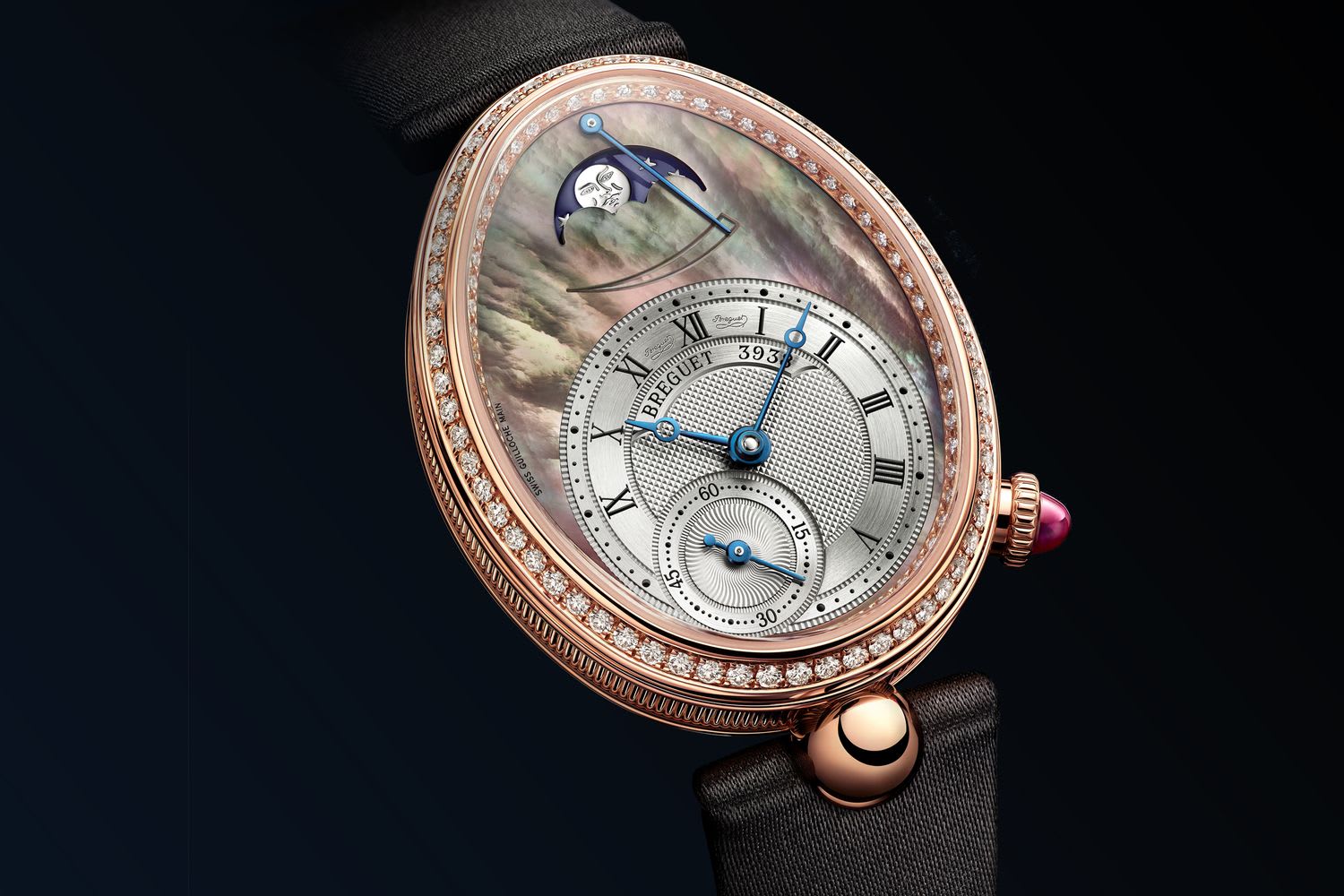 Swiss made, 28mm, Ladies watch, automatic movement, Mother-Of-Pearl Oval dial With moon-phase indicator, black satin strap, Pin & Buckle, Stainless Steel & White Gold case, Sapphire Crystal glass, Water resistant up to 30m / 3 ATM, Ref.:G8908BR/5T/864/D00D.
Reine de Naples Collection
"Breguet created the first wristwatch for a queen."
Throughout its history, Breguet has earned admirers from powerful women including Marie-Antoinette, Queen of France, the Marquise de Condorcet, and the Empress Josephine of France. Over 200 years ago, A.-L. Breguet also presented Caroline Murat with a wristwatch in an ovoid shape – an extraordinary and unprecedented model in that era. The pieces in the Reine de Naples line take inspiration from this iconic invention and act as a homage to femininity with a refined and romantic touch.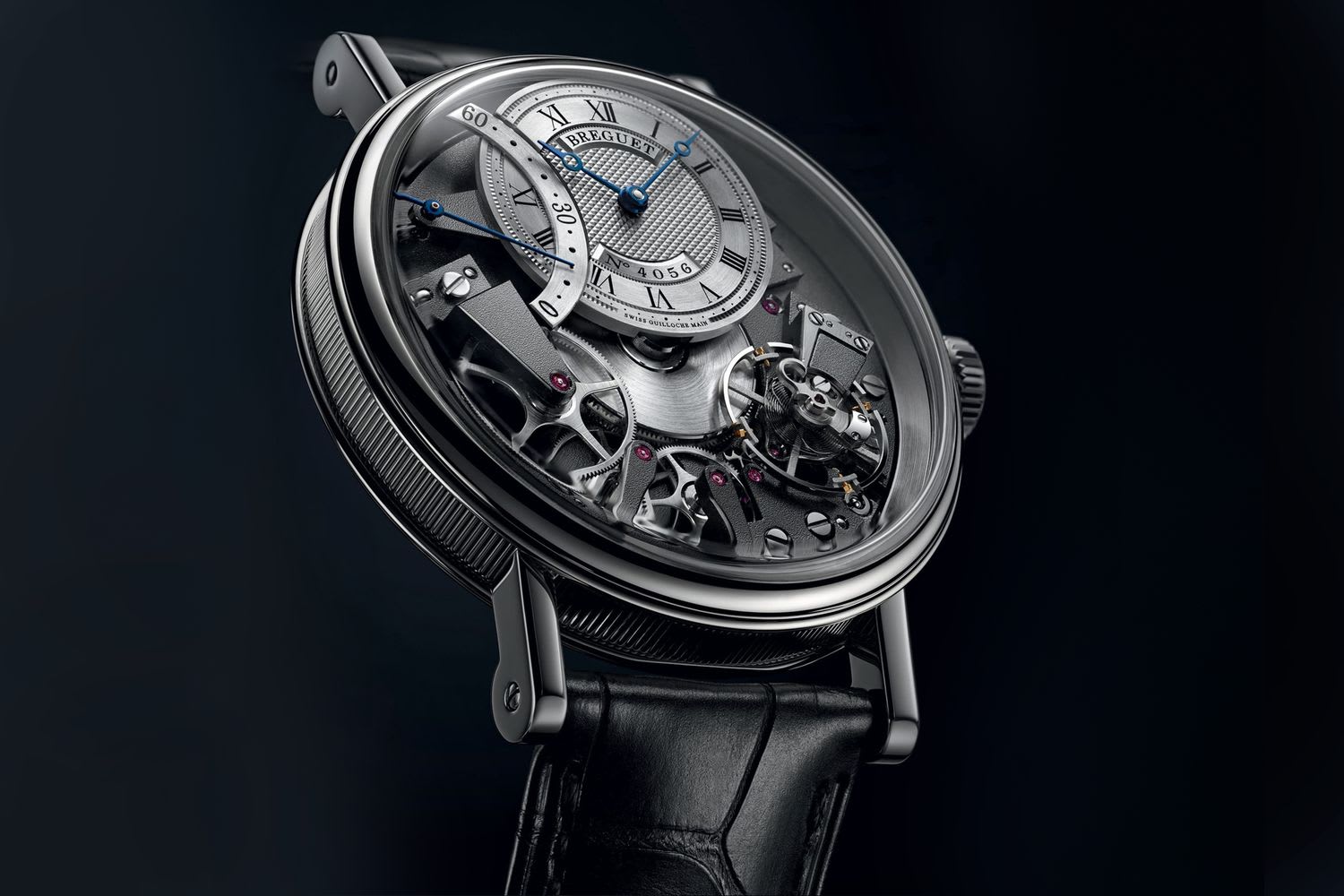 40mm Mens Watch, Tradition watch, Automatic movement, 18-carat white gold, Grey Round dial, Black Alligator Strap , Pin & Buckle, White Gold case, Sapphire Crystal glass, Water resistant up to 30m / 3 ATM Ref.:G7097BBG19WU.
Tradition Collection
" An invitation to journey through time and beyond time."
Breguet's Tradition collection pays a lively homage to the legacy of the brand. Taking inspiration from the signature watches of Breguet, the pieces from this collection offer a marriage of the House's heritage and a look ahead in time. Unifying traditional and avant-garde design, the dials embrace horological complications in stunning and stylish arrangements.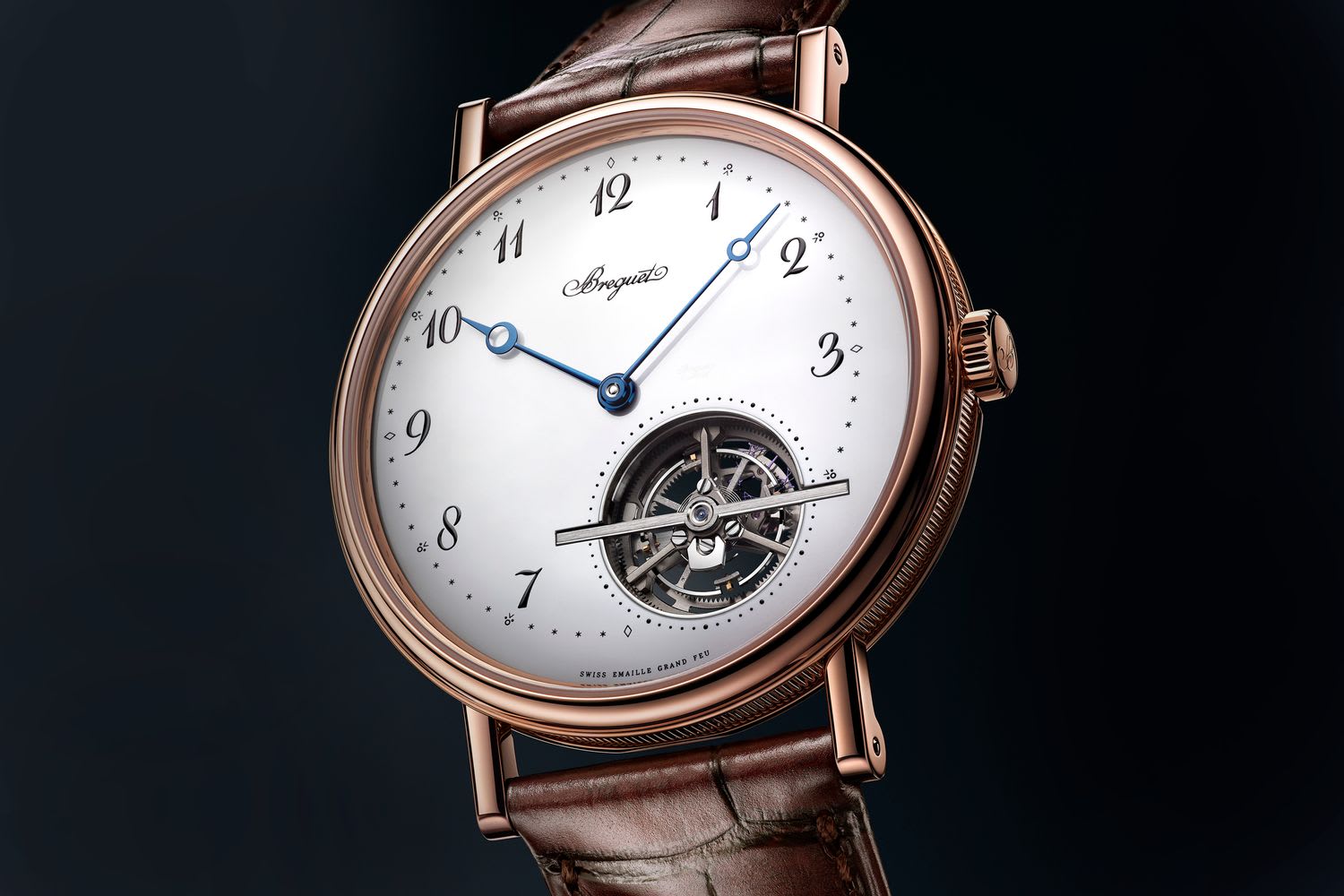 Swiss made, 7.4mm, Classics complication watch, Automatic movement, White Round dial, Brown Leather alligator, Pin & Buckle, Rose gold case, Sapphire Crystal glass, Ref.:G5367BR299WU
The Classique wristwatches.
"Watchmaking ideals of precision, clarity and elegant lines."
The Classique collection by Breguet feature timepieces that uphold the craftsmanship, technical excellence and traditional principles of the legendary brand. The watches in the line honour the core spirit of Breguet's original designs. Certain pieces incorporate valuable and exquisite materials from earlier times and fired enamel dials with Arabic numerals that are sure to enchant Breguet aficionados.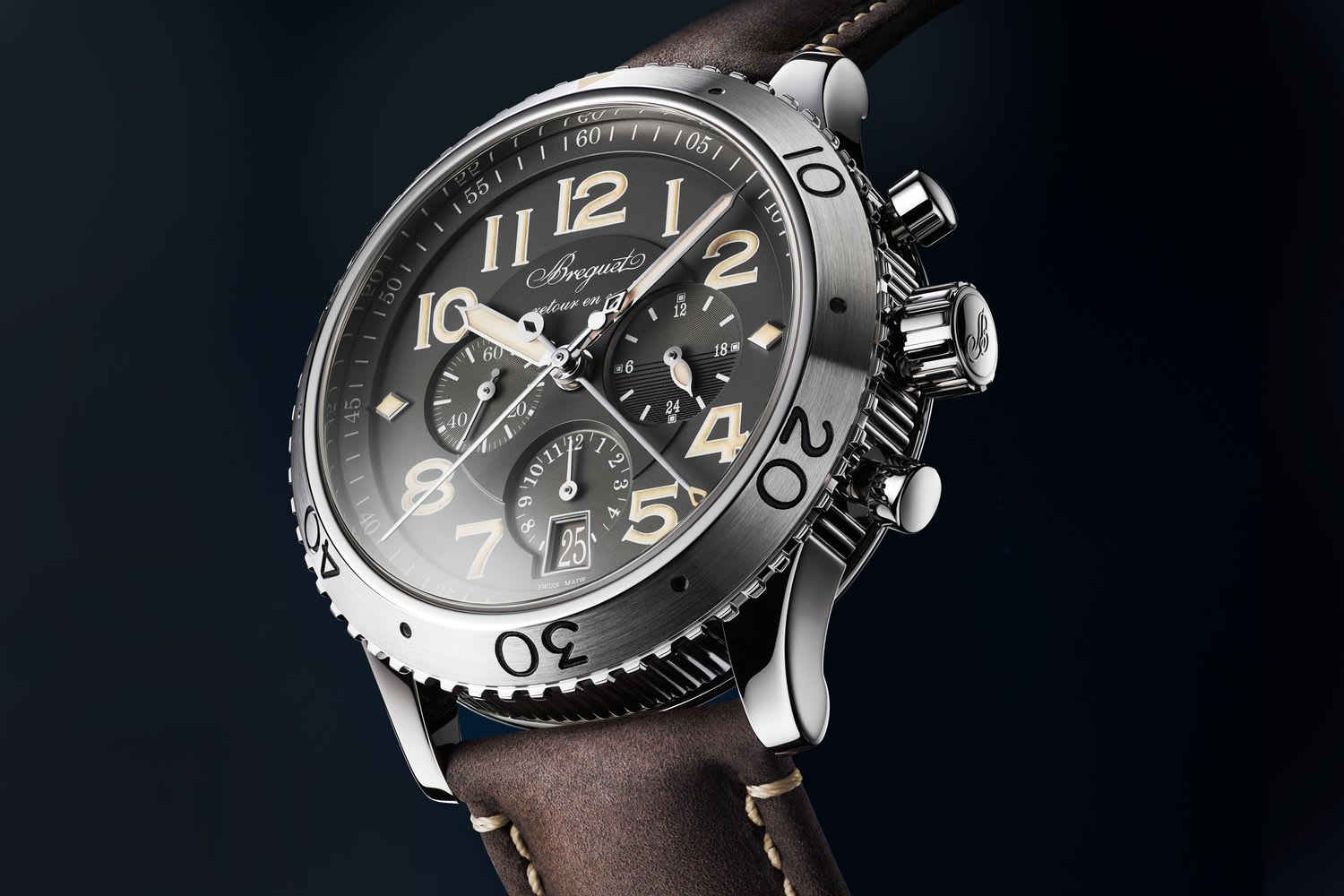 42mm, automatic movement, brown round dial, brown leather strap, deployment clasp, chronograph, stainless steel case, water resistant up to 30 meters, Ref.:G3817STX23ZU
The Type XX chronographs
 
"An uncompromising look"

Created in the 1950s for the French naval air arm, Breguet's Type XX has been reinvented in a civilian version and features a self-winding movement. The models have retained the chronograph's flyback function which is crucial for flying search patterns. Sporty and technical, the Type XX has remained a desirable timepiece for its unparalleled looks and durability.
The Marine Collection. 
"Breguet, chronometer maker to the French Royal Navy"
Earning a title of recognition and prestige, Abraham-Louis Breguet was appointed chronometer maker to the French Royal Navy in 1815 by Louis XVIII, the king of France. This role came with significant responsibility from the nation as marine chronometers were essential for calculating the position of their fleets. Today, Marine watches uphold Breguet's original values while re-imagining them in a modern way. Their strong structure, protected case and crown, as well as sophisticated craftsmanship provide them with a refined and sporty touch that makes them ideal for any occasion.
Breguet Heritage - Pivotal inventions from 1775 to present.
A crucial pioneer in horological advancement, Breguet has set the stage for countless watchmaking standards and breakthroughs throughout its existence. Established by Abraham-Louis Breguet (1747-1823), the brand has continued to follow its founder's passion for supreme horology. 

A.-L. Breguet has been fundamental in revolutionizing watchmaking, having invented the first self-winding perpétuelle, introducing gongs for repeating watches and the first shock-protection for balance pivots. He became the essential watchmaker for the leading personalities in science, military, economics and politics of the era. Wearers of Breguet included Louis XVI and his queen, Marie-Antoinette, and Caroline Murat, the Queen of Naples. As official chronometer maker to the French navy, A.-L. Breguet was appointed to the Board of Longitude and received the Legion of Honour from Louis XVIII himself. 

Born in Neuchâtel, A.-L. Breguet grew up in Paris but took refuge in Switzerland during the French Revolution. It is here where he picked up further inspiration and passion for design which led to the Breguet balance spring, his first carriage clock, the sympathique clock, the tact watch and the tourbillon which was patented in 1801.

Though A.-L. Breguet passed away in 1823, his vision and innovation lives on in the brand and their list of patents is now significantly longer than the original inventions of his time.