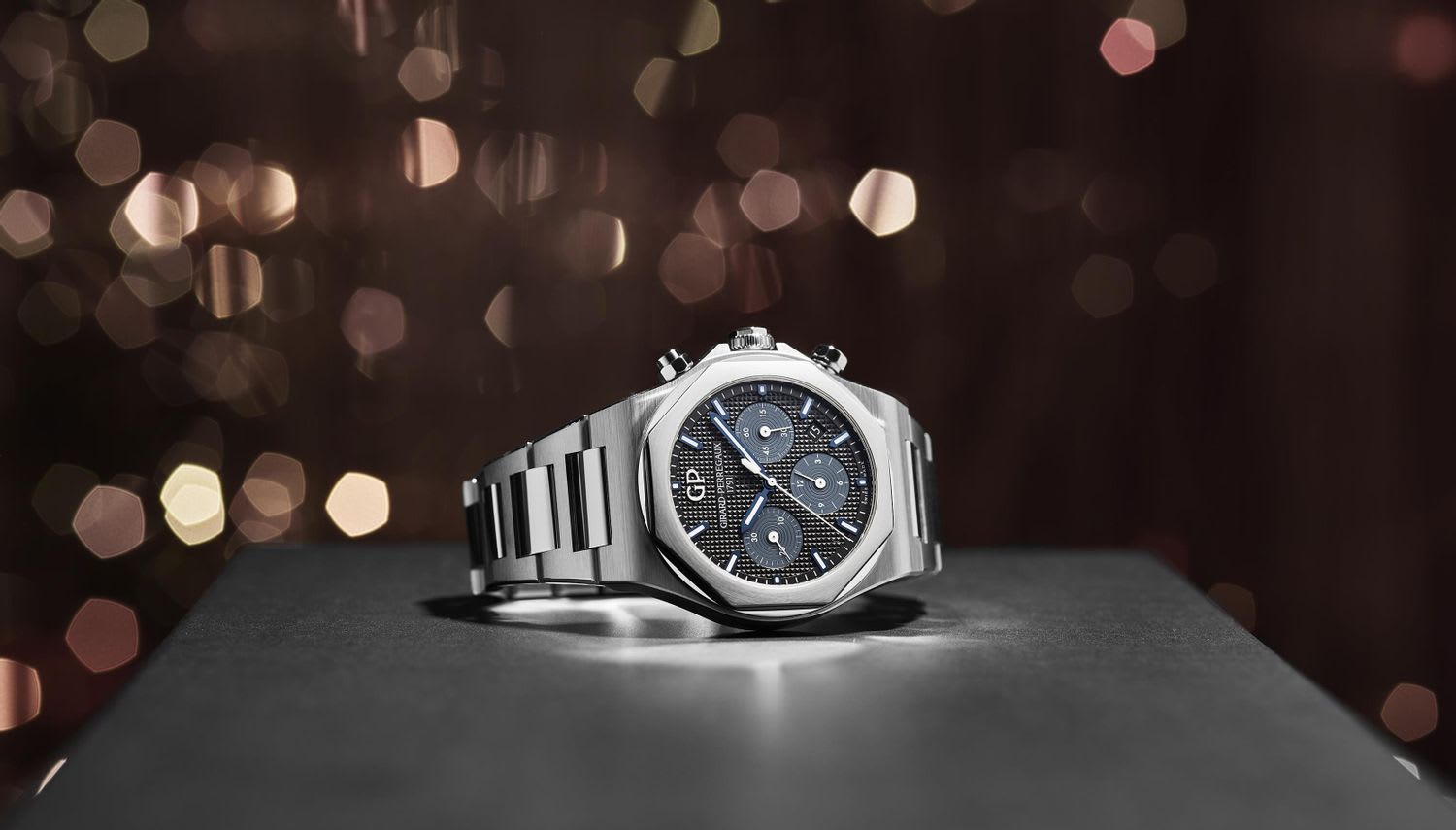 Throughout its 225-year-long history, Girard-Perregaux has always defined the limits of watchmaking while at the same time honoring the teachings of the watchmaking tradition and bringing a high degree of sophistication to the finishes of its timepieces.
Youtube videos are deactivate, please enable cookies to use youtube.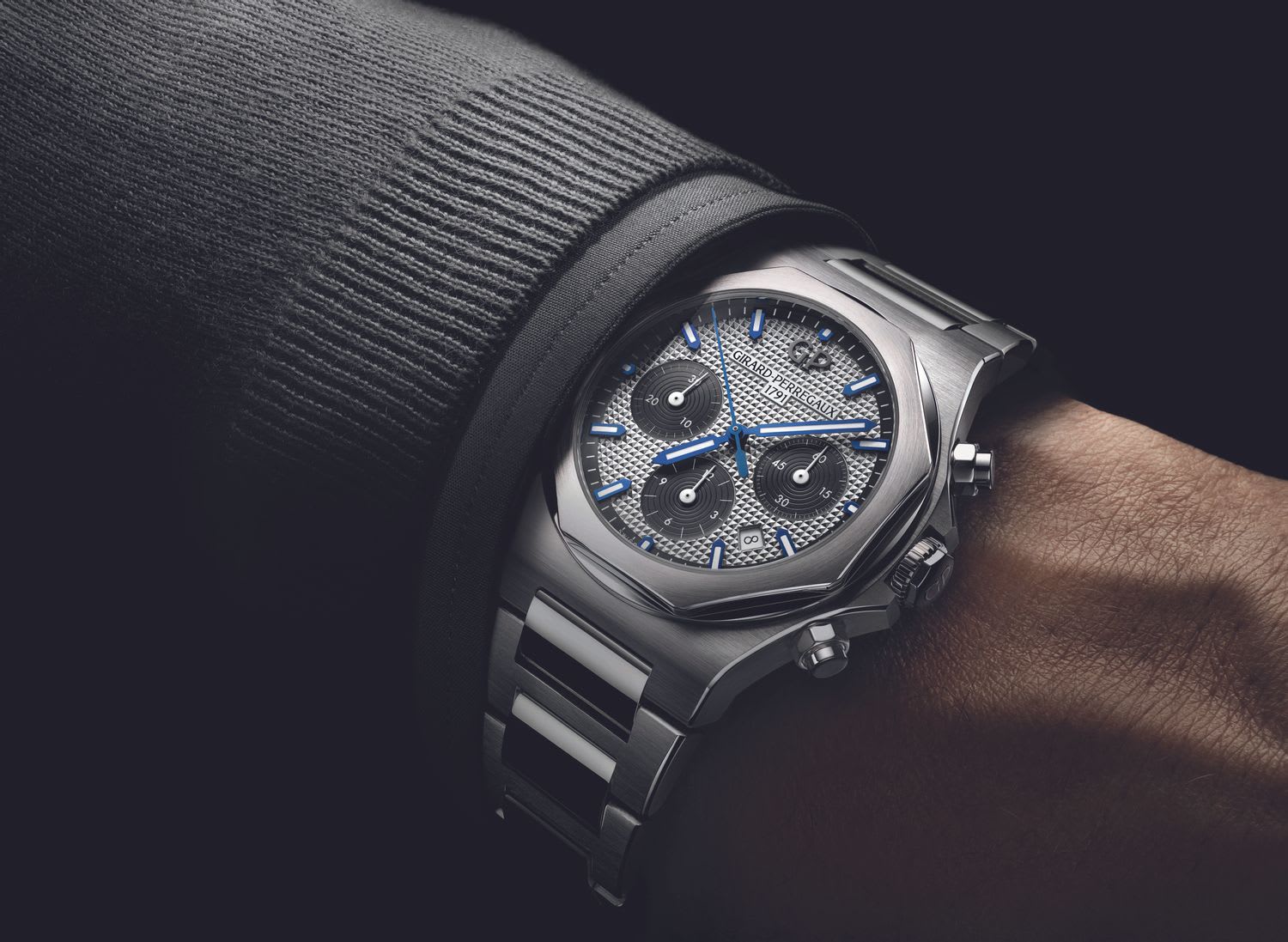 Chronograph Girard-Perregaux, Laureato 42mm, steel, steel bracelet, silver dial with index, automatic Cal. GP03300-0137, sapphire-crystal, 10 atm, Ref.: 81020-11-131-11A.
LAUREATO
In 2016, the Laureato made a comeback onto the watchmaking scene, in the form of a limited edition in tribute to Girard-Perregaux's 225th Anniversary. Following this highly successful edition, Girard-Perregaux is putting the Laureato in its rightful place: that of a contemporary watch combining a progressive, unique design with a feeling for detail, excellent timing capacity and perfect taste. These attributes are those belonging to a truly iconic watch, which finds its way through time with effortless ease.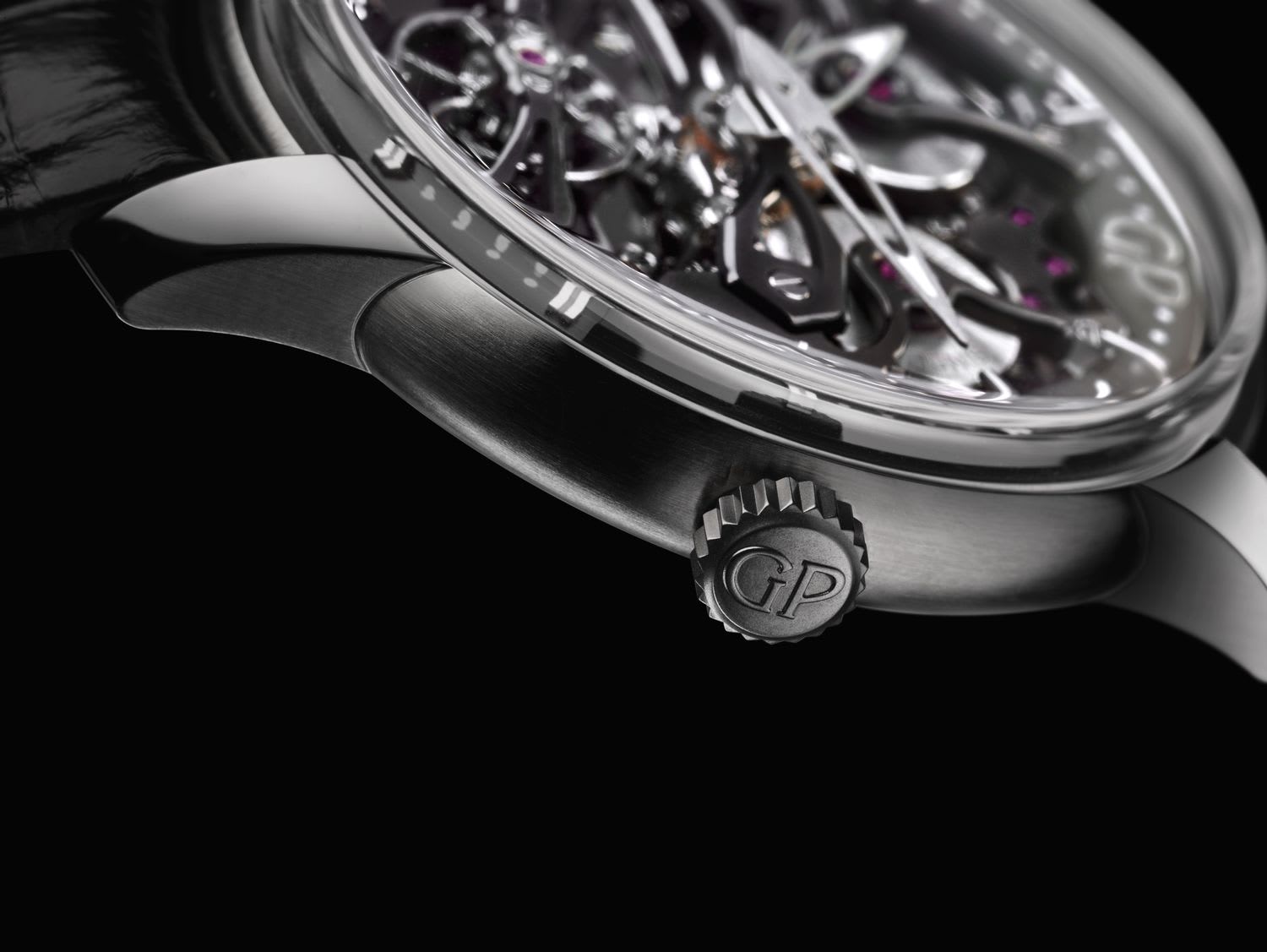 Wristwatch GIRARD-PERREGAUX Neo Bridges 45mm, titanium, alligator strap, with folding clasp, skeleton dial with index, automatic Cal. GP08400-0001, sapphire-crystal, 3 atm, Ref.:84000-21-001-BB6A.
Neo Bridges: Getaway to the future
A futuristic extrapolation of a 19th century movement architecture now considered to be the historical signature of the Manufacture Girard-Perregaux, the Neo-Bridges automatic titanium watch heralds a construction approach aimed at bringing a dramatic theatrical touch to tomorrow's mechanical horology.
 
Fundamentally retro-futurist in terms of its aesthetic approach, the Neo-Bridges automatic titanium adopts a certain vision of forward-looking horology, while remaining entirely in harmony with the history of the brand founded in 1791.
CAT'S EYE
Woman Collection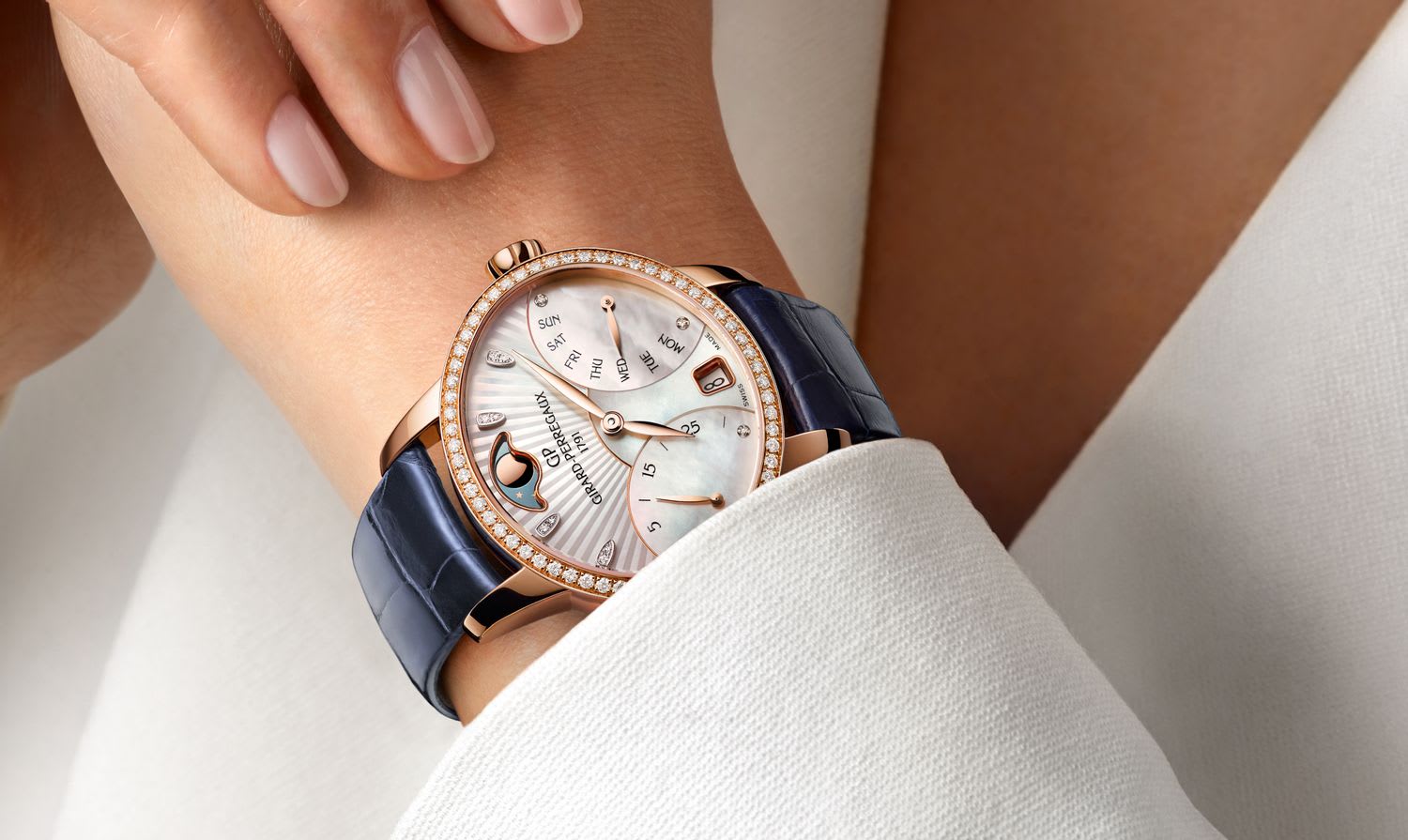 New addition to the Manufacture's woman collection
As a pioneer in the integration of a mechanical movement in its women time-keepers, Girard-Perregaux continues to bring to light its secular savoir-faire by revealing its latest creation with the Cat's Eye Majestic. Since its creation in 2004, the Cat's Eyes collection has won numerous prizes including the highly coveted «Watch of the year». 

Carrying on its tradition of innovation and its tribute to fine horology, Girard-Perregaux revisits the iconic shape of the Cat's Eye for a more audacious and dignified interpretation. The emblematic collection available in a very identifiable oval horizontal shape or an oval vertical case to embrace the famous Tourbillon with Gold Bridge, offers this year a new facet, even more contemporary with its new vertical, oval shape, set with diamonds.

Purposely feminine, its polished case, set with 60 brilliant-cut diamonds, sparkles around a mother-of-pearl dial. The dial features a delicate sun-ray decoration for the pink gold version or an artistic guilloché dial for the steel and bicolor (steel and pink gold) versions, emphasizing the harmony of the vertical oval. The refined « leaf-shaped » hands indicate the passing of time on two styles of indexes; gold roman numerals (at 6 and 12 hours for the bicolor in steel and pink gold) and diamonds. The generous and harmonious dimensions of the line proudly assert its contemporary character with a 34.72 x 40.00 mm case and an 11.60 mm thickness.

The Cat's Eye Majestic, with its strong identity and its high horological expertise, is available with a pink gold, bicolor or stainless steel case. As it can be worn with a black alligator strap, stainless steel, bicolor (pink gold and steel) or pink gold bracelet, there is a style to suit every occasion.
Girard-Perregaux Heritage
The origins of Girard-Perregaux are associated with two legendary figures of Swiss watchmaking.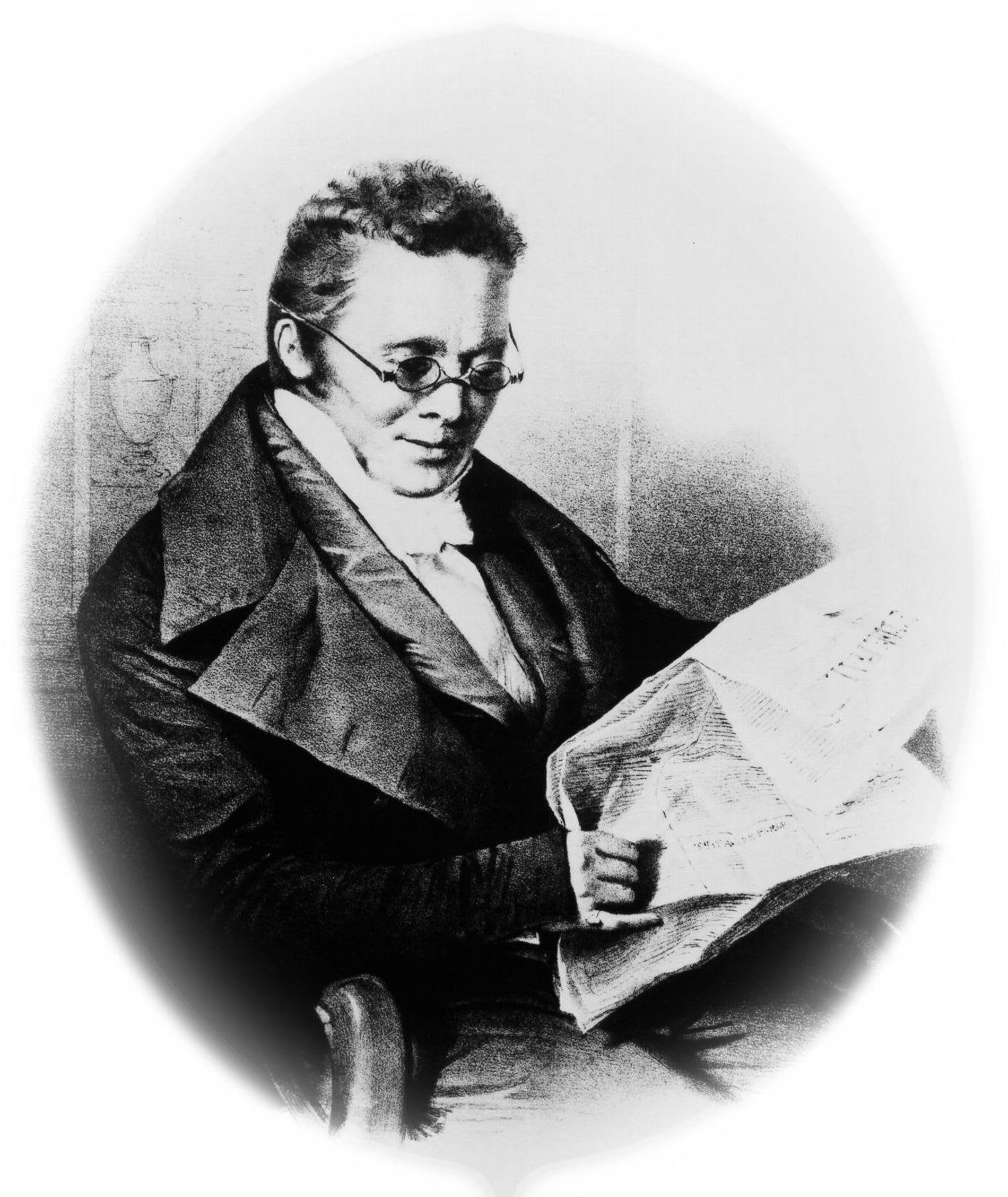 Portrait of Jean-François Bautte.
THE LEGENDARY JEAN-FRANÇOIS BAUTTE
The first, Jean-François Bautte, was born in Geneva in 1772 in a family of modest laborers. Orphaned when still very young, he was given an apprenticeship at twelve years of age and trained in the different trades as case assembler, guilloché applier, watchmaker, jeweler and goldsmith. He created his first watches in 1791 and, since his talents as a craftsman were matched by a sound commercial instinct, he soon developed his own manufacturing company, bringing together under a single roof all the watchmaking trades of the time. Here he organized the production of timepieces, jewels, animated dolls, music-boxes and other objets de vertu.

With clients including many of the crowned heads of Europe, this astute industrialist and businessman of brilliant character also traded with Turkey, India and China. Dumas, Balzac and Ruskin, among others, all wrote in praise of the famous watchmaker and jeweler from Genevanwho was one of the inventors of the ultra-thin watch.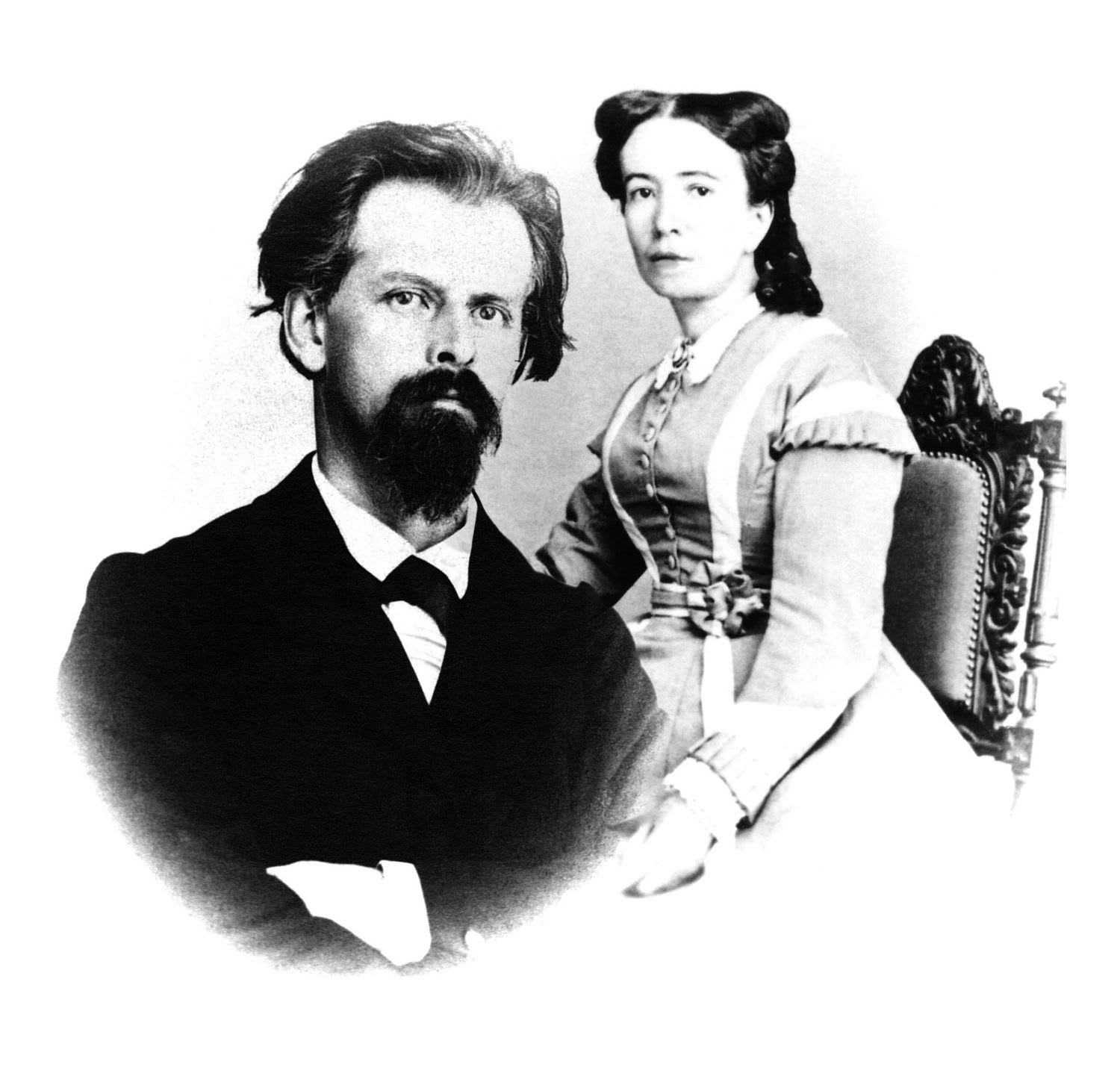 Constant Girard and his wife, Marie Perregaux.
Constant Girard, the Visionary
The second legendary figure in the history of Girard-Perregaux was a native of the Swiss locality of la Chaux-de-Fonds. Born in 1825 in this small city in the Neuchâtel Mountains, Constant Girard founded the firm of Girard & Compagnie in 1852. Two years later, he married Marie Perregaux (1831-1912 ), who came from a well-established family of merchant watchmakers in the neighboring city of Le Locle. The Manufacture Girard-Perregaux was created from the combination of their two last names, in 1856, in la Chaux-de-Fonds.

Constant Girard-Perregaux distinguished himself in particular by his research into the field of escapement systems, and especially the Tourbillon. Thanks to their quality and esthetic beauty, his creations were awarded numerous prizes and distinctions, both at national and international competitions and at various Universal Expositions. In 1867 he presented a Tourbillon, which eventually went on to win a prize at the Universal Exposition in Paris. The consecration came in 1889, when his famous Tourbillon with Three Gold Bridges, which had by now become the icon of Girard-Perregaux watchmaking, won a gold medal at the Paris Universal Exposition. He was indeed a visionary watchmaker. In 1880 he developed a wristwatch concept aimed at German naval officers and ordered by the German Kaiser, Wilhelm I. To protect against accidental knocks, the watch glass was sheltered behind a metal grid.

Two thousand of these watches were manufactured, which represented the first major market sale of wristwatches. However this idea, which was revolutionary at the time, had no immediate follow-up. It would not be until the beginning of the following century that the wristwatch found the success that it enjoys today.