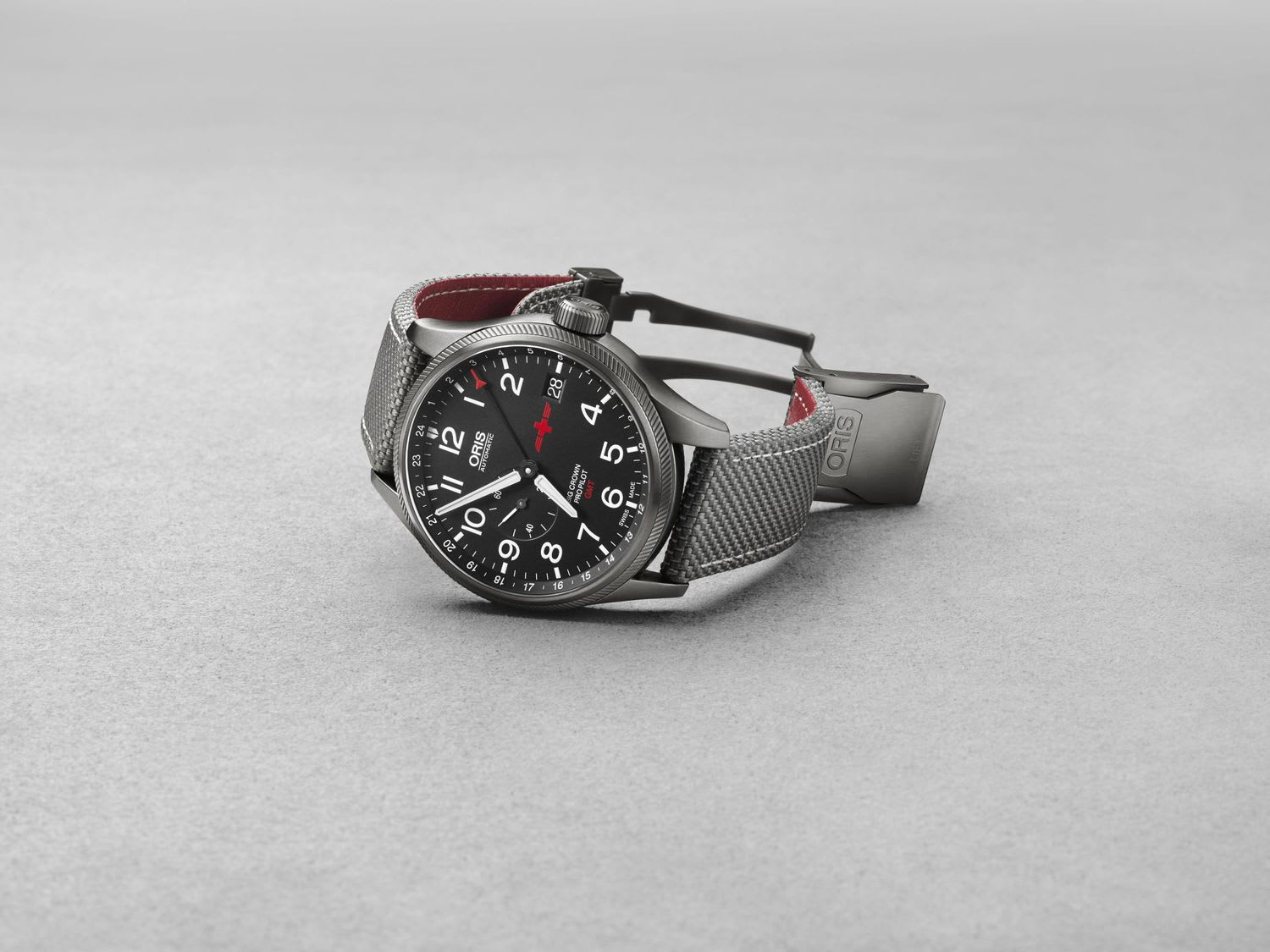 The independent Swiss luxury brand Oris, founded in 1904, produces only mechanical watches in an exclusive design with a good price-performance ratio.
Youtube videos are deactivate, please enable cookies to use youtube.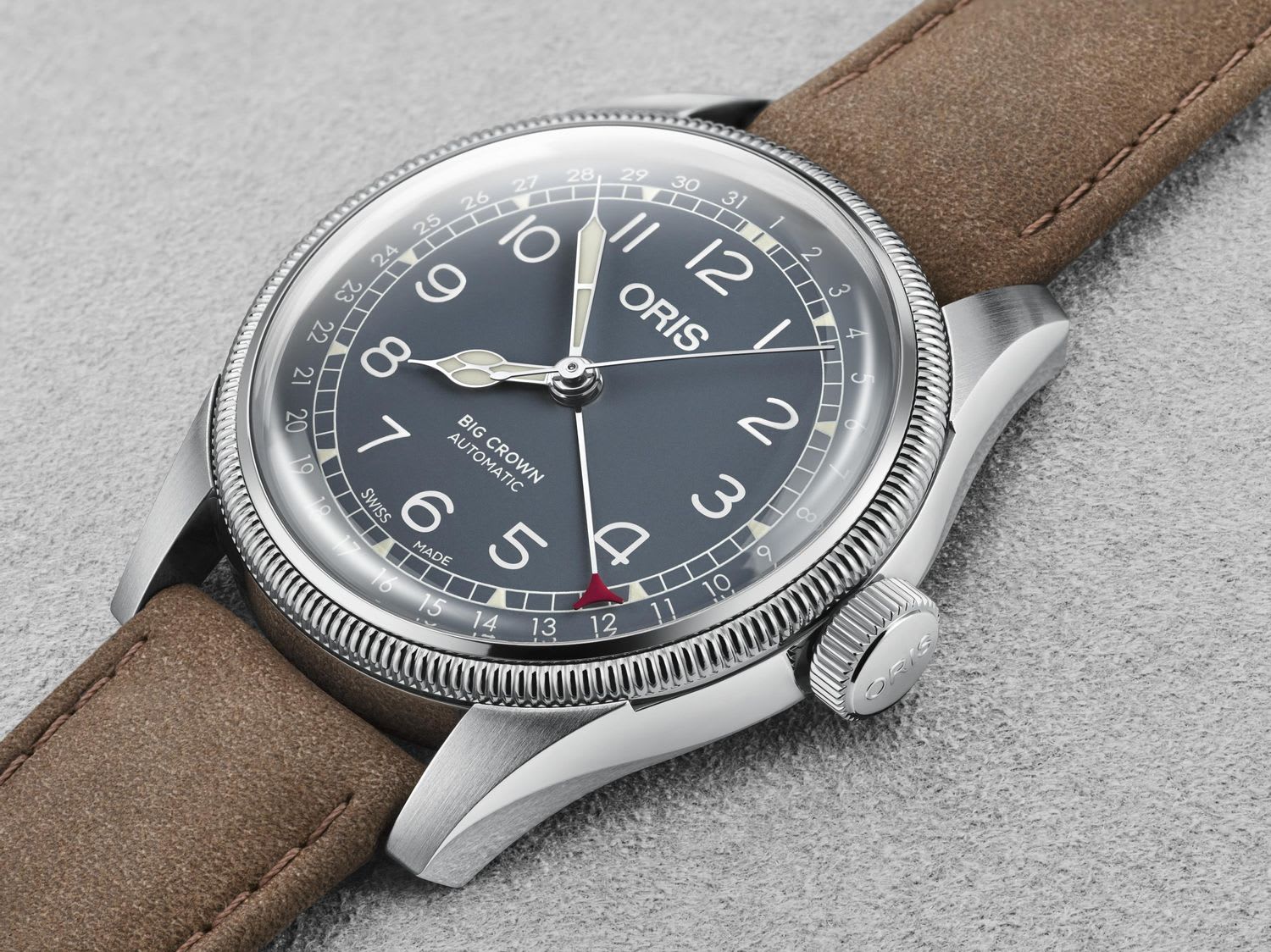 Wristwatch Oris Big Crown Pointer Date, 40mm, steel, leather strap, automatic Cal. SW 200-1, sapphire-crystal, 5 atm/screw-down crown, Ref.:754.7741.4065-5.20.63.
Big Crown
On its 80th anniversary, the iconic Oris Big Crown returns. Made by makers for makers, the new generation brings Oris's ageless design right up to date with contemporary colours and materials The Oris Big Crown. A pilot's watch. A design classic. A hero. An icon in watchmaking. This year, Oris's signature design returns, 80 years on from its 1938 launch. Oris's designers have faithfully updated it, retaining key design features such as the coin-edged bezel, the pointer date and, of course, its oversized crown.
But it's no replica. It may be grounded in the past, but it's driven by the future and by a passion for making and for reinterpreting timeless values for our times and those to come. We found that same passion at Lot Sixty One, the Amsterdam coffee roasting house. The new models have been updated for a generation of makers, while staying true to Oris's watchmaking tradition. The case shape at the heart of the new collection is slimmer. Fresh dial colours inspired by Le Corbusier give it a stylish look. A suite of straps and bracelets offer versatility.
The option of a bronze case adds an artisanal feel. And now it's available with either a 40mm or 36mm case to cater for a wider audience. Introducing the Oris Big Crown Pointer Date – a design icon for yesterday, today and tomorrow.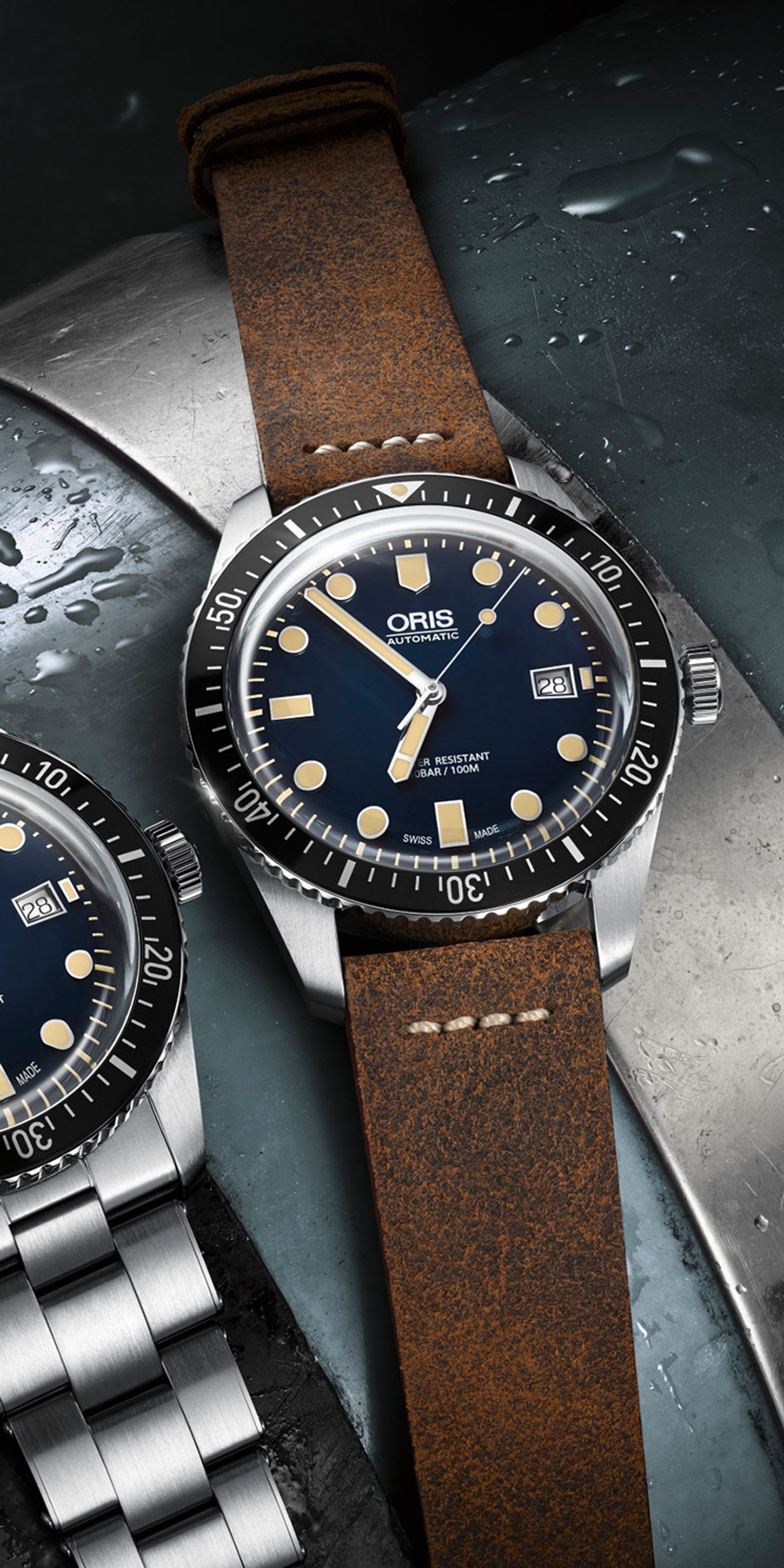 Wristwatch Oris Divers Sixty-Five, 36mm, steel, leather strap, automatic Cal. SW 200-1, sapphire-crystal, 10 atm/screw-down crown, Ref.:733.7747.4354-5.17.45.
Oris Divers
Oris has dived back in time and is delighted to present the Oris Divers Sixty-Five – a revival of an iconic diver's watch that first appeared in the Oris collection 50 years ago. The new Oris Divers Sixty-Five shares the retro looks of the 1960s original, but it's been modernised using 21st century watchmaking techniques. The case is made of anti-corrosive stainless steel. The vintage-inspired bubble-curved glass is made of scratch-resistant sapphire crystal and comes with anti-reflective coating on the inside to reduce glare and increase legibility underwater.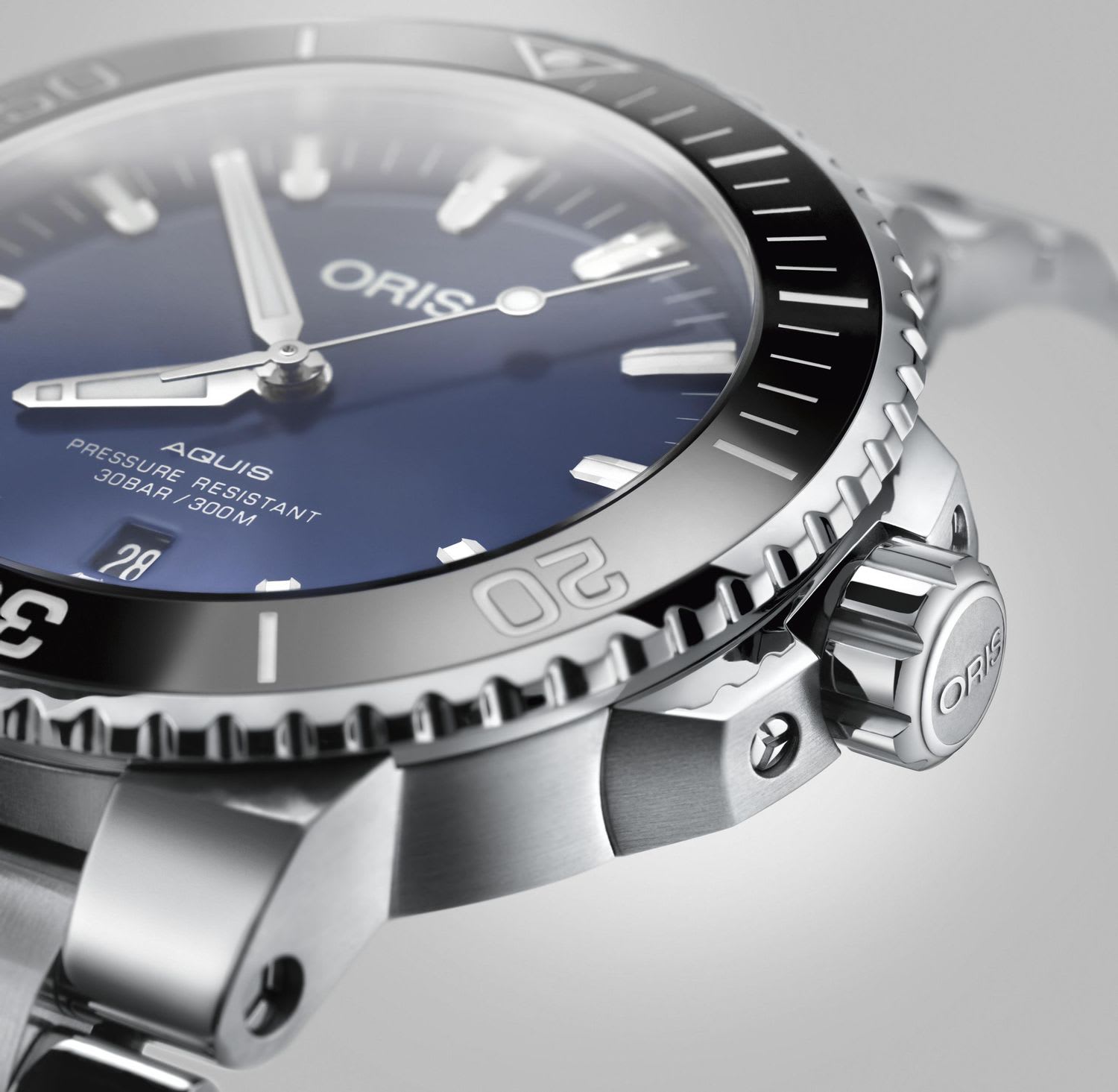 Wristwatch Oris Aquis Date, 43mm, steel, steel bracelet, blue dial with index, automatic Cal. SW 200-1, sapphire-crystal, 30 atm/screw-down crown, Ref.:733.7653.4155-8.26.01PEB.
Oris Aquis
Oris is pleased to introduce a new design in its vintage- inspired steel Divers Sixty-Five collection. At 42mm in diameter, the new model is the largest of the series, and for the first time comes with a choice of leather and NATO straps.
Oris's long diver's watch tradition continues this summer with the launch of a new addition to the Aquis collection. The Oris Aquis Small Second, Date plunges into the deep with a striking combination of sea-worthy colours and materials. The Aquis's diving credentials are well known, but with its shimmering sunray blue dial, this model also becomes a watch that moves effortlessly from beach to bar.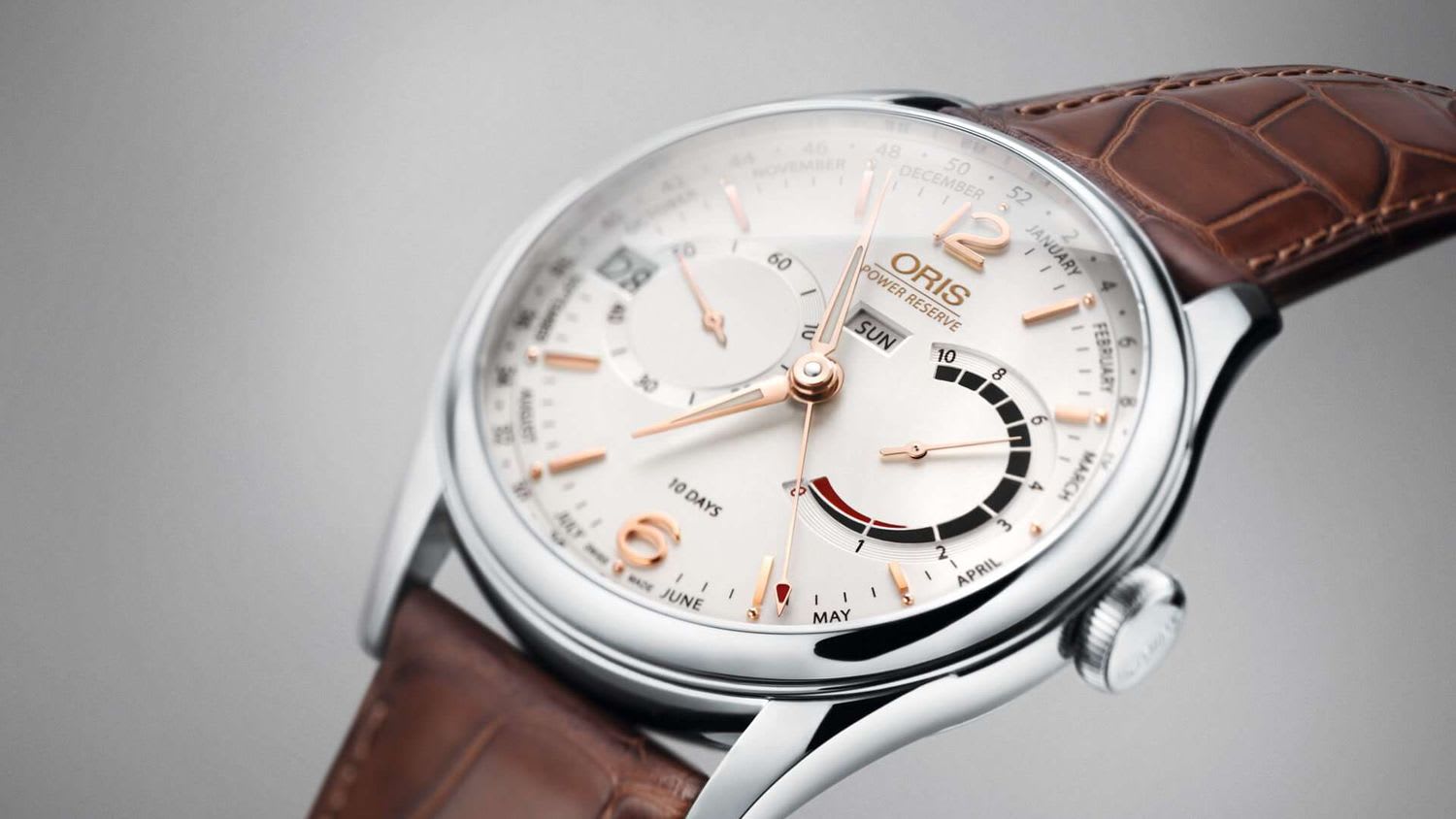 Wristwatch Oris Artelier 43mm, stainless steal, leather strap, manual winding Cal. Oris 110, sapphire-crystal, 3 atm, with Power-reserve, Ref.:01.113.7738.4031-SET.
Oris Artelier Calibre 113 – time for business
Oris will continue its proud watchmaking tradition by officially unveiling Artelier Calibre 113. Calibre 113 features a novel business calendar, showing the day, date, week and month of the year.

Like the three calibres before it, Calibre 113 features a 10-day power reserve, a patented non-linear power reserve indicator and a small seconds. The addition of a business calendar means that once again Oris is introducing a watch with a unique combination of complications. No other watch in the world brings these functions together.

Because it's an Oris, Calibre 113 will be industrially produced to the highest standards of Swiss watchmaking and offer customers who appreciate those traditions incomparable value. Despite its sophistication, the Artelier Calibre 113 is also a 'real watch for real people'. Calibre 113 will have a 43mm multi-piece stainless steel case with a sapphire crystal glass and case back so the watch's bold movement design can be seen in all its industrial glory. It will have apertures at 12 and 9 o'clock for the day and date indications, while the same central pointer hand will show the week and month. The hand has a red tip that corresponds to a gauge around the outside of the dial. Oris has engineered Calibre 113 so that all of these functions, as well as time setting and winding, can be operated through a single crown.
Oris may be grounded in the past, but today, from its home in Switzerland's Waldenburg Valley, the independent company is still pushing boundaries
How many Swiss watch companies remain independent? In a time of private equity buyouts and big group practices, Oris cuts a different figure. The company has been independent since the early 1980s, and today is free to go its own way.
That means high-quality mechanical watches. It's almost 30 years since Oris made a quartz watch – now it's one of very few watch companies that only makes mechanical watches. It uses its independence to create stylish, inventive, authentic, beautifully designed watches. People who choose Oris appreciate quality and origin, and trust traditional values passed down to them through generations of craftsmen and women.
The story began in 1904 when two watchmakers registered a watch concern in the village of Hölstein, deep in the rolling hills of the Waldenburg Valley. From the outset, their vision was to produce high-quality watches that were accessible to successful, professional people who valued excellence over excess.
Through the decades, Oris has introduced dozens of landmark designs and milestone mechanical innovations. Today, under the headship of Oris Chairman Ulrich W. Herzog, the company continues to trust the philosophy passed down through the generations, upholding the standards of Swiss watchmaking, and doing what it thinks is right. Some 114 years into its story, Oris is still going its own way, led by brilliant designers, craftsmen and makers.