Clear lines
Baguette-cut diamonds combine elegance, beauty and style
Only once its facets are cut does a baguette-cut diamond unlock its full potential. In other words, the focus is not simply on the stone itself – the fascination stems equally from the cut. Choosing a baguette-cut diamond always makes a statement. At first glance, the baguette cut looks almost modest, but its charm lies in its understated look, which gives it a very elegant and modern appearance. 
Baguette-Cut Highlights 
The New B Dimension Collection 
Stars of the show
A sophisticated combination of baguette-cut and brilliant-cut diamonds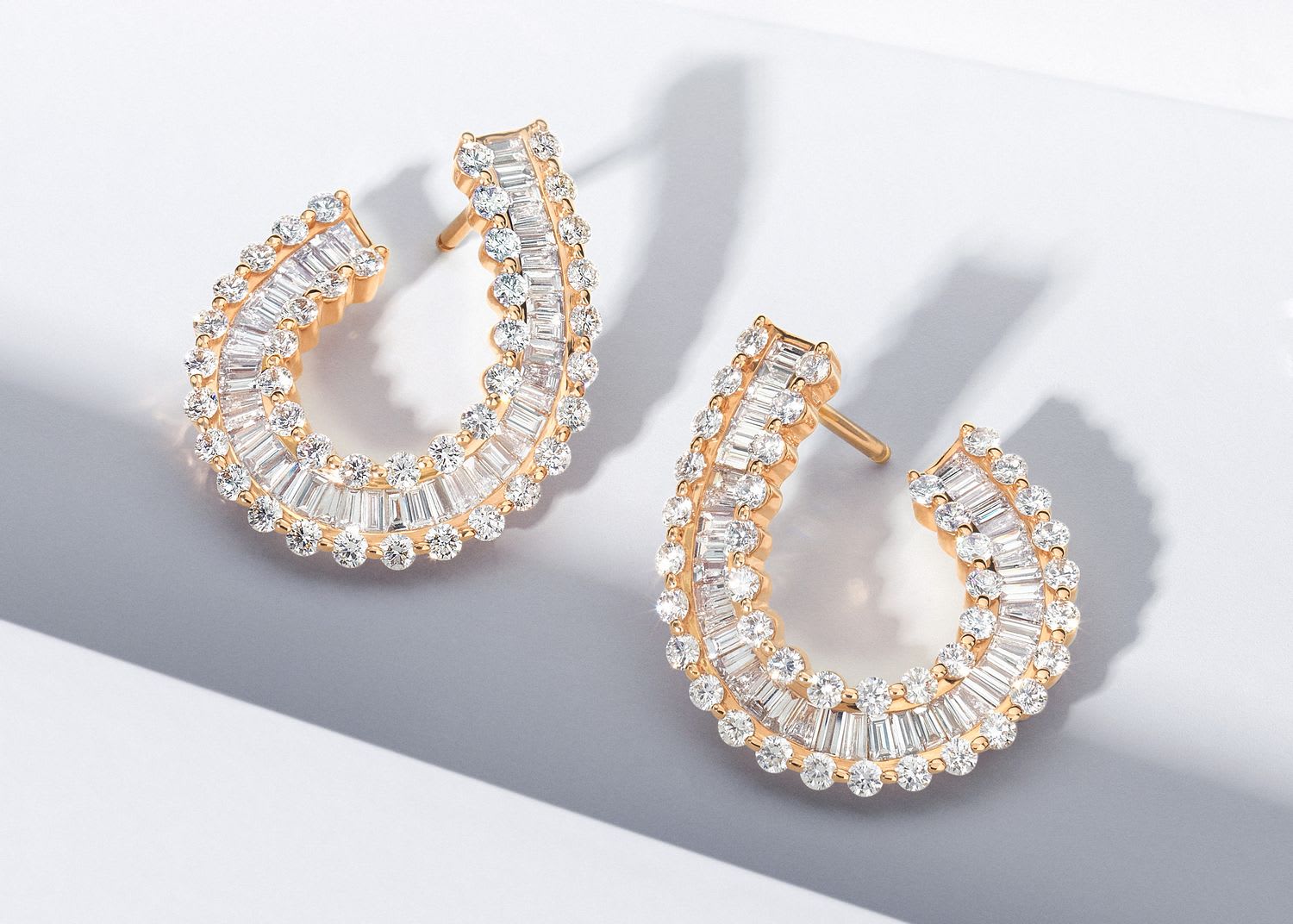 The return of a classic cut
These eye-catching pieces showcase the spectacular beauty of baguette-cut diamonds. They twinkle and glitter delicately thanks to a sophisticated combination of 80 baguette-cut diamonds and 82 brilliant-cut diamonds.
Did you know? The name baguette does not come from France's favourite long white loaf but rather from la baguette, which means "stick" in French and provides a fitting description for this type of cut: a rectangle, precision-cut at 90° angles, with several stepped parallel facets, all of which are connected to the central, rectangular table facet. The cut, designed as a classic stepped cut in the 1920s, is reminiscent of the Art Deco movement with its clear, pure design, adorned with geometric and symmetrical elements.
Playing with contrasts
A colourful, high-quality baguette-cut piece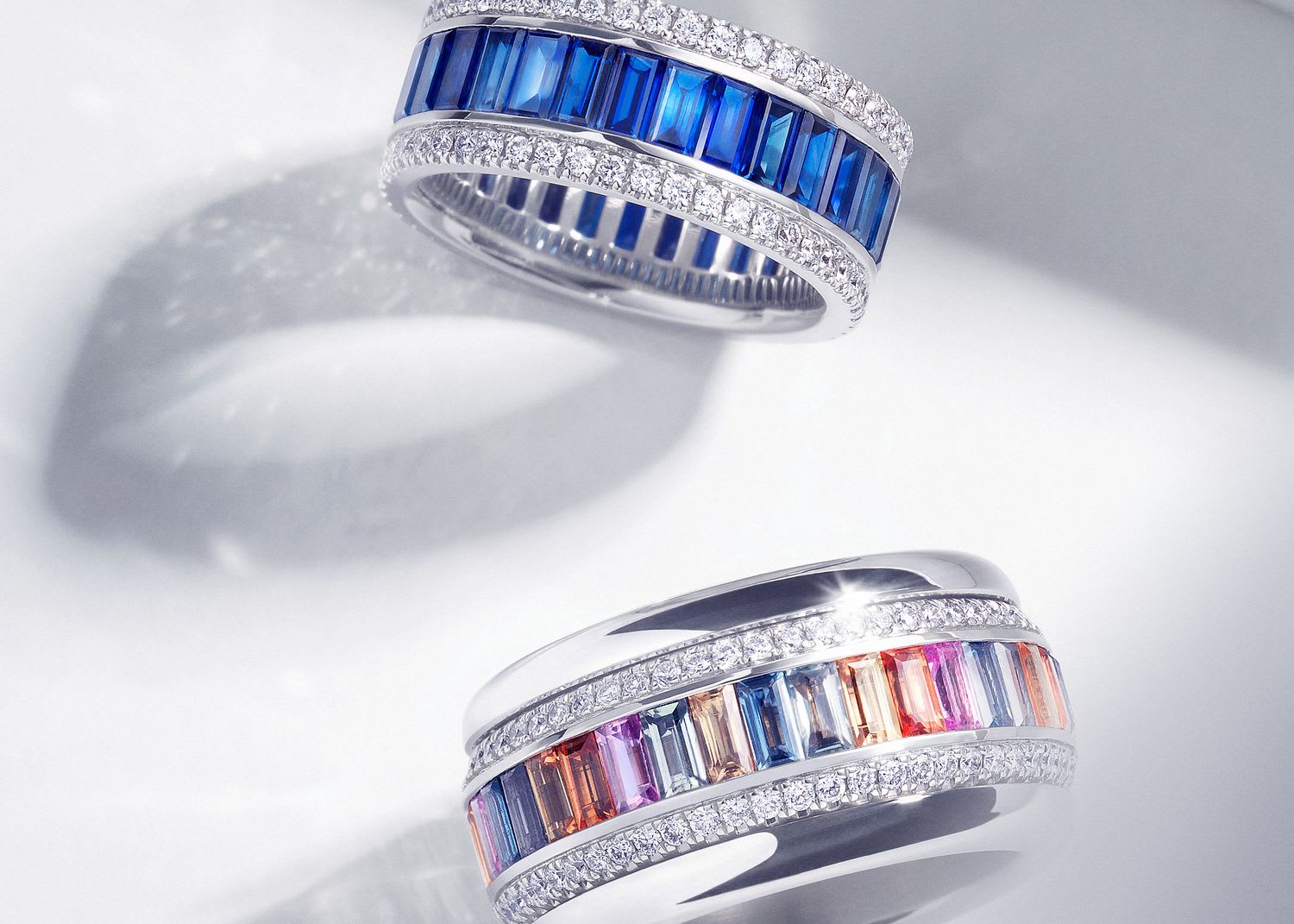 Opulent jewellery with classic appeal
The baguette cut highlights the clarity and purity of a diamond more than its brilliance. This is due to the fact that, with baguette-cut diamonds, the cut facets on the crown and pavilion run parallel to the outer edges of the stone. The result is a diamond that does not sparkle as brightly as a round-cut diamond, for example. Instead, it stands out due to its clear shape.
Coloured baguette-cut diamonds add an element of surprise to these unusual pieces from Bucherer Fine Jewellery, which combine bold colours and distinct shapes in a manner that is both imposing and contemporary at the same time. A multi-dimensional, linear arrangement of colourful baguette-cut diamonds and brilliant-cut diamonds creates a look that is exciting yet subtle.
Beautifully arranged
Baguette-cut diamonds represent simple elegance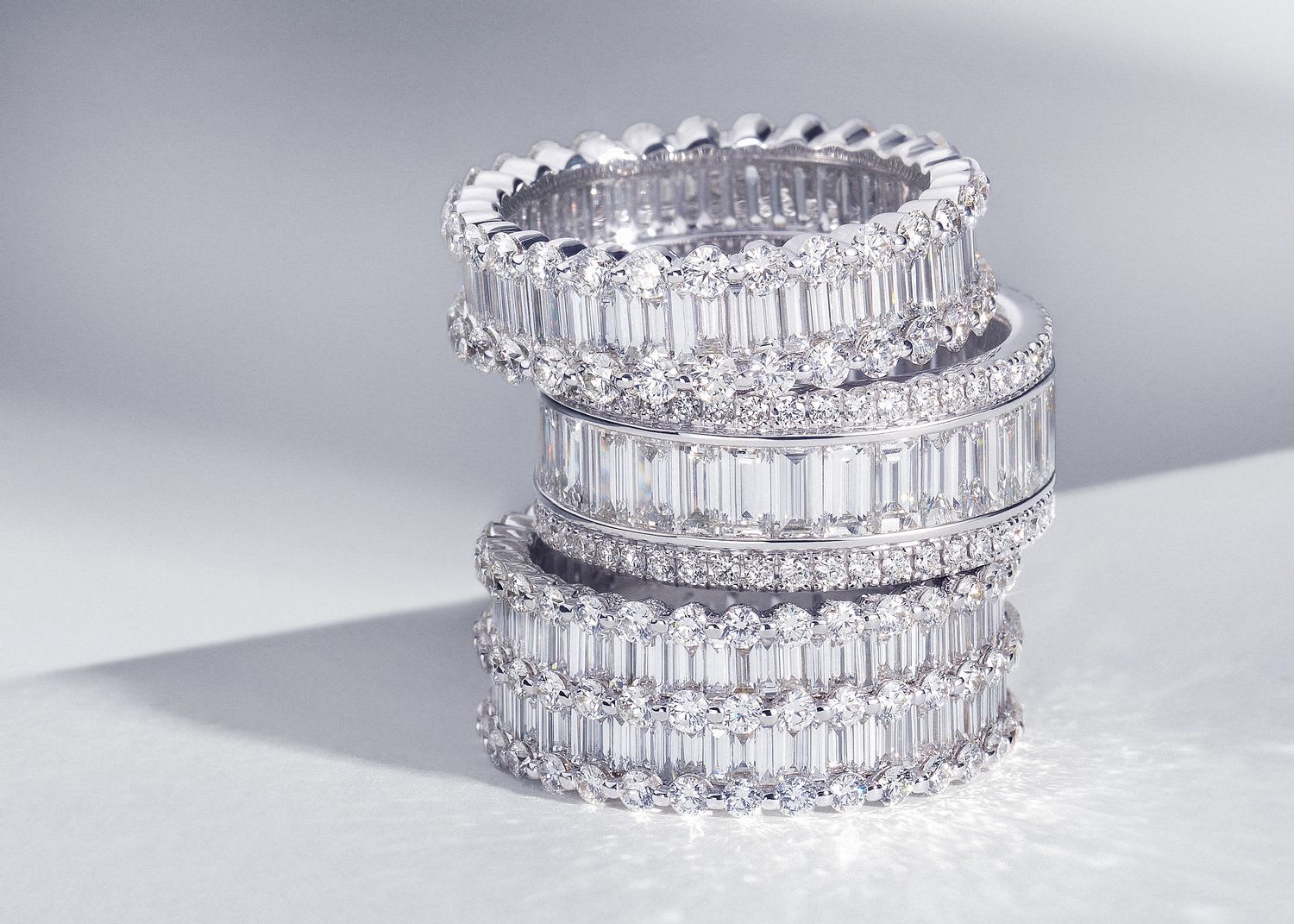 Timeless elegance with a fascinating setting
A highlight in every regard: stylish but simple, the precision cut of baguette diamonds is an expression of top-quality craftsmanship. It brings the purity of the diamond to the fore like no other cut – a feature that makes baguette-cut diamonds a popular eternity gemstone.
As baguette-cut diamonds are often used in pairs or series, it is important that the colour, purity and proportions are consistent. Any deviations, especially inconsistencies in the cut quality and colour, can often be seen with the naked eye, and detract from the elegance and flawlessness of the piece.
With these rings, Bucherer Fine Jewellery has created elegant highlights with a stunning combination of baguette-cut and brilliant diamonds.

Minimalist, with maximum impact
Ultra-delicate
The delicate look of baguette-cut diamonds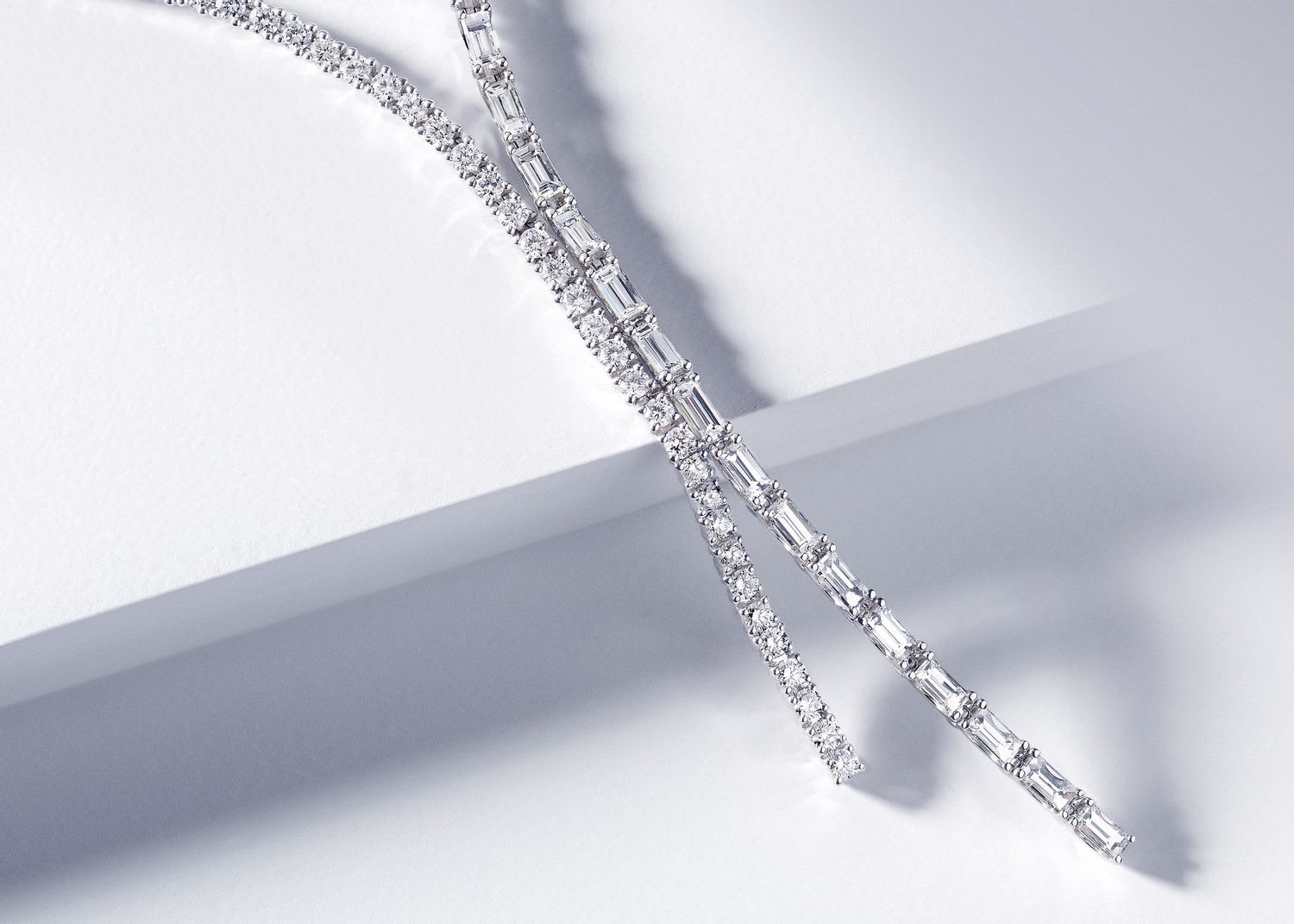 Perfect for fans of minimalistic chic
The crucial factor for the appearance of an individual baguette-cut diamond is the ratio of length to width. This ratio can completely change the look of a stone. While long, slim baguette-cut diamonds placed alongside one another combine to form an elegant sequence of stones, square-shaped baguette-cut diamonds can exude a more masculine, technical appearance.
Combining baguette-cut diamonds with other ornate cuts creates a delicate yet powerful statement piece. Whether it's the perfect symbiosis of the architecturally inspired Variato collection or the skilful juxtaposition of both cuts in the Soirée necklace – contrasting settings give baguette-cut diamonds a modern look at Bucherer Fine Jewellery.

Twinkling side by side, the diamonds are set artistically in both baguette and brilliant cuts. This arrangement brings out the elegant lustre of the diamonds, creating an elegant eye-catching piece that looks delicate and timeless despite its opulent radiance.