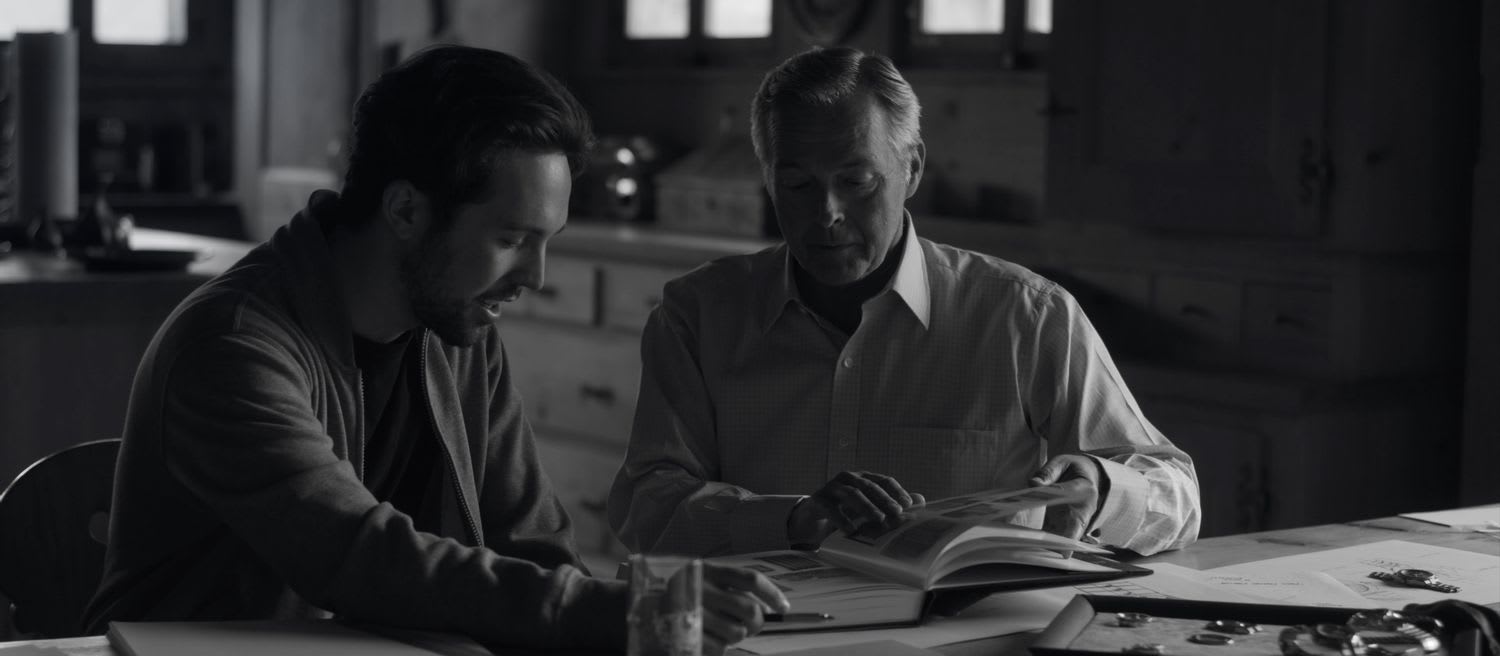 The rebirth of a watch icon
A contemporary reinterpretation of the St. Moritz
Modern, refined and confident. The new sporty-chic Alpine Eagle watch collection from Chopard cuts a stylish figure. The watch design is a state-of-the-art reinterpretation of the St. Moritz, the first watch to be designed by Karl-Friedrich Scheufele, the current co-president of Chopard, in 1980. The design was created and developed by Karl-Friedrich Scheufele himself: a homage to his passion for the Alps and the sublime power of the eagle. The Alpine Eagle model represents history repeating itself. This time, it was Karl-Fritz who convinced his father to develop a historically inspired new edition of the St. Moritz. The result leaves nothing to be desired. Discover the iconic Chopard Alpine Eagle watch collection. Bucherer sits down with Karl-Friedrich Scheufele and his son, Karl-Fritz, for an exclusive interview.
Unusual materials promise a bright future
HE ALPINE EAGLE IN BRILLIANT GOLD AND STEEL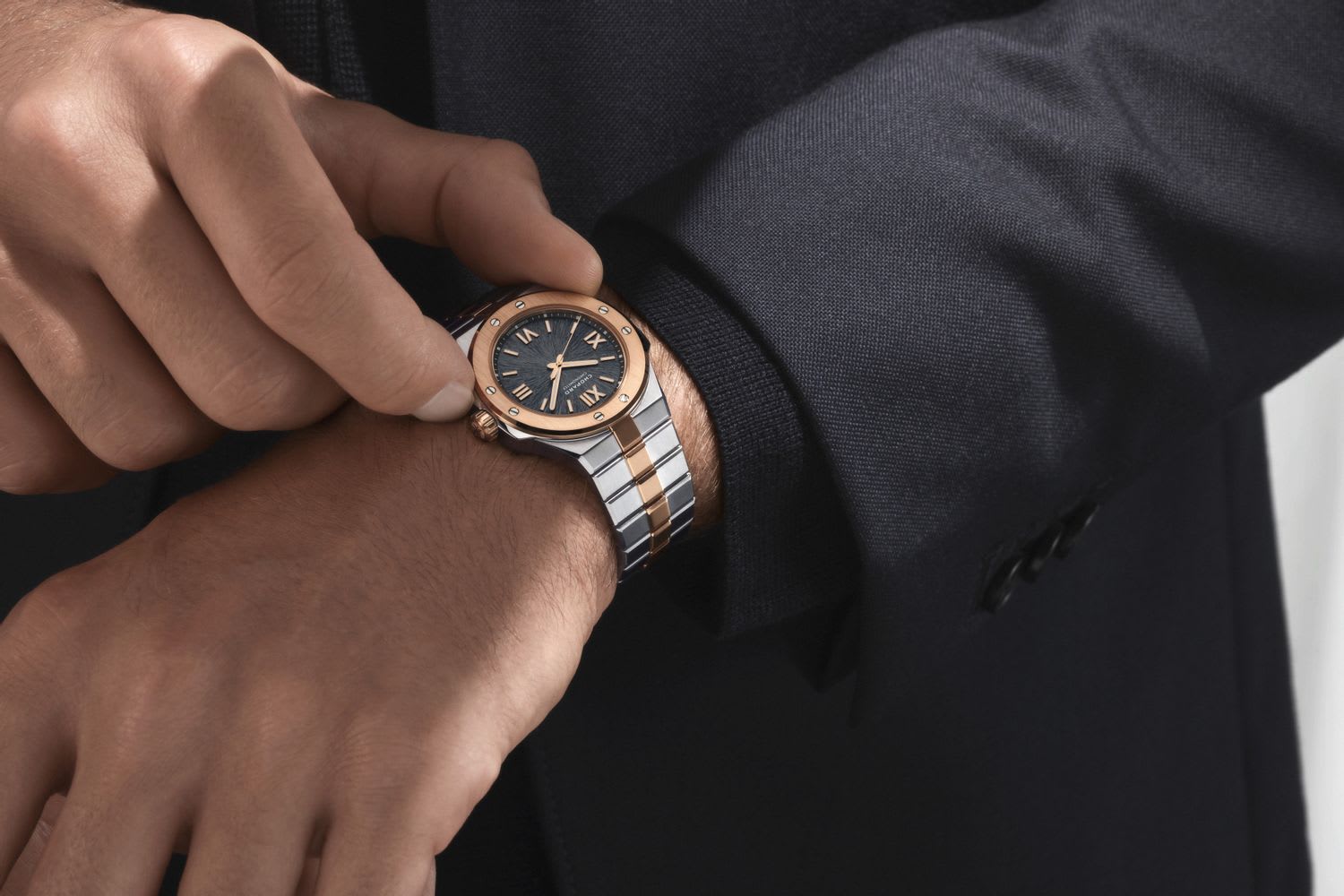 As valuable and complex as gold
Chopard created a new metal specially for the Alpine Eagle collection. Lucent Steel A223 is a steel alloy with three unique characteristics: it is anti-allergenic, extremely hard and singularly radiant. Firstly, the metal is anti-allergenic and comfortable for the wearer. Secondly, this alloy is much harder than regular steel, making it more durable and abrasion-resistant. And last, but not least, the purity of the metal lends it a dazzling reflective sheen. This lustre and this radiance promise a bright future. 
Shaped by sleek elegance
A classic watch model with attention to detail
Purist beauty
The Alpine Eagle wristwatch from Chopard features a purist, contemporary design. The classic, historically inspired watch model exercises elegant restraint and celebrates attention to detail. The visual diversity is embodied in the symbolic allusion to the eagle. Starting with the dial, which is rough like the surface of a rocky cliff and reminiscent of the iris of an eagle's eye, all the way to the hands, which call to mind the feathers of the bird of prey and the icy reflections of a glacier. This watch embodies the traditional art of Swiss watchmaking and represents Chopard's timelessly sleek elegance.

Tradition meets modernity
CONTEMPORARY DESIGN ELEMENTS CATCH THE EYE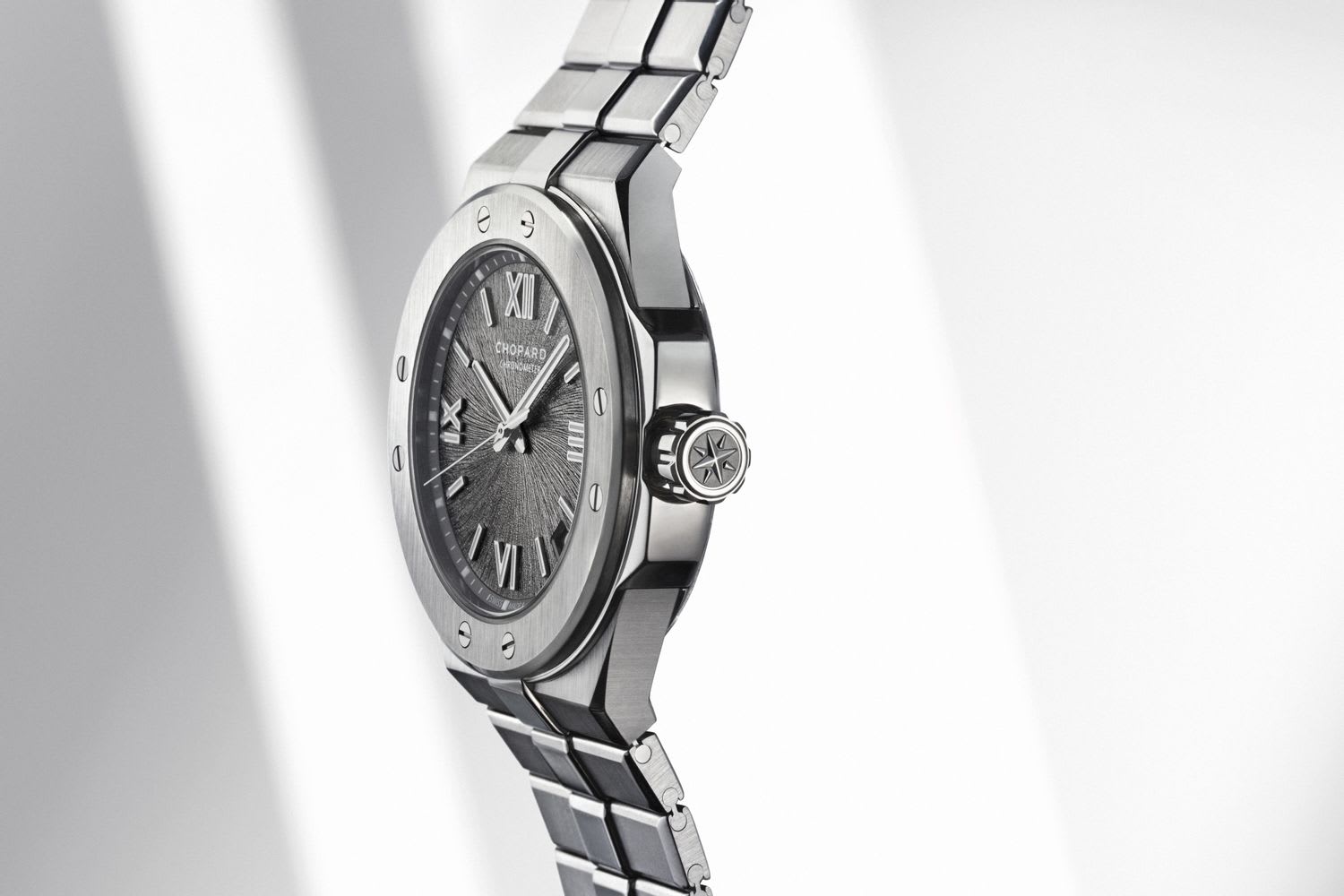 Young and dynamic
The bracelet of the Alpine Eagle features redesigned, bar-shaped links with an elegant raised ridge running down the middle. The crown protection, which is mirrored on the opposite side, lends the case its signature shape. The crown itself is adorned with an engraved compass rose, like the ones that have helped adventurers find their way since ancient times.
Behind the scenes
Bucherer conducted an exclusive interview with Karl-Friedrich Scheufele, co-president of the family-owned company Chopard, and his son Karl-Fritz
With the Alpine Eagle, one chapter of Chopard's history has repeated itself. This time, Karl-Fritz Scheufele was the son who convinced his father, Karl-Friedrich, to resurrect the St. Moritz model. In this exclusive interview, Bucherer talks to both father and son about the differences between the generations, their love of nature, and an iconic watch as a brand ambassador.
BUCHERER: "The new Alpine Eagle collection is largely the result of the efforts of your son, Karl-Fritz, to persuade you to resurrect the unmistakable St. Moritz collection. How did he end up convincing you?"
KARL-FRIEDRICH SCHEUFELE: "I am sure I didn't make it easy for my son. I was of the opinion that we didn't need another collection and that we were already well-positioned. But, at the end of the day, his arguments were really convincing. He reminded me a little of myself 40 years ago when I talked my father into launching the St. Moritz collection."
KARL-FRITZ SCHEUFELE: "My grandfather was a great help, in fact. We worked together on the designs and the initial sketches for my ideas. Then I backed up these ideas with facts and figures, all of which pointed towards a relaunch." 

BUCHERER: "Which design features in particular are clearly influenced by the newest generation?"
KARL-FRIEDRICH SCHEUFELE: "We agreed that we wanted the original DNA of the unmistakable St. Moritz to shine through, while at the same time attracting a new generation through contemporary details. My son played an important role in this aspect." 

BUCHERER: "Three generations working together on a watch collection – this is a rather unique project for the watch industry. Can you tell us more about this process? Were there heated discussions or did everything go smoothly?"
KARL-FRITZ SCHEUFELE: "In terms of the structure, it's nothing more than a normal business project. But one huge advantage is that, as a family, we all know each other so well and communicate with one another directly. This allowed us to develop the project much faster. Naturally there were some differences of opinion here and there, but that's part of the game. The key to success is to listen to one another. My father and my grandfather know everything there is to know about watches. My job was mainly to bring in a more modern perspective. In this way, we complemented each other perfectly."
KARL-FRIEDRICH SCHEUFELE: "It was really a harmonious and inspiring collaboration. Karl-Fritz was able to incorporate state-of-the-art aspects into the design." 

BUCHERER: "Chopard is one of the few family-owned and -operated companies in the watch industry. How do you balance tradition with forward-looking strategy?"
KARL-FRIEDRICH SCHEUFELE: "As a passionate classic car driver, I can offer you the following comparison: when you're driving a car, you're always moving forward, but you also need to keep an eye in the rear-view mirror. It's important to respect and keep your history and tradition in mind, but we can't forget that we want to move forward. You need to find a way to do both."

BUCHERER: "The digital world continues to develop at a rapid speed. Do you two ever discuss this, and how is the younger generation shaking things up in this area?"
KARL-FRITZ SCHEUFELE: "My father and my grandfather aren't necessarily big on social media, but they understand the importance of these channels in terms of customer communication. I often show my father posts and updates on Instagram that could be interesting for us as a brand. I think that this is precisely what defines us as a traditional family-owned business. Everyone brings their knowledge and perspective to the table, and the result is something very unique."

BUCHERER: "Bucherer has the honour of being one of the first retailers to sell the Alpine Eagle collection. How do you choose your partners?"
KARL-FRIEDRICH SCHEUFELE: We truly enjoy working together with partners who have a similar background and share the same values. Working together with Bucherer is a privilege for us – there aren't many significant family-owned companies left in the retail sector. Moreover, Bucherer represents an unparalleled level of professionalism in terms of customer support and customer service. 

BUCHERER: "... which is taking on increased significance in the luxury segment in particular."
KARL-FRIEDRICH SCHEUFELE: "Our customers are becoming more and more discerning and increasingly interested in the product details. A company like Bucherer needs to respond to these changes. More than ever, what counts is the experience that the customer expects when purchasing a watch. They want to celebrate this purchase and receive expert advice. And that is precisely what Bucherer offers."

BUCHERER: "As a brand, you have long advocated for sustainability. With the Alpine Eagle collection, you're going even further. Why is it so important to manage a company sustainably?"
KARL-FRIEDRICH SCHEUFELE: Sustainability has been a major priority for us for many years, for example in terms of the production and use of "ethical gold", but also in terms of corporate and employee management. With the Alpine Eagle, we are getting more closely involved as a family, from the choice of the steel used all the way to the Eagle Wings Foundation – a foundation dedicated to preserving the Alpine regions and raising awareness of the declining population of eagles. 

BUCHERER: "The younger generation in particular is showing an increased appreciation for nature and its significance. Karl-Fritz Scheufele, what are your feelings on this topic?"
KARL-FRITZ SCHEUFELE: "I think that our generation needs to do more than just talk – we need to act. I also want to take a stronger stance on this topic in our company in the future."

BUCHERER: "Do you both share the same love of nature?"
 KARL-FRITZ SCHEUFELE: "I love the mountains more than anything. We both are avid skiers. My father is truly passionate about ski mountaineering, whereas I prefer taking the lift (laughs)."
KARL-FRIEDRICH SCHEUFELE: "(laughs) Exactly. I don't need a lift; I prefer more strenuous outdoor activities."
KARL-FRITZ SCHEUFELE: "But in general, we are both fascinated by the mountains. In summer and in winter."

BUCHERER: "The eagle is used as a recurring symbol throughout this collection. Can you tell us a bit about what it represents?"
KARL-FRIEDRICH SCHEUFELE: "On one of my hikes through the mountains I was able to observe these incredible creatures. It was an unforgettable experience. This is where the idea for the name of the collection originated. The eagle has a majestic air to it, and is also a symbol of what is currently happening on our planet. In Switzerland and France, eagles have more or less gone extinct. One of the aims of the foundation is to reintroduce the eagle into its natural habitat and raise awareness of the situation."

BUCHERER: "More than anything, the Alpine Eagle collection is defined by attention to detail. Which detail is your personal favourite?"
KARL-FRITZ SCHEUFELE: "The screws are one of my favourite details. They are all aligned in the same direction, and yet at the same time they all serve a purpose. A marriage of technology and aesthetics."
KARL-FRIEDRICH SCHEUFELE: "Personally, I am fascinated by the finish of the watch. The interplay of polished and brushed surfaces, designed to perfection. In general, the watch itself is a testament to absolute perfection. I'm known for being a perfectionist. That certainly started to test my son's patience."

BUCHERER: "The watch was made using a special steel – a process that was extremely work-intensive. Can you tell us more about that?"
KARL-FRIEDRICH SCHEUFELE: "We needed to work with a special steel supplier because steel is much harder than other metals, so it requires additional processing. The fact that the steel is melted down twice has something of a cleansing effect. It even makes the steel anti-allergenic. The overall process of melting down the steel was extremely complex, but the result was certainly worth it."