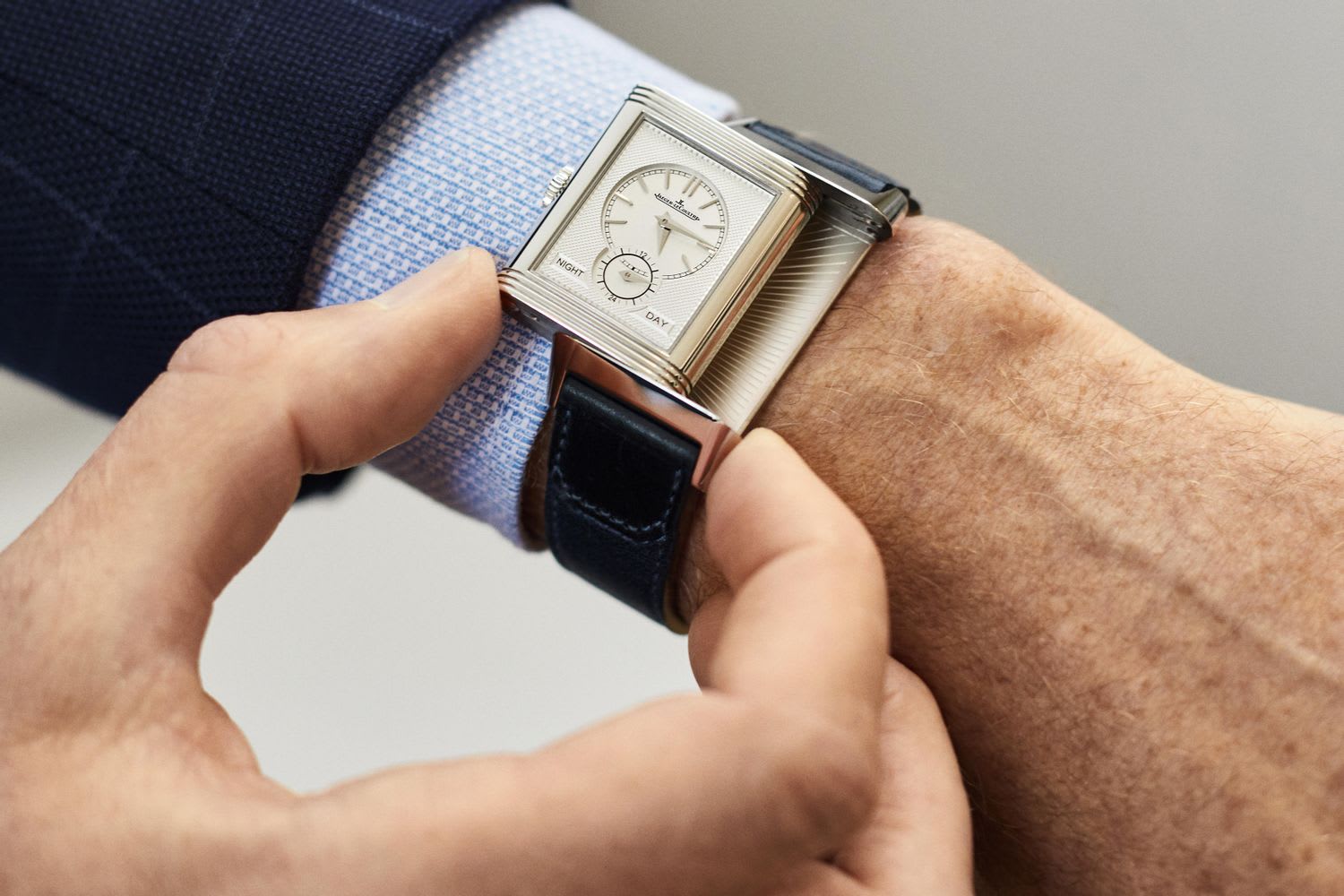 Jaeger-LeCoultre Reverso
A unique timepiece
Very few of the classics in watchmaking history contain the kind of special features found in the iconic models of the Reverso collection by Jaeger-LeCoultre. The acclaimed rectangular design and unique folding mechanism of this exquisite timepiece were born of a challenge faced in the early 1930s: to design a model robust enough to withstand use by polo playing officers of the British Army in India. The best part? The dial can be concealed by reversing the case, protecting the dial from potential collisions. The sophisticated and modern collection now features new models, such as the Reverso Tribute Calendar or the Reverso One Duetto, and cuts an impressive figure with two faces. From different time zones to displaying a complete calendar on the back of the reversible case, this collection leaves nothing to be desired.
Clear, geometric lines
A tribute to Art-Deco design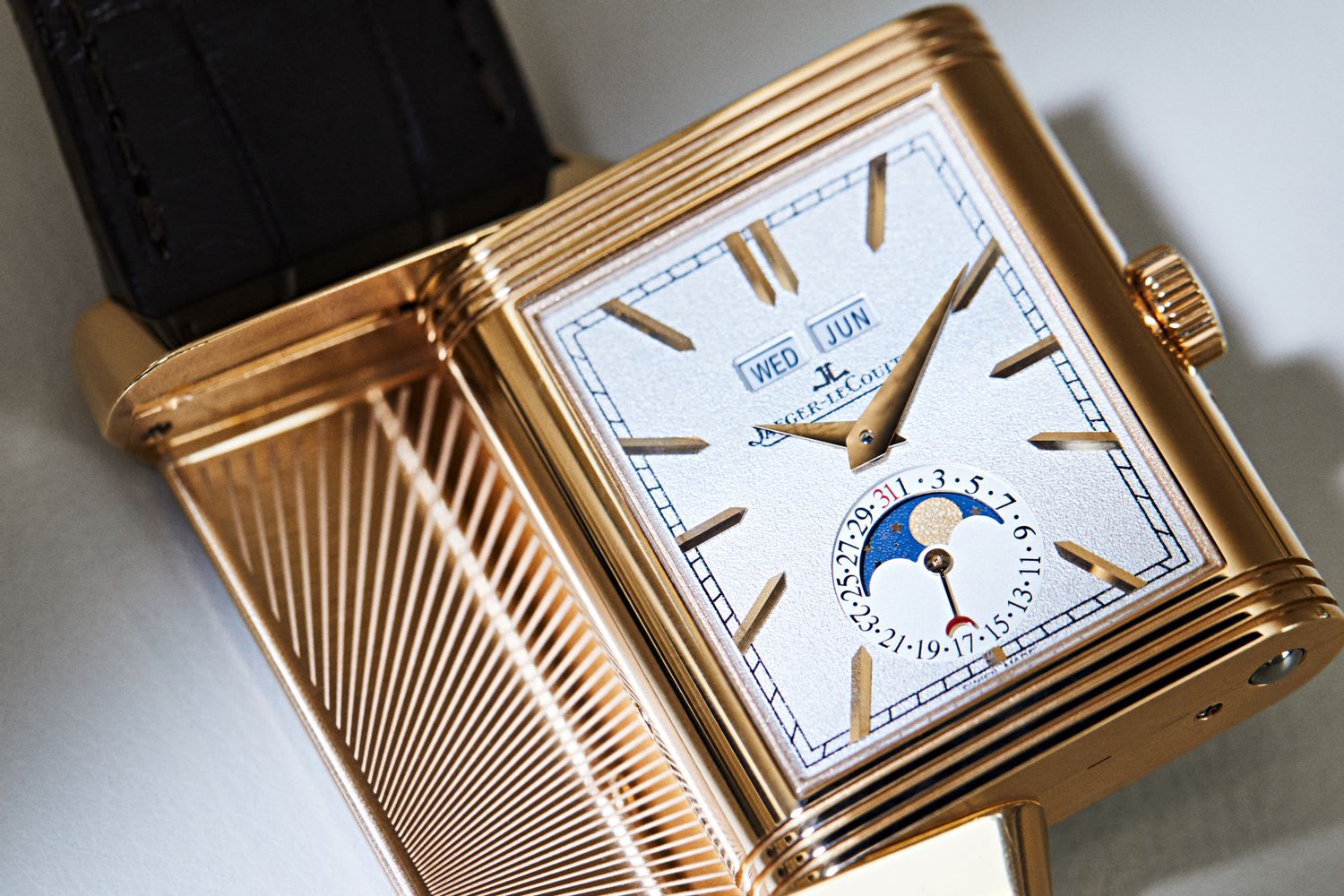 The perfect blend of form and function
These models delight watch-lovers. The Reverso collection stands out due to its timeless art deco design and is an expression of minimalist aesthetics and geometric shapes.
The heart of the Reverso captivates with elegant, rectangular lines in the finest art deco style. The exquisite dial boasts a timeless design with understated, clear colours. The sophisticated timepiece reflects the growing desire to simplify daily life and meet the demands of today's lifestyle.
Elaborate complications are restrained in their design, allowing this unique model to skilfully draw on the finest elements that watchmaking artistry has to offer and present these in a modern and minimalist way.
Engraving
Let your imagination run wild
A watch model with two faces
Turn the Reverso's case to reveal either a second dial or an empty case back, depending on the model. Like a blank sheet of paper, this offers space for individual design options – ideal for your personal engraving.
Behind the scenes
Exclusive interview with Stéphane Belmont, Director of Heritage & Rare Pieces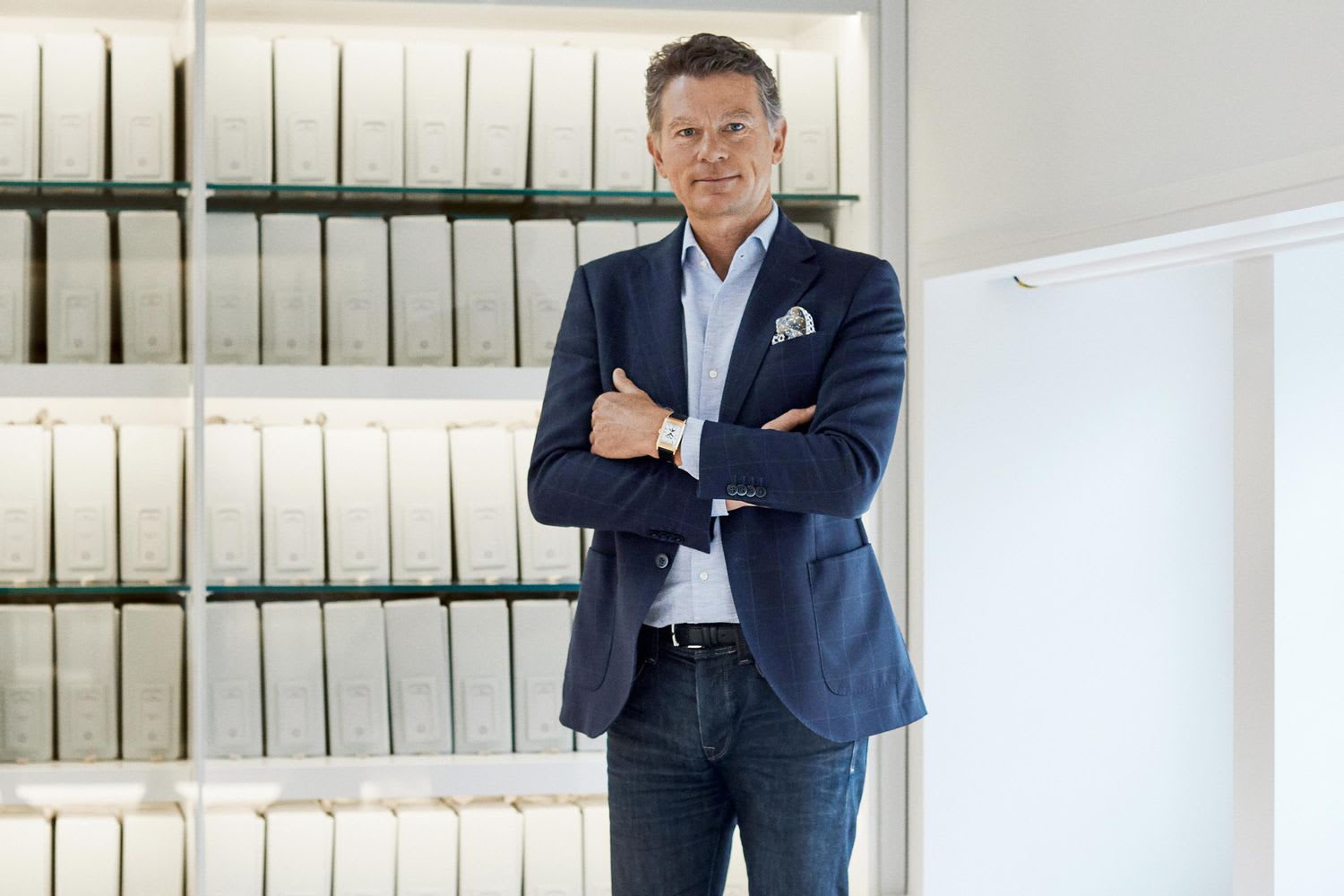 Watches, that make history
We take a look behind the scenes at Jaeger-LeCoultre and talk to Stéphane Belmont, Director of Heritage & Rare Pieces, about shared values, product innovations and the legendary Reverso watch.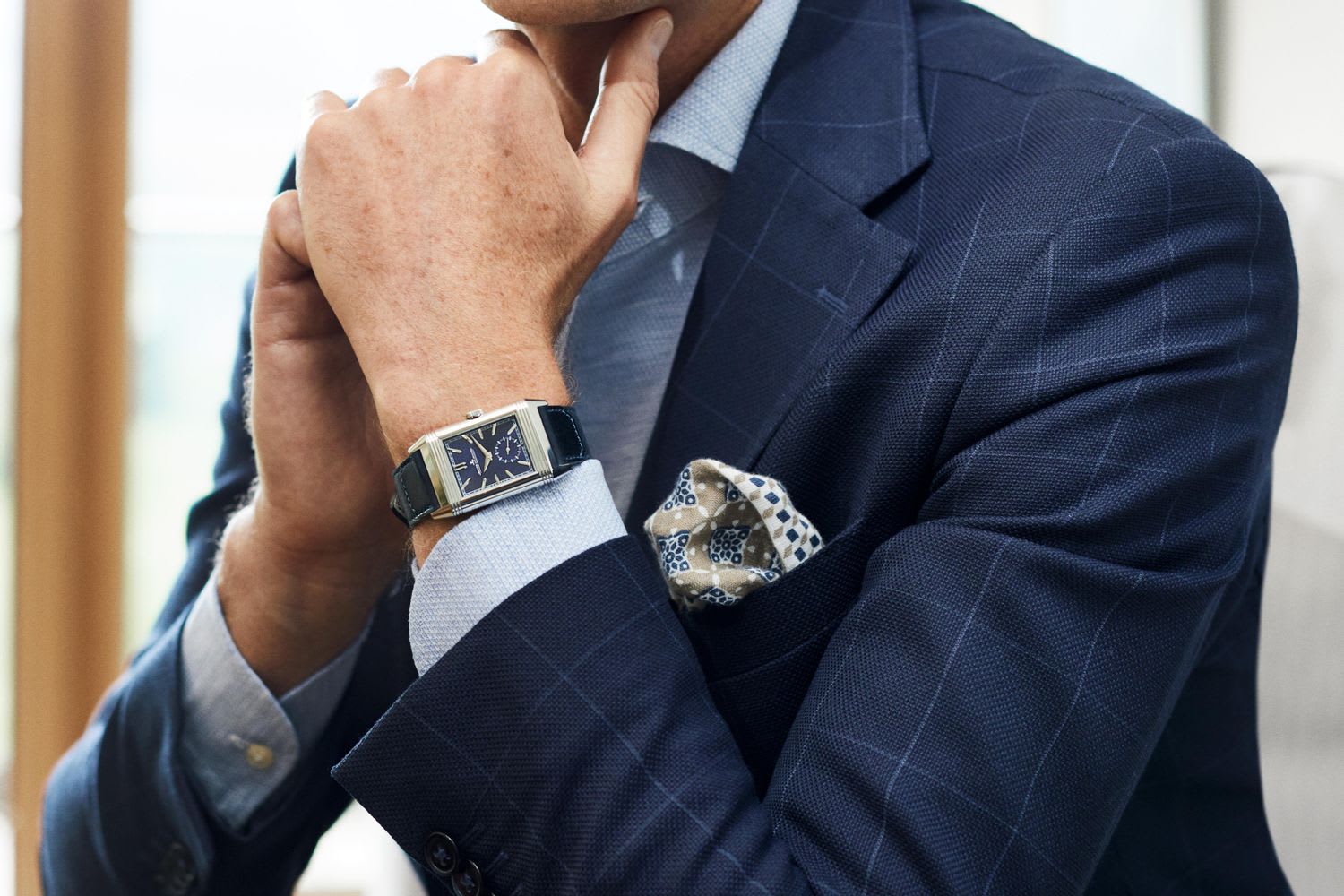 BUCHERER: "What does wearing a watch mean in this day and age? In the evening we set our alarm clock on our mobile phone, and TV shows are streamed on demand. What does a watch signify in our digital world, where time is omnipresent?"
Stéphane Belmont: "A mechanical watch has a very different meaning today than in the past. In years gone by we only had mechanical watches, and these were a purely functional tool. Everything had to be precise. Today, in the digital era, other devices have many more features. But a mechanical watch can do so much more than simply display a function. Its appeal lies in its aesthetics and its attractive design, and it has survived for generations. This lends the timepiece a permanent value, one that is impossible to find in an object from the digital world."
BUCHERER: "Where does your passion for watches and iconic timepieces stem from?"
Stéphane Belmont: "It dates back to my student days in Switzerland, where I studied engineering. Mechanical watches were considered old-fashioned back then. Quartz models and new technologies were the latest thing. I discovered the traditional art of watchmaking, including its attention to detail, through summer jobs working for various companies – including Jaeger-LeCoultre – where I was able to feel and experience the passion for precision and beauty first hand. This is how I developed my love for mechanical watches."
BUCHERER: "Which aspects of the watch world fascinate you the most?"
Stéphane Belmont: "The fact that it starts out as a functional object, but that the fascination extends far beyond the functional aspect of the watch itself. Even today, when time – digital time – is everywhere, there are still people who are fascinated by mechanical watches. It is the interplay between the watch's technical finesse and aesthetic design. This combination is unique and found nowhere else in the world, because value is found in the watch's mechanical interior and in how the functions are externally represented in the design."
BUCHERER: "With its two faces, the Reverso exemplifies the very best in terms of product solutions and services. Tell us more about this watch."
Stéphane Belmont: "The Reverso is one of the few iconic watches still in existence today, and it has an impressive history. It was originally developed in the 1930s for English polo players based in India. A globetrotting Swiss merchant brought the challenge and an idea to overcome it from India to Switzerland. He was a very close friend of Jacques-David LeCoultre, the third generation of the family to run LeCoultre. The challenge was to develop a watch that could withstand use during a polo match. Back then, the watch glass wasn't made of sapphire, so it was fragile. The concept? To produce a watch that could protect itself via a simple case back. It was designed as a sports watch, but it went on to become much more, thanks to the elegant art deco design and personalisation. The Reverso has never lost its appeal in terms of design and fascination."
BUCHERER: "What makes the Reverso so interesting today?"
Stéphane Belmont: "A development in the art of watchmaking that began as early as the 1990s, and one that marked the Reverso's 60th anniversary: the creation of the first complications designed to fit into the Reverso's case. The complications were miniaturised and customised to fit the rectangular shape. This was a considerable technical achievement and one that led to the creation of the first timepiece with a display on both sides. Our top seller today is the Reverso Duoface with a function on each of its two sides. But the more feminine Reverso with its elegant back and diamonds is also very popular. With two watch versions on your wrist, you can decide whether you want to wear a more elegant or a more classic watch, depending on the day."
BUCHERER: "What values do you share with Bucherer?"
Stéphane Belmont: "Bucherer and Jaeger-LeCoultre share many common values. One of these is excellence. We both sell products that embody Swiss values, such as quality, reliability and exceptional beauty. This is the strength of Swiss watchmaking. And so is the demand for excellent service, which is a key asset of both companies. Interaction with our customers to ensure that they receive the best possible advice and watch maintenance is also very important to us here at Jaeger-LeCoultre and Bucherer. Hospitality is crucially important, and is already a very strong value at Bucherer, and one that we at Jaeger-LeCoultre want to develop going forward so that people come to the Vallée de Joux to discover our atelier and the art of watchmaking from within."
BUCHERER: "Why are these common values so important for smooth cooperation?"
Stéphane Belmont: "The shared values are so important to Jaeger-LeCoultre and Bucherer because today we live in a very small world. In this small, digital world, we strive to awaken a passion and fascination for watchmaking. You cannot sell a watch if you and the manufacturer do not share the same values. Ultimately, the point of sale is an extension of the atelier, and only if you share the same values can you communicate the passion, excellence and service to the end customer."
BUCHERER: "Tell us more about Jaeger-LeCoultre's Care Programme."
Stéphane Belmont: "The Care Programme is a new programme that we launched to strengthen the long-term relationship between ourselves and our customers. We decided to extend the warranty for a newly acquired watch to eight years. This way, our customers know that they will receive the right maintenance service for their new watches. But we also want the programme to offer the customer a personalised experience and valuable information: from the way he or she should maintain the watch to its history and all the way to its origin and what makes it special. Highly relevant information about the watch that the customer has purchased, and not just about watches and Jaeger-LeCoultre in general."