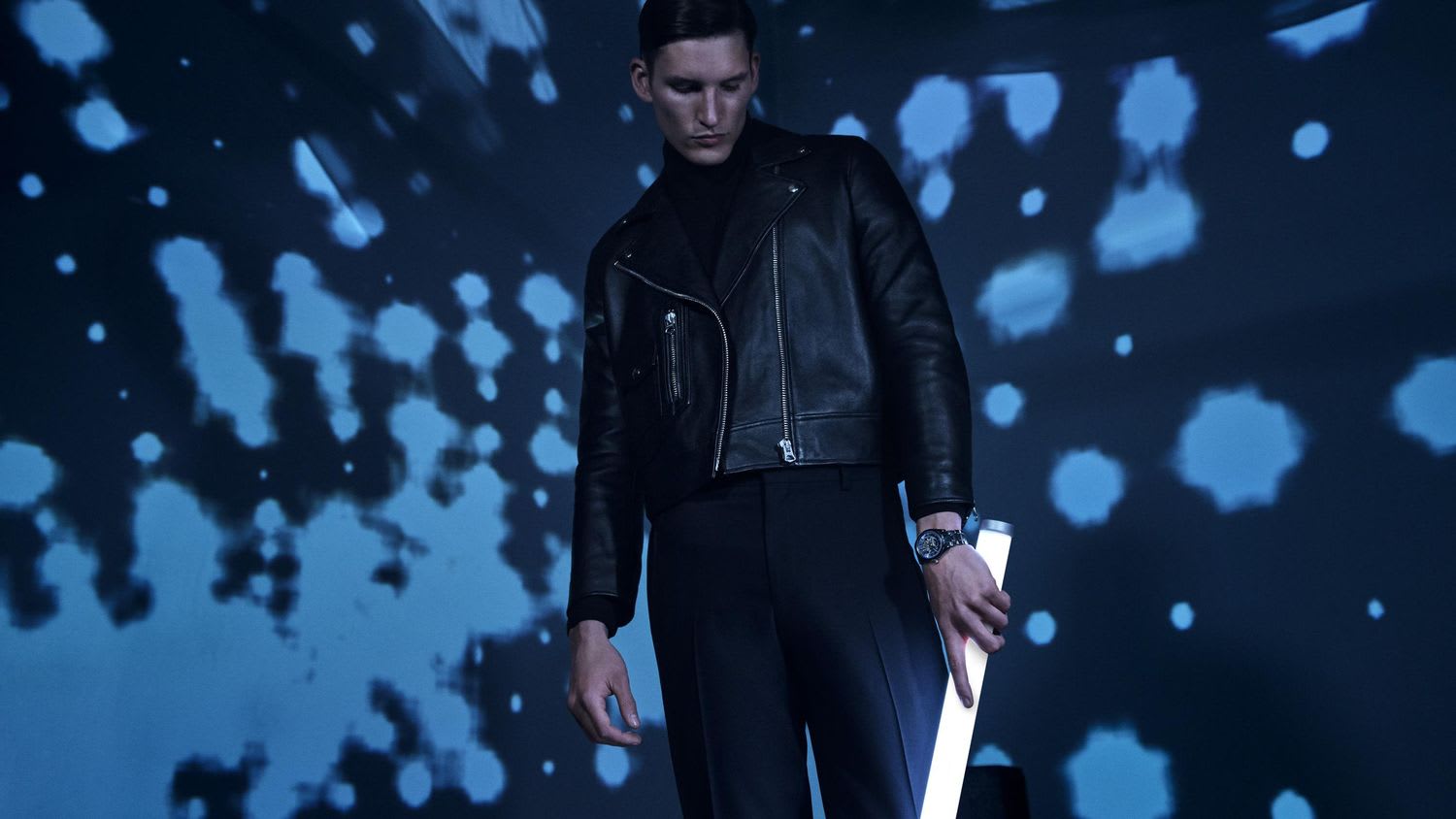 The birth of two new Rados
There will be an addition to the Bucherer BLUE family at the start of the year in the form of two new Rado HyperChrome models
Lucerne, 10 January 2019 – There will be another addition to the famous Bucherer BLUE collection in January in the form of the new Rado HyperChrome models Automatic Open Heart and HyperChrome Diamonds. It is no coincidence that Rado is known as the master of materials. The new timepieces will amaze high-tech fans with their special materials, while design fans will love the exclusive setting for the blue elements, such as the metallic finish and the blue mother-of-pearl dial. The sporty and elegant Rado watches are understatement in its most beautiful form for men and women.
Text: Regina Schilcher
The HyperChrome collection by Rado is famous for its watches of timeless beauty, which marry modern yet classic design with watchmaking of the very highest quality. Above all, however, Rado leads the way when it comes to conducting visionary research and processing the high-tech materials that give this brand's watches their unmistakeable appearance. The production process behind Rado's plasma high-tech ceramic is akin to modern-day alchemy. The uniquely warm metallic colour is made possible by the plasma high-tech ceramic. To produce this exceptional material, high-tech ceramic is heated in a plasma oven, where a temperature of 20,000°C causes gases to form that change the molecular structure of the ceramic components and gives them their characteristic metallic shine. Thanks to the high-tech ceramic case with a monobloc structure, this watch offers everything that Rado stands for: lightness, scratch resistance and an impressive degree of wearer comfort.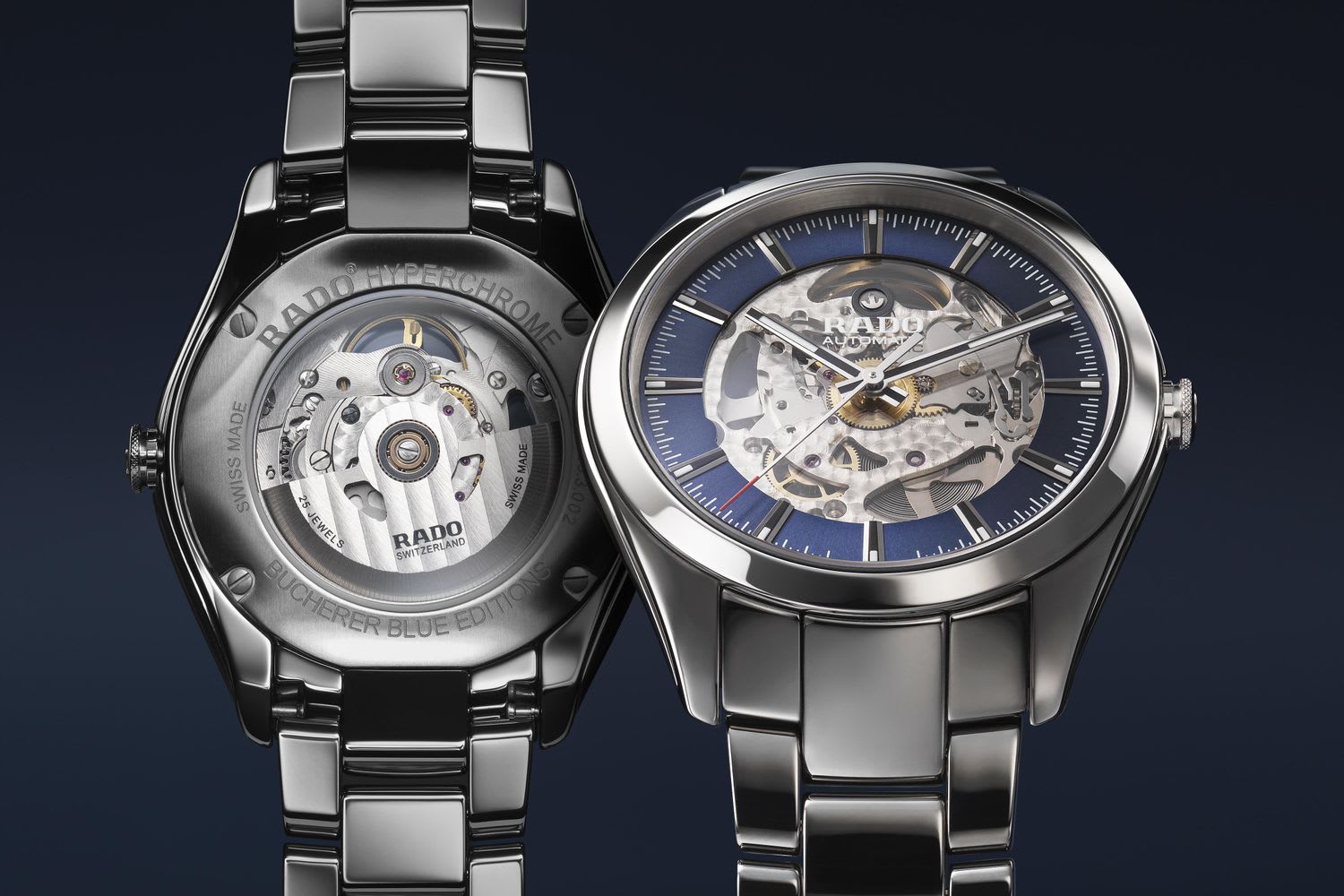 HyperChrome Automatic Open Heart Bucherer BLUE, Hightech-Plasmakeramik, 42 mm, Automatikwerk, bis zu 80 Stunden Gangreserve, CHF 2'800.–
Rado HyperChrome Automatic Open Heart Bucherer BLUE
This special edition combines all special material features typical of Rado with exciting technical finesse and a bold design. The Open Heart model is fitted with an automatic movement and refined with a blue, shimmering metallic finish. Rado was the first company in the watch industry to use plasma ceramic. Thanks to its outstanding properties, the high-tech material guarantees a lasting immaculate appearance, both in the present and for many years to come. The Open Heart models feature a blue dial for the first time. Protected by a sapphire glass with anti-reflective coating, it lets the beholder admire the pulsating heart of the watch: a high-quality Swiss movement with a power reserve of up to 80 hours. The elegantly dynamic Rado HyperChrome Automatic Open Heart Bucherer BLUE is an exceptionally eye-catching timepiece for those who appreciate high-tech materials and outstanding craftsmanship in equal measure. It is also – like all Rado timepieces – a watch that will last a lifetime.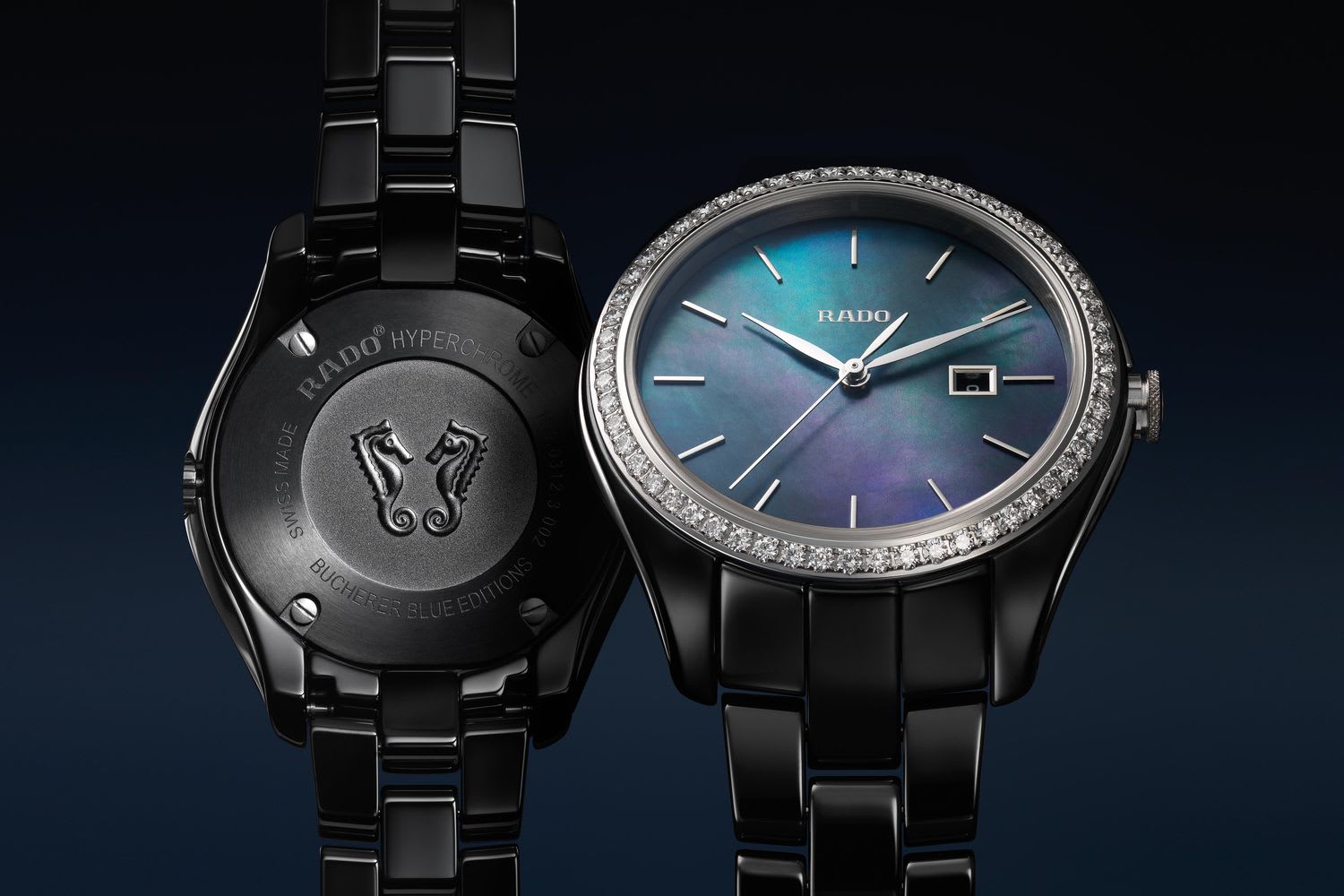 HyperChrome Diamonds Bucherer BLUE EDITIONS, high-tech ceramic, 36 mm, quartz movement, date display, bezel set with 56 diamonds (total approx. 0.83 ct), CHF 4'000.–
Rado HyperChrome Diamonds Bucherer BLUE
The uniquely elegant aesthetic of this special-edition watch combines the visionary high-tech materials for which Rado is famous with a blue mother-of-pearl dial and a precious, diamond-encrusted stainless-steel bezel. Rado's black high-tech ceramic material guarantees an impressive degree of wearer comfort and extremely high scratch resistance. Thanks to its elegant design, this timepiece looks good in any situation. Casual attire gets an immediate upgrade, while elegant or business outfits are underlined perfectly. Incidentally, the Rado HyperChrome Diamonds Bucherer BLUE possesses the same qualities that also distinguish many modern women: refined style, a high degree of quality-consciousness and incredible versatility.
#Bucherer #BuchererBlue #BuchererWatches #watchlover #hyperchrome #Rado
@rado
@Bucherer
About the Bucherer BLUE
The Bucherer BLUE watch collection comprises 34 exclusive timepieces that Bucherer created in cooperation with 18 renowned watch manufacturers. For 130 years, Bucherer has offered its customers a large selection of outstanding timepieces from first-class watchmakers. Its unique relations with the most distinguished brands in the industry are the fruit of many years of continuous collaboration, rooted in know-how, mutual respect and exceptional technical expertise. These rare partnerships produced the 34 men's and ladies' watches from the exclusive Bucherer BLUE collection, which Bucherer developed jointly with the watchmakers Audemars Piguet, Baume & Mercier, Blancpain, Breguet, Carl F. Bucherer, Chopard, H. Moser & Cie., Hublot, IWC Schaffhausen, Jaeger-LeCoultre, Longines, Panerai, Piaget, Rado, Roger Dubuis, TAG Heuer, Tudor and Vacheron Constantin. The central theme of the collection is the colour blue. For countless artists over the centuries, blue has been a source of inspiration, reminding us of the sky and sea. It has also been a symbol of Bucherer since the beginning, and hence an identifying feature of the Bucherer brand.
About Bucherer
Founded in 1888, the family company Bucherer has one of the most distinguished traditions in Europe's watch and jewellery industry, and over the last 130 years has established for itself an exclusive reputation with its range of exquisite jewellery and prize-winning creations. Its boutiques also offer the company's international clientele a wide range of luxury watches from renowned brands. Bucherer is present at 33 exclusive locations in Europe: with 15 stores in Switzerland, 10 in Germany, a flagship store in Vienna, the world's largest watch and jewellery store in Paris, a store in Copenhagen, Denmark, and four boutiques in London. In January 2018, Bucherer also took over the US luxury watch retailer Tourneau, which has 28 stores across the US. And in summer 2018, the watch family took over another establishment – Baron & Leeds – with its three luxury watch and jewellery stores in Hawaii. The company employs over 2,400 staff and is currently managed by Jörg G. Bucherer, meaning it has now been under the stewardship of the Bucherer family for three generations. The Bucherer headquarters remain in Lucerne to this day.
MEdia Contact
Bucherer AG
Regina Schilcher
Langensandstrasse 27
6002 Lucerne
T +41 41 369 70 00
regina.schilcher@bucherer.com