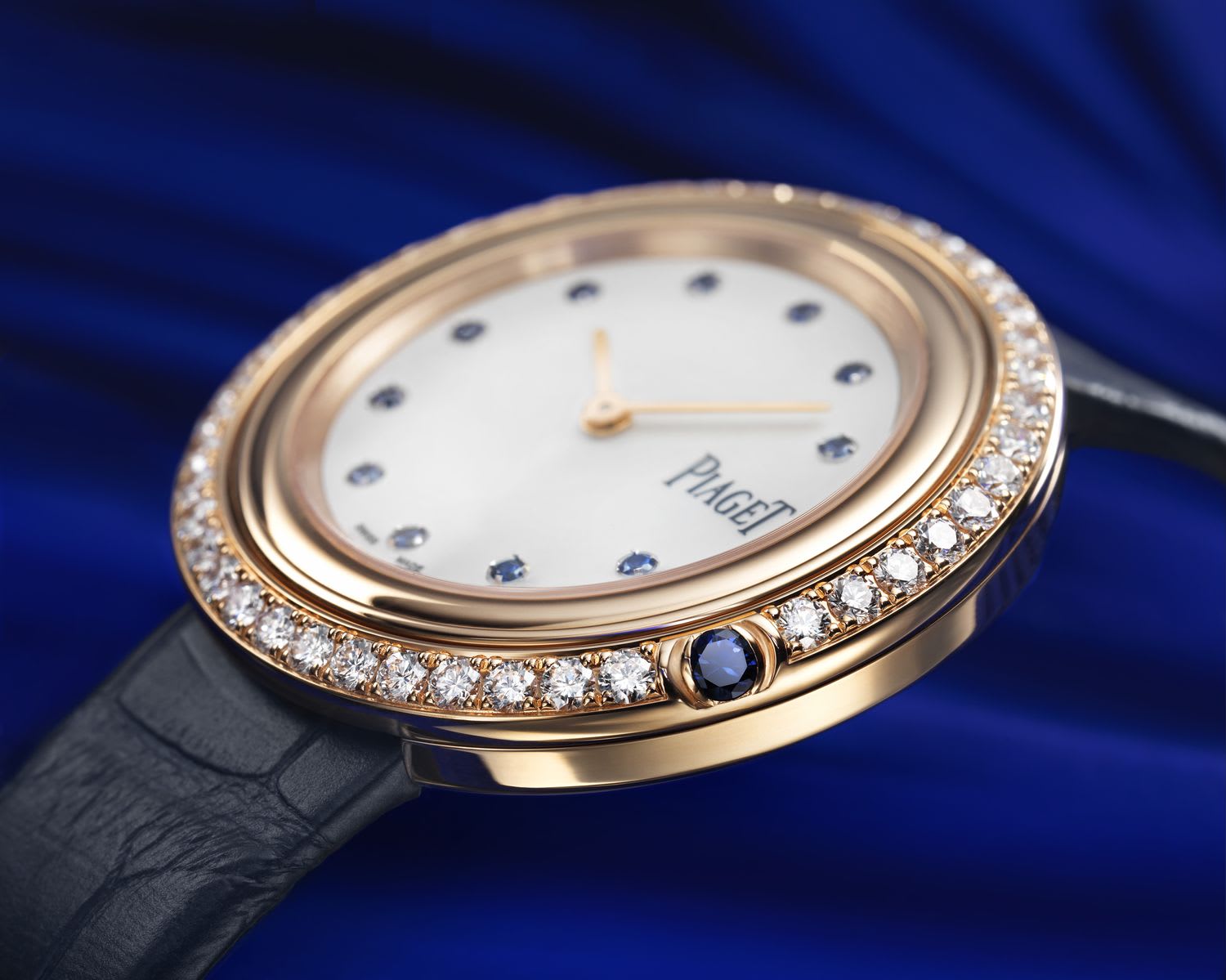 WITH A DIAMONDS-AND-BLUE-SAPPHIRE-SET ROSE-GOLD BEZEL AND A DIAL SET WITH BLUE SAPPHIRES
THE PIAGET POSSESSION BUCHERER BLUE IS A NEW MEMBER OF THE EXCLUSIVE BUCHERER BLUE COLLECTION
Bucherer and Piaget are proud to present the newest member of the exhilarating Bucherer BLUE family: The rose-gold Piaget Possession Bucherer BLUE with blue alligator-leather strap is an inspirational luxury watch for the discerning woman.
Many people associate blue with the sea. Others think of blue skies – and some also regard blue as the colour of freedom. But connoisseurs of fine watches are always reminded of Bucherer BLUE. This prestigious collection includes an exclusive selection of the finest Swiss watchmakers' art – available exclusively from Bucherer. For the past three years, Bucherer has been reinterpreting iconic timepieces. And now, for the third time, Bucherer's close partnership with Piaget – first established back in 1979 – has given birth to an exclusive, new, elegant Bucherer BLUE masterpiece: the rose-gold Piaget Possession Bucherer BLUE. This special edition will be launched on September 9, 2019.
Rose-gold rings set off by sapphire hour markers
The exquisite masterpieces – feminine, playful, sensuous. Unique features include the rotating rose-gold bezel, lavishly set with diamonds, and a single gorgeous sapphire that revolves about a rose-gold band. Smaller blue sapphires adorn the dial, acting as hour markers. Finally, the vibrant blue of the alligator-leather strap provides a bold, powerful contrast.
For the elegantly discerning woman
For an elegant, sophisticated, self-confident woman, this recreation of Piaget's legendary Possession is a jewel of the watchmaker's art. The smooth motion of the ring around the dial reminds her never to falter in her quest to make the world her own. The striking colours underscore her personality, her strength, her creativity. And the composition of the timepiece as a whole emphasizes the wearer's uniqueness. In this exclusive Piaget Possession Bucherer BLUE, Bucherer and Piaget have created the perfect companion for the woman who lives by her own rules and has the courage to tread her own path – not least by clearly expressing every facet of her personality through her chosen style. 

And the timepiece conveys this impression in the minutest detail. Because since Piaget was first founded in 1874, the company has united exuberant creativity with a unique expertise in the watchmaker's and jeweller's art – combined with a love of detail. Perfectly embodied in the new Piaget Possession Bucherer BLUE. 

The Piaget Possession Bucherer BLUE will appear on September 9. Available exclusively from Bucherer.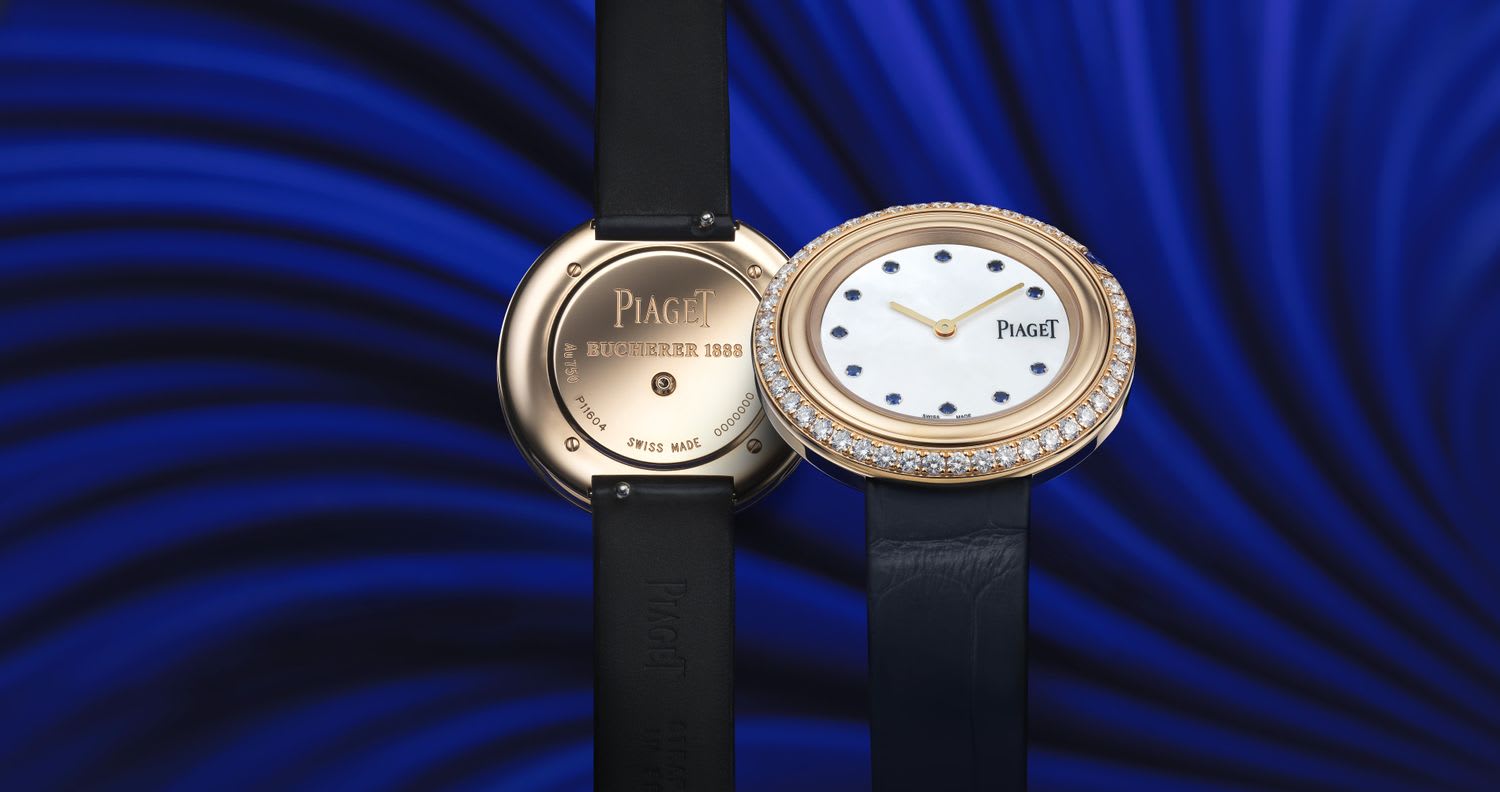 Piaget 56P in-house quartz movement; case in rose gold: 34 mm, mother-of-pearl dial set with 11 blue sapphires; case set with 45 diamonds and one blue sapphire; interchangeable blue and white alligator-leather straps; total carat weight: 45 diamonds at ca. 1.409 ct., 12 sapphires at ca. 0.177 ct. CH CHF 18'900.-- / DE EUR 18'300.-- / AT EUR 18'500.-- UK GBP 16'400.-- / FR EUR 18'500.--
#Bucherer #BuchererBlue #BuchererWatches #WatchLovers
#Piaget #PiagetPossession
@Bucherer @piaget