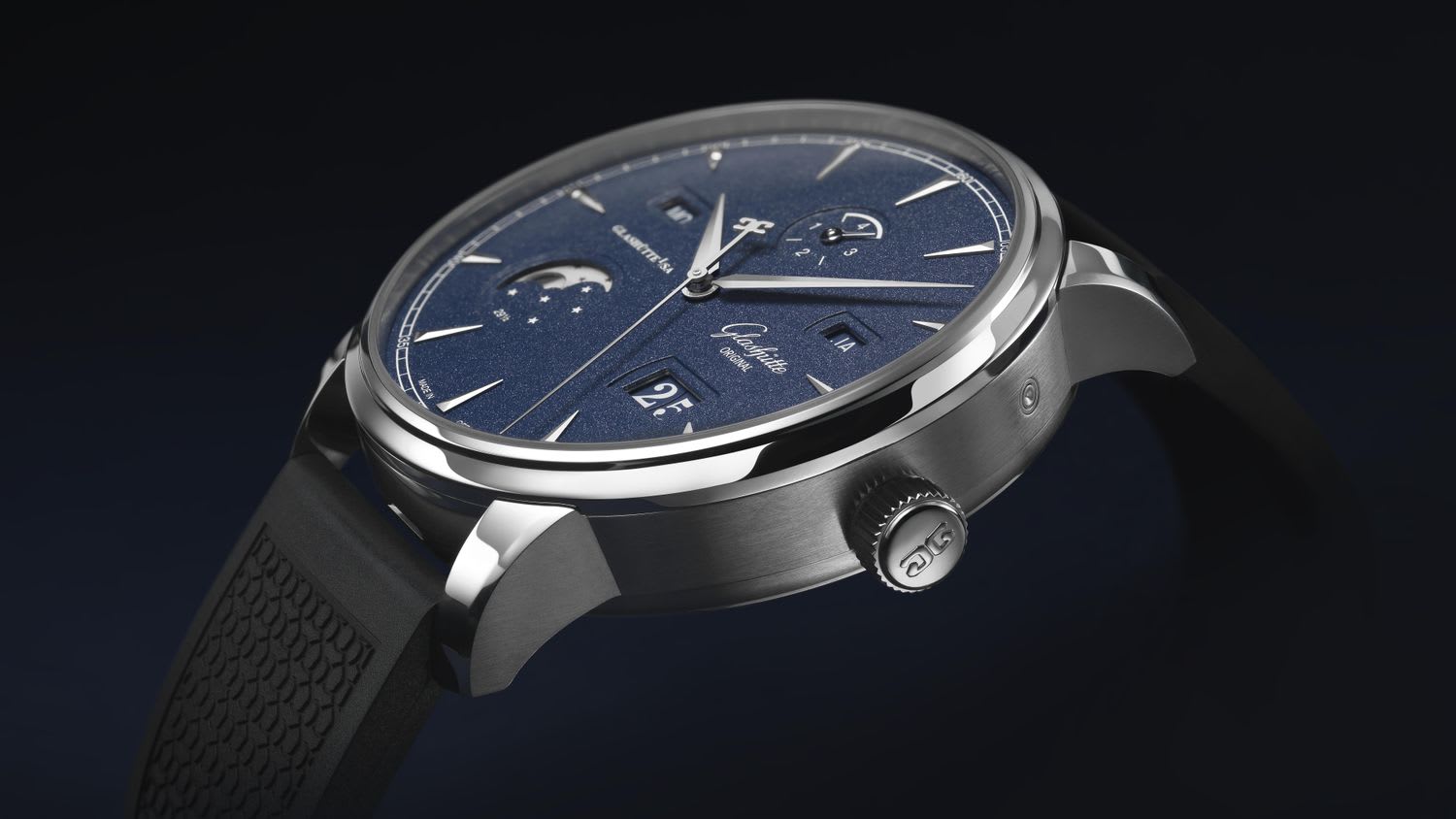 Glashütte Original Senator Excellence Perpetual Calendar Bucherer BLUE
A real highlight for connoisseurs of complications and passionate watch collectors! Limited to 50 pieces, the Senator Excellence Perpetual Calendar Bucherer BLUE is a joint creation by Glashütte Original and Bucherer that celebrates the ultimate in German watchmaking craftsmanship. In addition to showing the panorama date, day of the week, month and leap year, this special edition wristwatch also displays the moon phase in a separate window to create a harmonious whole. Exclusive, striking features include: the dial – exclusively designed for Bucherer in a blue hue – and the rubber strap, featuring an embossed pattern that evokes the number 1888, Bucherer's founding year.
Text: Lucerne, 6 June 2019
A masterpiece of watchmaking excellence joins the renowned Bucherer BLUE collection. With the Senator Excellence Perpetual Calendar special edition, limited to just 50 pieces, German watch manufacturer Glashütte Original has succeeded in giving one of its icons an unmistakable, modern and truly remarkable face to join the Bucherer BLUE. The Senator Excellence Perpetual Calendar is one of the manufacturer's most popular timepieces and is especially elegant in this stylish dark-blue hue. A luxurious and particularly eye-catching watch for the wrists of style-conscious men.
Milestone in watchmaking excellence for connoisseurs
With its complex movement and sophisticated mechanisms, the Senator Excellence Perpetual Calendar represents a milestone in the history of the German manufacturer. This year, the perpetual calendar – an advanced complication – celebrates its 20th year within this collection. Reason enough for Glashütte Original to crown its long-standing, inspiring and trusting collaboration with Bucherer by adding this outstanding timepiece to the Bucherer BLUE collection. The model's exclusive nature can also be seen in the sapphire-glass back of this technical masterpiece, which not only offers the chance to marvel at the highly sophisticated movement, but also documents its limited edition status with consecutive numbering from 1 to 50.

As early as 1999, Glashütte Original first showcased the perpetual calendar in an elegant and minimalist display window, a design that was revolutionary 20 years ago and whose contemporary look still impresses to this day. Even with such a highly complex mechanism as the perpetual calendar, Glashütte Original has succeeded in fulfilling the customers' requirements for outstanding everyday readability and intuitive usability. Glashütte Original's Perpetual Calendar has been equipped with the groundbreaking calibre 36 since 2017. With a 100-hour power reserve, anti-magnetic silicon spiral and innovative bayonet mounting for the movement, it is perfectly suited for the demands of modern life.
Stylish blue
In addition to its outstanding watchmaking sophistication, Glashütte Original Bucherer BLUE also impresses with details developed exclusively for Bucherer. Glashütte Original's experts created a unique blue hue in their own in-house dial atelier, a colour found in none of the manufacturer's other collections. Combined with a stainless steel case, the result is a timepiece that has a classic business feel but also offers an instant upgrade to the elegant leisure look. Alongside the special colours, Glashütte Original's designers were also inspired to create another exclusive feature for Bucherer: the pattern of the sporty-chic rubber strap evokes the number 1888 in an elegant allusion to the year Bucherer was founded.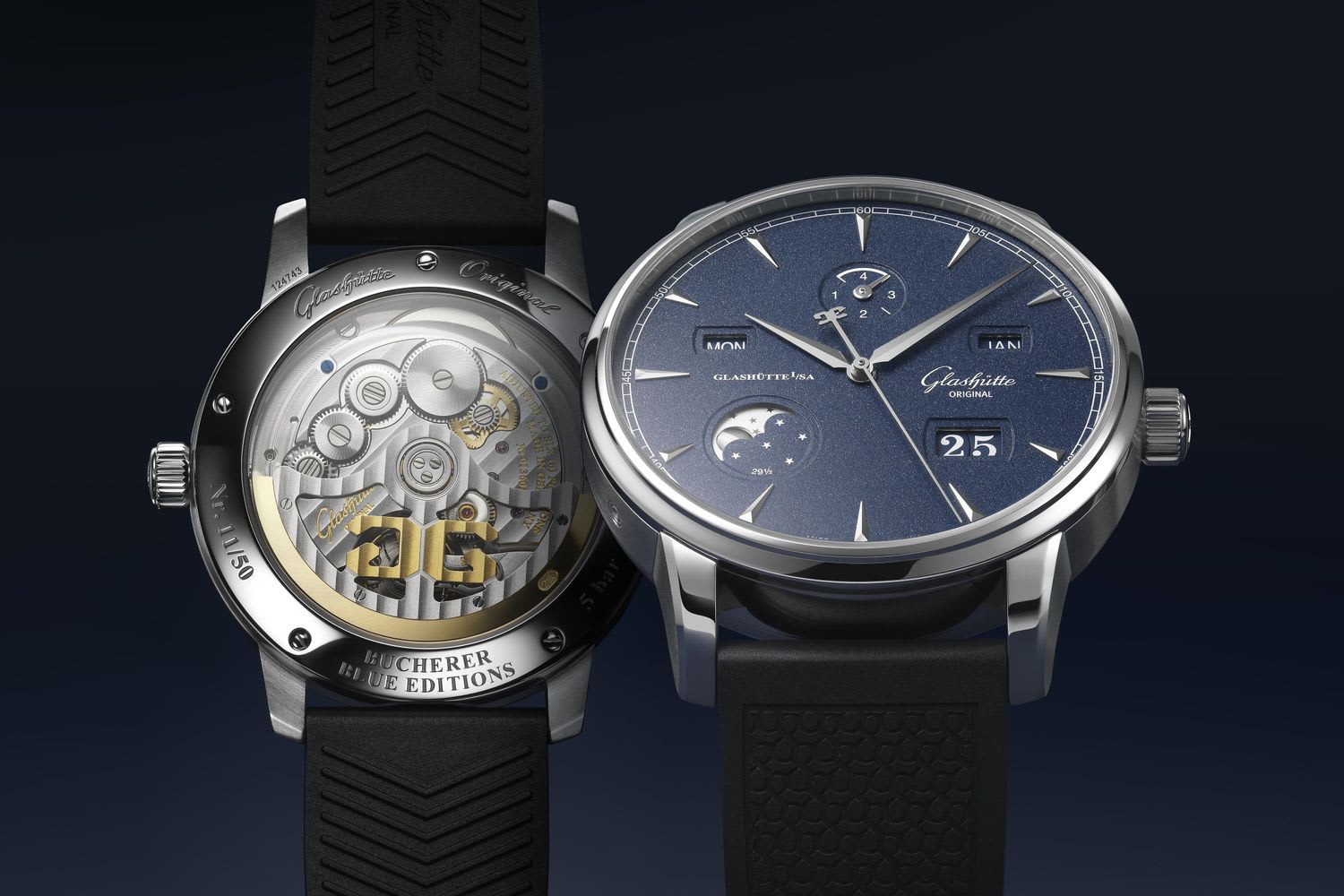 Senator Excellence Perpetual Calendar Bucherer BLUE, stainless steel, 42 mm, automatic movement, perpetual calendar, moon phase, 100-hour power reserve, additional alligator leather strap, limited to 50 watches, CHF 19 800.–. Exclusively available at Bucherer from June 2019.
#Bucherer #BuchererBlue #BuchererWatches #WatchLovers

#glashütteoriginal #glashuetteoriginal

@Bucherer @GlashuetteOriginal