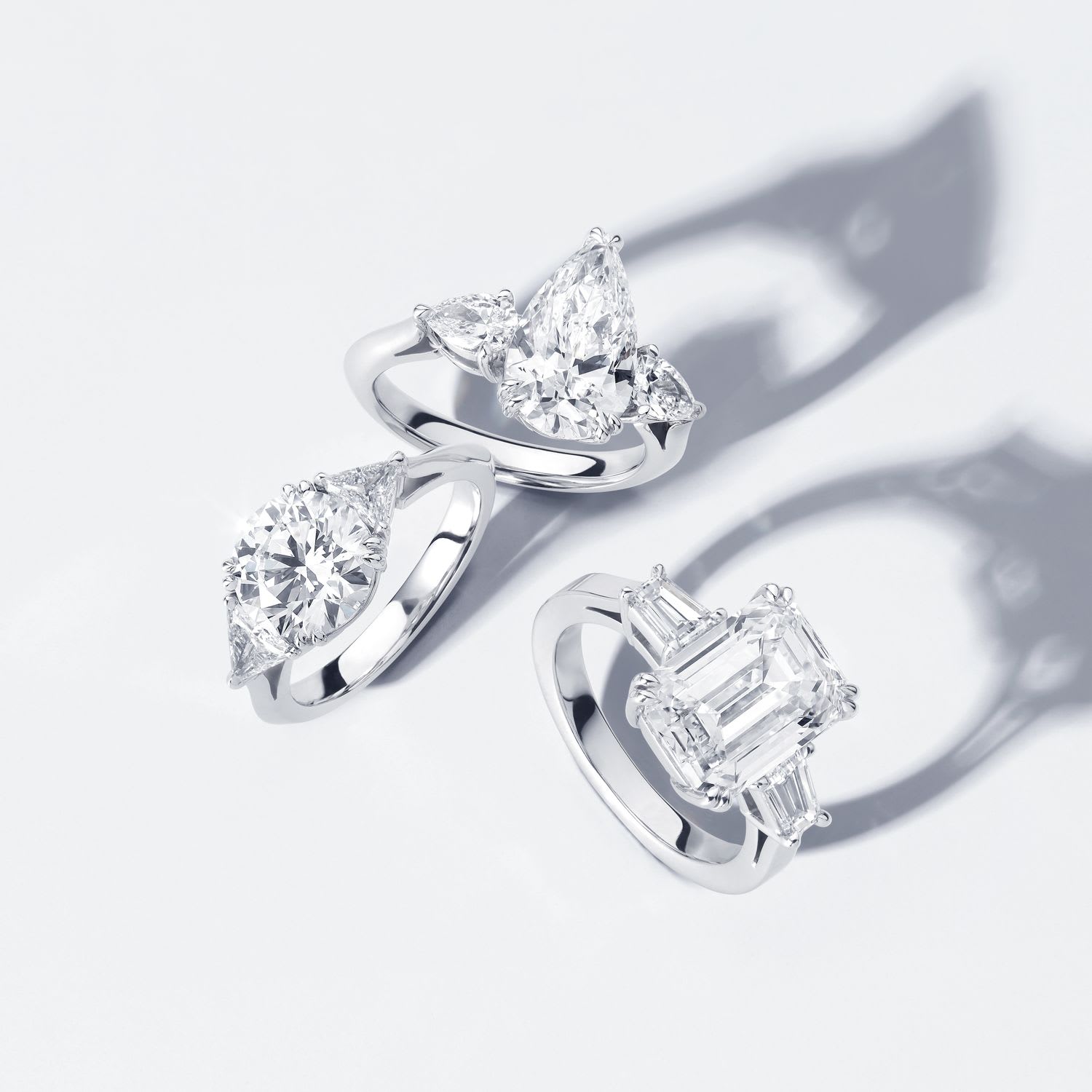 High-Class Friends
Diamonds are a girl's best friend
The unique selection of high-quality diamonds cut by master craftsmen available at Bucherer will make women radiate and celebrates the exquisite craft as well as 130 years of diamond expertise at the very highest level.
Text: Marianne Eschbach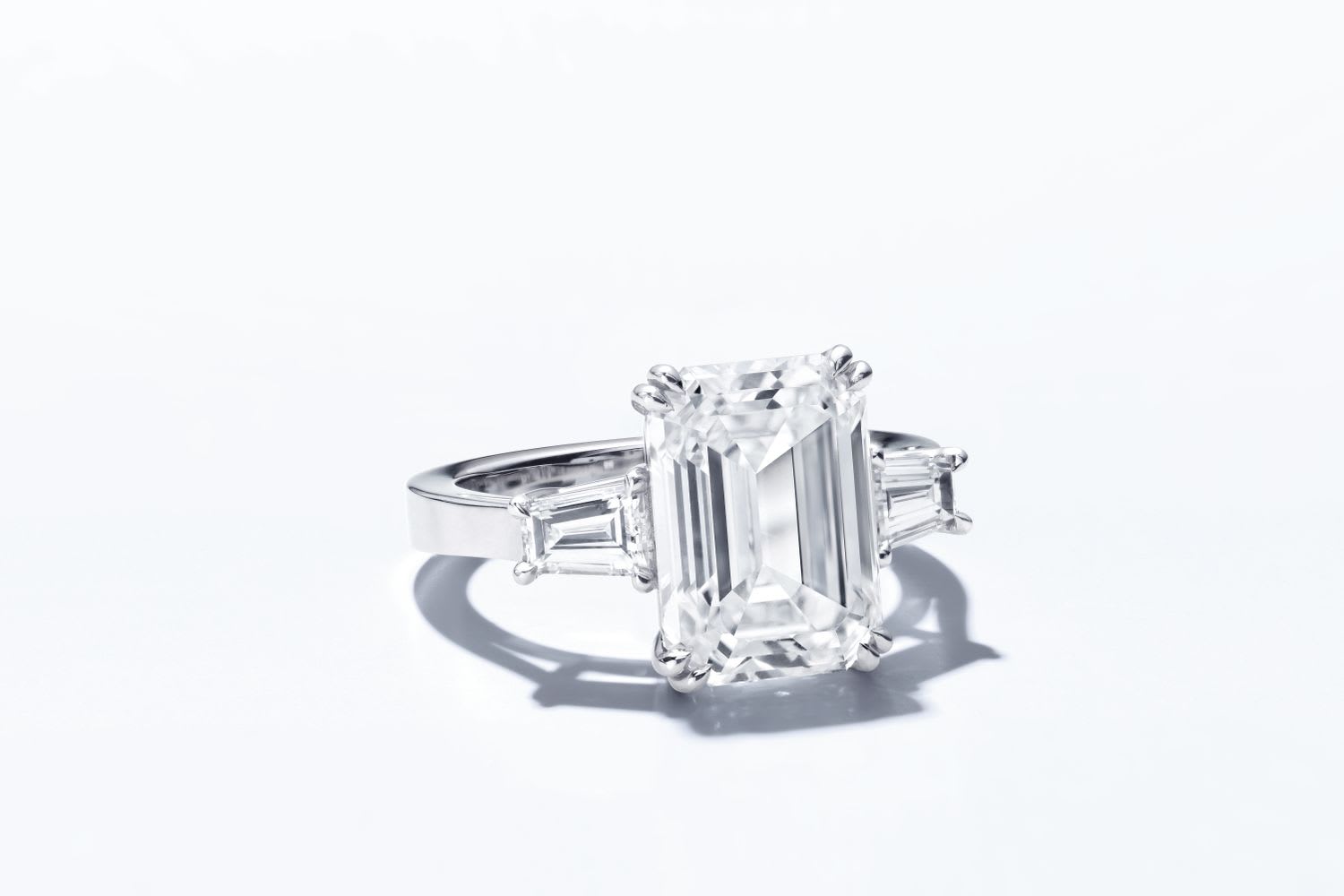 Garni solitaire ring in platinum with an emerald-cut diamond (approx. 5.55 ct) and trapeze-cut diamonds (total approx. 0.61 ct)
Vision & Tradition
The work of Tobias Lanz, head buyer of diamonds for Bucherer Fine Jewellery, can be carried out on the international gemstone markets of Hong Kong, Mumbai and Tel Aviv. The trained gemmologist travels there at regular intervals. However, he can usually be found in his office at the Bucherer headquarters in Lucerne, where he has access to around 1.5 million stones via trading platforms on his computer. The selection seems extensive, yet less than one per cent of these stones will meet the stringent standards of quality demanded by Bucherer Fine Jewellery. Although modern technology makes it possible for Tobias Lanz to assess diamonds online, the expert first always has to see them with his own eyes before sealing the deal. "Bucherer Fine Jewellery receives every stone we consider buying beforehand to be tested," explains Tobias Lanz. "We have an excellent reputation in the industry and longstanding relationships of mutual trust with the best diamond suppliers." The diamond business has always been a trust-based one. Nowadays, the mazal – the typical phrase used to close a diamond deal, traditionally accompanied by a handshake – is usually simply sent by e-mail, according to Tobias Lanz.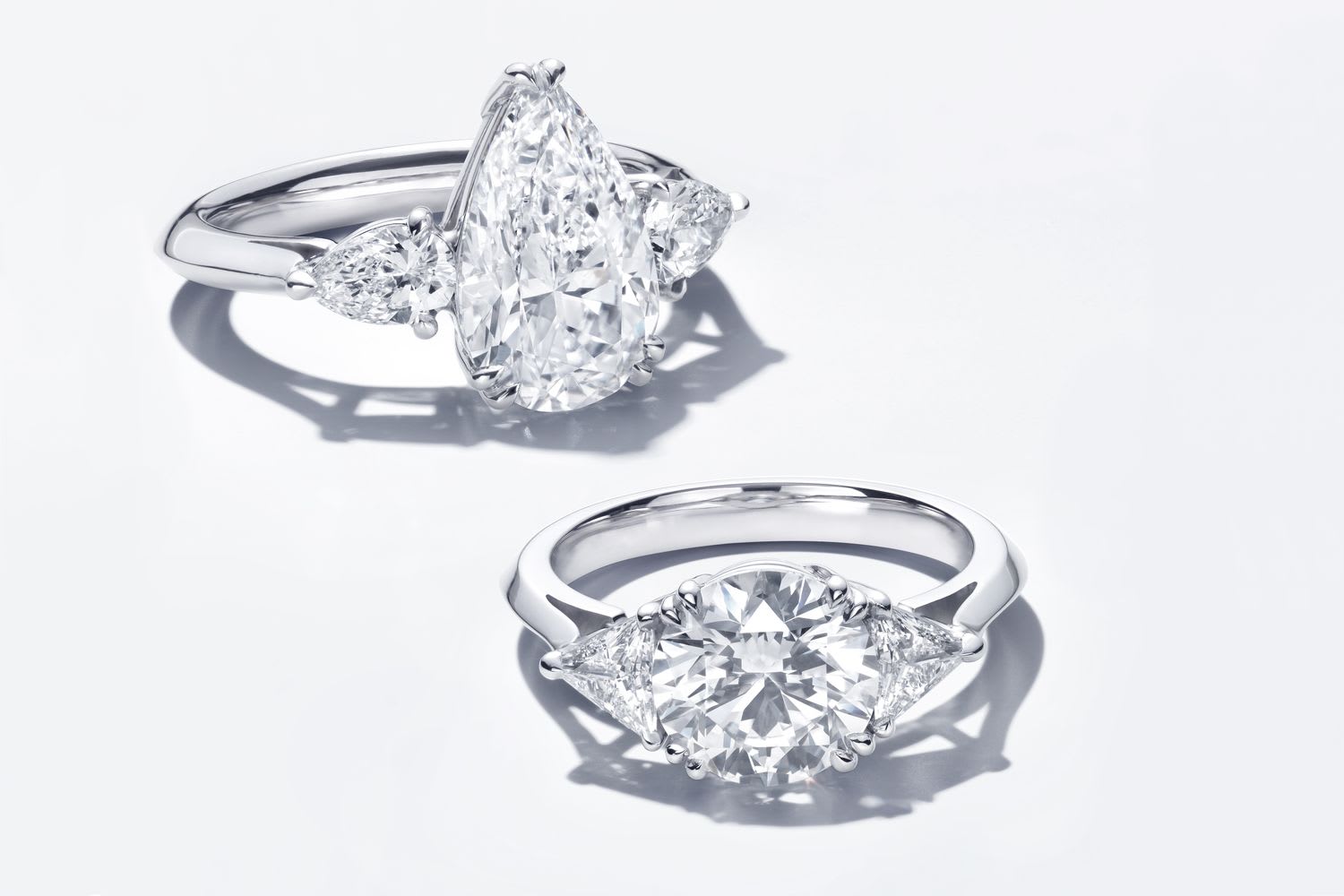 Garni solitaire ring in platinum with a pear-cut diamond (approx. 3.06 ct) and pear-cut diamonds (total approx. 0.61 ct) & Garni solitaire ring in platinum with a brilliant diamond (approx. 2.50 ct) and triangle-cut diamonds (total approx. 0.50 ct)
Trilogy
Bucherer Fine Jewellery is celebrating its 130th anniversary this year – the company was founded in 1888 – and is using the occasion to highlight its diamond expertise with the spectacular Trilogy ring project. Of the several hundred possible ring combinations and 4500 top-quality solitaire diamond rings available at Bucherer's European locations, there are three one-of-a-kind pieces that stand head and shoulders above the rest – the crème de la crème, so to speak. The three exceptionally large diamonds – one round-cut, one pear-cut and one coveted emerald-cut – have each been placed in a platinum band flanked by two complementary diamonds. The ring band appears simple at first glance, but its uniqueness becomes apparent upon closer observation: it takes up the cut of the stone. The diamonds used are of the finest flawless quality available on the market. Being the best does not come cheap, of course. However, Tobias Lanz and his diamond jewellery expert colleague Olivia Kowal emphasise that, depending on budget and design preferences, Bucherer is extremely flexible when it comes to the creation of a custom-made diamond ring.