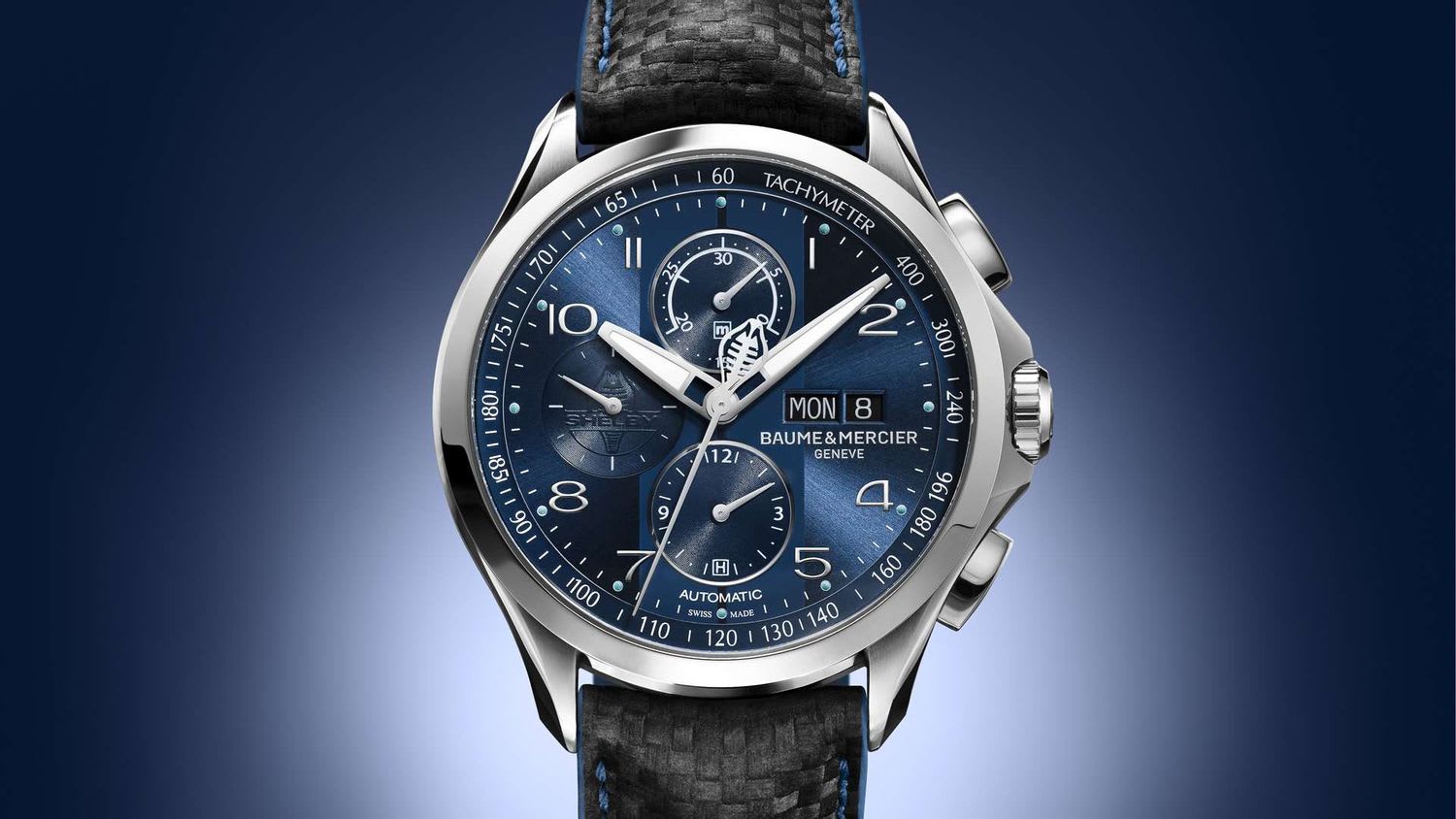 BAUME & MERCIER CLIFTON CLUB SHELBY® COBRA BUCHERER BLUE
Bucherer is pleased to present the 16th model in the Bucherer BLUE series: the Clifton Club Shelby Cobra, an elegant chronograph by Baume& Mercier. Combining a beautiful design and unparalleled performance,this unique watch is a limited edition of 100 pieces. Inspired by the legendaryShelby Daytona Cobra Coupé, this watch appeals to motorsport enthusiasts and watchaficionados alike.
STYLE MEETS UNPARALLELED ENGINEERING
Bucherer has joined forces with sports car manufacturer Carroll Shelby and watchmaker Baume & Mercier to create a unique, limited-edition timepiece – just 100 available worldwide – that pays homage to the American Shelby Daytona Cobra Coupé. This race car was already a hit back in the 1960s thanks to its unbeatable performance and futuristic design.
These elements are combined masterfully in the Baume & Mercier Clifton Club Shelby Cobra, the newest timepiece to be added to the Bucherer BLUE family. Inspired by the spokes of the race car's wheels, the watch and its high-performance rotor are bound to impress. The coupé's interplay of form and function is reflected in the sophisticated design of the watch: The trademark Shelby Cobra stripes and the Cobra logo have been cleverly integrated into the subdials and the seconds hand. The blue dial is perfectly complemented by the black leather carbon-look strap. With an ideal balance of aesthetics and engineering, this is a watch that will provide its wearer a unique experience.
TWO LONG-ESTABLISHED COMPANIES WITH ONE SHARED PASSION
We are very proud that Baume & Mercier has created another timepiece for the Bucherer BLUE collection. As a company with a long tradition, we have enjoyed a close relationship with Baume & Mercier since the 1920s. The launch of the Clifton Club Shelby Cobra Bucherer BLUE is the result of our successful partnership and serves as a testament to our shared passion for watches, watchmaking and stylish design.