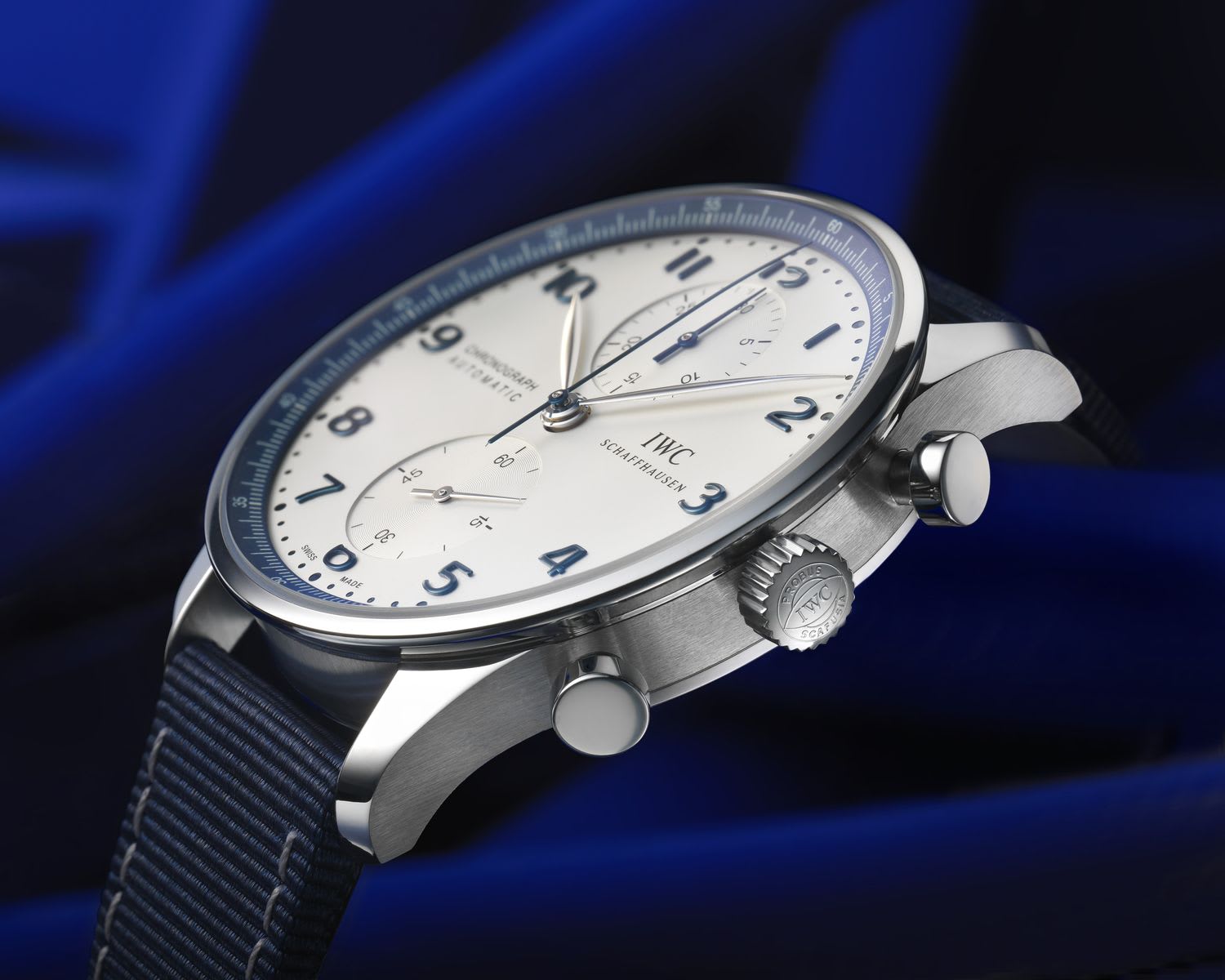 NAUTICAL PRECISION MEETS SWISS WATCHMAKING TRADITION
This IWC SCHAFFHAUSEN PORTUGIESER CHRONOGRAPH IS AN EXCLUSIVE BUCHERER BLUE SPECIAL EDITION AND DAZZLES WITH A LOOK THAT EXUDES PURE SUMMER
Bucherer and IWC are pleased to present a style icon with a maritime twist: limited to 365 pieces and crafted in a blue and white colour scheme, the IWC Schaffhausen Portugieser Chronograph has been released in a BUCHERER BLUE special edition that honours its nautical roots and celebrates its Swiss watchmaking heritage.
Text: Lucerne, 29 July 2019
Bucherer's popular BLUE collection is proud to add another piece of watchmaking artistry – and another limited edition IWC Portugieser Chronograph – to its ranks. After the success of the previous two IWC Portugieser models, Bucherer and IWC decided to create another limited-edition timepiece based on one of the most coveted models in the IWC Portugieser family. Crafted with special blue-hued elements exclusively for BUCHERER BLUE, this is a timepiece that redefines casual elegance – and once again serves as a testament to the strength of the partnership between IWC and Bucherer. 
Timeless design with nautical roots
IWC Schaffhausen's popular Portugieser watch collection harks back to the precision nautical instruments that seafarers once used to explore the world's oceans. Boasting a unique design and technology that was ahead of its time, the Portugieser gets its name from two Portuguese clients who approached IWC in 1939 with a request for a wristwatch that had the accuracy of a maritime chronometer. Thus an icon of haute horlogerie was born – and will be available in a new look for watch lovers from the end of July. 
 
The minimalist aesthetic of the Portugieser, with its sleek Arabic numerals and slim leaf-shaped hands, has been influencing watch design since it was launched. This fascinating watch family, characterised by its top-notch precision and iconic design, has now added the IWC Schaffhausen Portugieser Chronograph BUCHERER BLUE to its ranks. For that special BUCHERER BLUE touch, the precision scale is crafted in a blue hue that harmoniously complements the white dial. The numerals, minutes scale and strap make use of the blue colour scheme as well, combining to create a sporty and nautical impression. The watch gets its summertime flair not only from its blue elements but also thanks to the choice of textile for the material of the strap – another element that was created exclusively for the IWC Portugieser Chronograph BUCHERER BLUE. What is more, the moderately sized case (40.9 mm) of this new chronograph makes it a handsome choice even for slimmer wrists.
A wristwatch for everyday wear
Watch collectors will be pleased to learn that the special BUCHERER BLUE edition of the IWC Schaffhausen Portugieser Chronograph is ideal for everyday wear, both in terms of style and functionality. Aficionados of the Portugieser Chronograph appreciate this versatility: the easy to read dial and the stopwatch function for minutes and seconds. Its classic style complements both casual and elegant looks. Sporty and elegant, this chronograph can withstand all manner of adventures on land or water, making it an exquisite masterpiece that can be worn 365 days a year. It is for this reason that the special edition of the Portugieser Chronograph is limited to 365 pieces worldwide. Each watch features an individual engraving on the case back, making it an object of desire for collectors from around the world.  
 
IWC Schaffhausen Portugieser Chronograph BUCHERER BLUE. Available exclusively at Bucherer boutiques from the end of July.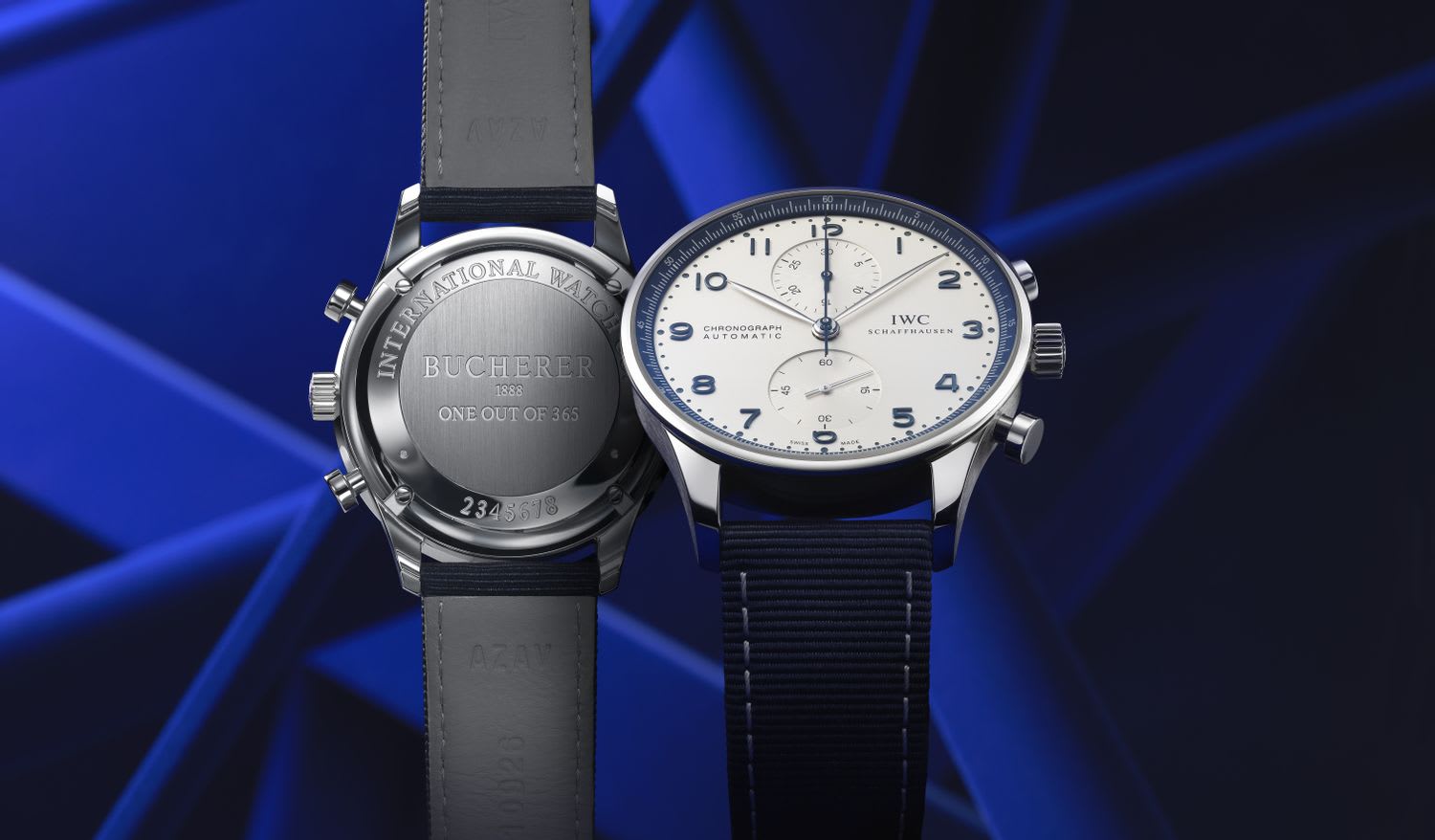 IWC Schaffhausen Portugieser Chronograph BUCHERER BLUE, stainless steel, 40.9 mm, automatic movement, stopwatch function with minutes and seconds, small-seconds subdial, limited to 365 pieces, CHF 7 900.–. Available exclusively at Bucherer boutiques from the end of July.
#Bucherer #BuchererBlueEditions #BuchererWatches #WatchLovers #IWCPortugieser  
 
@Bucherer  
@iwcwatches 
About BUCHERER BLUE
Creating the unexpected. Extraordinary one-of-a-kind products for individualists and fascinating experiences – this is what BUCHERER BLUE stands for. An exciting new concept that continually surprises and inspires,  
 
BUCHERER BLUE is not only an exclusive watch collection but also a unique expression of Bucherer's close ties to top brands and a testament to the company's innovative spirit. To date, 39 timepieces have been created for the BUCHERER BLUE collection in collaboration with 20 renowned watchmakers. These timepieces were born of Bucherer's incomparably close relationships to the most prestigious brands in the watchmaking industry and are the result of longstanding, continuous collaborations based on knowledge, mutual respect and exceptional technical expertise. Available exclusively at Bucherer boutiques, the collection features special editions from Audemars Piguet, Baume & Mercier, Blancpain, Breguet, Carl F. Bucherer, Chopard, Glashütte Original, H. Moser & Cie., Hublot, IWC Schaffhausen, Jaeger-LeCoultre, Longines, Oris, Panerai, Piaget, Rado, Roger Dubuis, TAG Heuer, Tissot, Tudor and Vacheron Constantin. The central theme of the collection is the colour blue. Blue is infused with symbolic meaning and has been a source of inspiration to countless artists for centuries. Blue has also been Bucherer's signature colour since the company's founding. And what is more, BUCHERER BLUE does not shy away from completely unexpected creations: the world's first top-of-the-range Harley Davidson adorned with opulent jewellery and an integrated watch, for instance, or a unique edition of the Lamborghini Aventador S crafted in Bucherer's trademark blue and equipped with extravagant features. Working closely with select partners both inside and outside the watch industry, Bucherer has created a truly one-of-a-kind lifestyle collection: BLUE. Always new. Always unexpected. And always exceptional.
About Bucherer
Founded in 1888, the family company Bucherer has one of the most distinguished traditions in Europe's watch and jewellery industry, and over the last 130 years has established for itself an exclusive reputation with its range of exquisite jewellery and prize-winning creations. Bucherer boutiques offer its international clientele a wide range of luxury watches from renowned brands. Bucherer is present at 36 exclusive locations in Europe: with 17 stores in Switzerland, 10 in Germany, a flagship store in Vienna, the world's largest watch and jewellery store in Paris, a store in Copenhagen, Denmark, and six boutiques in London. In January 2018, Bucherer also took over the US luxury watch retailer Tourneau, which has 28 stores across the US. And in summer 2018, the watch family took over another establishment – Baron & Leeds – with its four luxury watch and jewellery stores in Hawaii. The company employs over 2,400 staff and is currently managed by Jörg G. Bucherer, meaning it has now been under the stewardship of the Bucherer family for three generations. The Bucherer headquarters remain in Lucerne to this day.