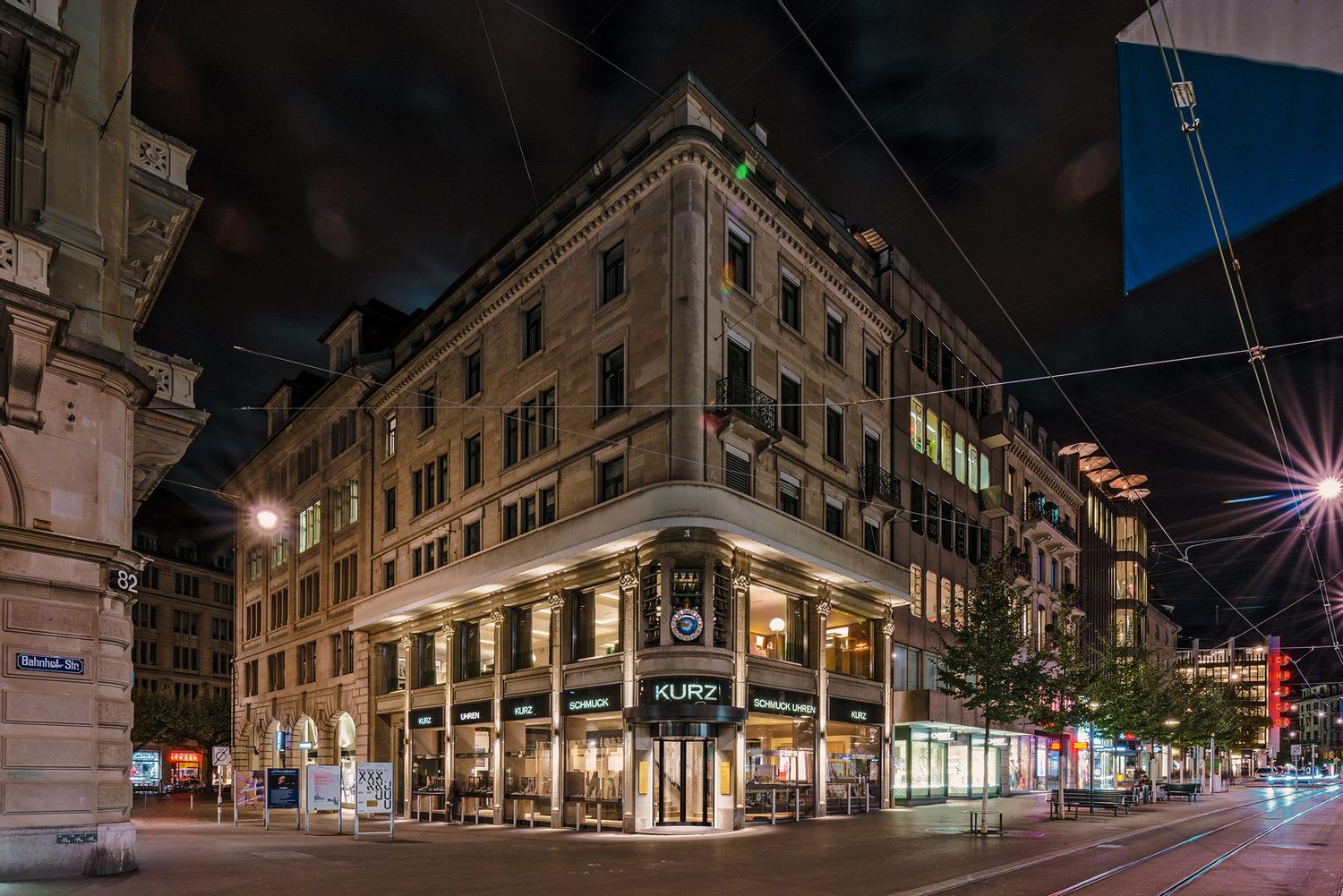 uebernahme-juwelier-kurz_stage
IGS AG ANNOUNCES THE ACQUISITION OF JUWELIER KURZ AG
The Swiss family-owned company is expanding its presence in Switzerland by acquiring the established watch and jewellery retailer.
Text: 25. May 2020
Wollerau / Lucerne –
IGS AG today announced the acquisition of Juwelier Kurz AG, owned by the Bucherer Group since 1987, effective September 1, 2020. 
IGS AG, based in Wollerau and owned by sole shareholder Christine Stucki, now operates throughout Switzerland under the Carat brand with 30 sales outlets as well as e-commerce. Since its launch in 1989, the company has established a strong position in the entry-level to mid-range segment of the jewelry and watch market with a focus on diamonds. The jewellery shops under the Carat brand employ around 170 people in Switzerland.
Juwelier Kurz AG, founded in 1948, had been owned by the Bucherer Group since 1989. Today, it operates stores in eight premium locations in Swiss cities as well as shopping centers and employs some 130 people.
"For IGS, Juwelier Kurz AG represents a unique opportunity for a market presence between the commercial and luxury segments," said Christine Stucki, President and Delegate of the Board of Directors of IGS AG. "The first-class positioned jewellery stores in city locations are an exclusive value and will strategically strengthen our reach in the Swiss market. This acquisition will enable us to integrate a renowned jewellery brand of the best reputation into our Group, thereby further expressing our commitment to high quality. In short, the Swiss "purveyor to the court" for all the important moments in life."
Guido Zumbühl, CEO of the Bucherer Group, commented: "We are delighted to have found in IGS AG a Swiss entrepreneur with a strong vision who will continue to write the history of Juwelier Kurz AG. This step will enable the Bucherer Group to focus even more strongly on the further development of the Bucherer brand".
The operational management of Juwelier Kurz AG will continue to be headed by Doris Mancari, CEO Kurz AG.
The two parties have agreed not to disclose financial details.
ABOUT BUCHERER
Founded in 1888, the family company Bucherer has one of the most distinguished traditions in Europe's watch and jewellery industry, and over the last 130 years has established for itself an exclusive reputation with its range of exquisite jewellery and prize-winning creations. Its boutiques also offer the company's international clientele a wide range of luxury watches from renowned brands. Bucherer is present at 36 exclusive locations in Europe: with 17 stores in Switzerland, 10 in Germany, a flagship store in Vienna, the world's largest watch and jewellery store in Paris, a store in Copenhagen, Denmark, and six boutiques in London. In January 2018, Bucherer also took over the US luxury watch retailer Tourneau, which has 28 stores across the US. And in summer 2018, the watch family took over another establishment – Baron & Leeds – with its four luxury watch and jewellery stores in Hawaii. The company employs over 2,400 staff and is currently managed by Jörg G. Bucherer, meaning it has now been under the stewardship of the Bucherer family for three generations. The Bucherer headquarters remain in Lucerne to this day.
Watches and movements are developed in the brand's own ateliers in Switzerland. Milestones are the in-house watch calibers, which are driven by a peripheral rotor - an innovation that Carl F. Bucherer was the first to bring to series production. With its exclusive watch creations, Carl F. Bucherer stands for high-quality Swiss craftsmanship, unmistakable style and perfection when it comes to details.
Over the past 130 years, Bucherer has also established an exclusive reputation for first-class jewellery under the Bucherer Fine Jewellery brand. The collections are designed and manufactured in the company's own studios. The company's expertise in diamonds and unique gemstones is at the very highest level. These distinctive components form the essence of the Bucherer Fine Jewellery collections. 
For more information please visit www.bucherer.com 
Please don't hesitate to contact us for further information:
Contact

Bucherer AG
Jörg Baumann – Chief Marketing Officer
joerg.baumann@bucherer.com
Telephone +41 41 369 70 00
ABOUT IGS AG
Founded in 1989 by Jacques Frei and Christine Stucki, IGS AG, headquartered in Wollerau, is dedicated to classic jewellery wholesale in Switzerland. In 1999, IGS acquired Migros in French-speaking Switzerland as a customer and developed the Carat jewellery concept as a franchise. When Jacques Frei moved his headquarters to Hong Kong for business reasons in 2003, Christine Stucki took over the entire share package of IGS. In today's 25-year cooperation with Pack-In AG in Flawil, the logistics company of her sister Ulla Gähler, further well-known Swiss customers can be served at wholesale level.
In 2015 there is an opportunity to take over the Swiss part of the Oro Vivo Group from the French Christian Bernard. This will bring 20 Oro Vivo jewellery stores under the management of Jean-Marie Flichy into the ownership of IGS AG. In the following years, the Oro Vivo shops are rebranded to the CARAT brand and completely renewed. In 2017, IGS AG takes over 9 boutiques under the Carat brand from Migros.
In 2018, all IGS AG sales outlets are relaunched under the uniform and new CARAT brand. In early 2019, IGS AG enters the e-commerce business with a commercial website at www.carat.ch.
Today, Carat is represented by 30 well-kept, contemporary jewellery shops in the most important shopping centres in Switzerland, with a focus on French-speaking Switzerland.
Please don't hesitate to contact us for further information:
Contact

IGS AG
Christine Stucki – Chairman and Delegate of the Board of Directors
christine.stucki@igs-ag.ch
Telephone +41 44 787 88 99